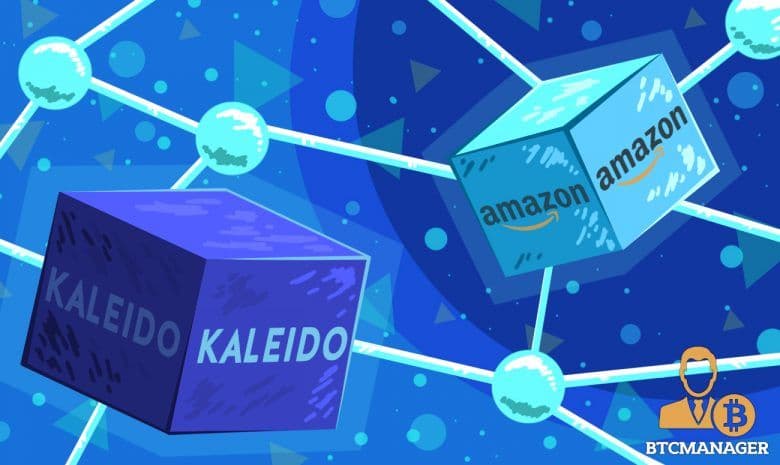 Amazon Joins the Blockchain Industry with Kaleido
In what has been referred to as the age of blockchain, more innovative applications continue to emerge. New needs are arising, and large corporations have been jumping on the bandwagon for a chance to fulfill those needs. This is evident in the formation of the Enterprise Ethereum Alliance, made up of companies that have adopted Ethereum in one way or the other. Such companies include J.P.Morgan, Mastercard, and even Microsoft.

Many asked the question of whether Amazon would also make its grand entrance into the industry. Finally, that question can be answered and all doubts can be laid to rest. Amazon has officially carved a place for itself in the blockchain industry through its cloud subdivision —Amazon Web Services (AWS). AWS will be partnering with Kaleido — a new startup by ConsenSys, the blockchain platform. The partnership aims to create ease-of-access for the implementation of blockchain technology by enterprises and businesses.


Kaleido Blockchain Business Cloud Platform
For the progression and mainstream adoption of cryptocurrency and blockchain as a whole, it is vital that enterprises begin to adopt these technologies. Blockchain is an incredibly complex concept which is still changing. As such, so much work is still going on in the field concerning structure and security. This makes it difficult for businesses to create fully customized private blockchains on their own. The partnership seeks to solve this particular problem.

The Kaleido blockchain business cloud platform will simplify and speed up the use of blockchain for business and customers. It will also run on the AWS marketplace and ensure that companies can experiment with blockchain creation.

According to a press release by Amazon, "Kaleido provides a full solution for those ready for something more than do-it-yourself scripts or templates, streamlining the process of standing up secure, private blockchain networks without sacrificing the ability to customize the environment. The private networks offer all the benefits of the underlying blockchain technology while maintaining the necessary levels of security and performance."
What Does Kaleido Do?
Kaleido was created explicitly for enterprise and business owners looking to diversify. For this reason, it focuses on specific problems that this target market faces. According to Kaleido co-founder Steve Cerveny, the simple platform is mainly focused on helping users of Amazon Web Services to use blockchain networks. These are some of the solutions that Kaleido offers.

Kaleido eliminates the performance and security issues that enterprises face when participating in shared blockchain networks. It provides an excellent way for enterprises to carry out onboarding of their members. The simple platform will allow all members to have easy ways to participate in the blockchain and will reduce the amount of time enterprises spend onboarding members.

Blockchain technology is filled with so many technical terms and complex concepts that can be difficult for the average person to understand. Kaleido simplifies the entire blockchain process by doing most of the back-end work. This way, users only have to set their preferences to create their private networks.
How Does Kaleido Work?
Consensus is the backbone of blockchain technology, and without it, the process cannot truly be decentralized. Kaleido is structured in a way that users can easily choose which consensus mechanism they would rather use. Options like RAFT, Istanbul Byzantine Fault Tolerance (IBFT) and Proof-of-Authority (POA) are available. The platform also offers two blockchain protocols that users can choose from.

Geth Protocol
This is an open source Ethereum blockchain protocol which also implements a pluggable consensus engine. Geth is one of the most popularly used implementations of nodes on the Ethereum platform. The protocol also supports the proof-of-work and proof-of-authority consensus as well as several others. Kaleido currently runs Geth version v71.7.3 nodes.

Quorum Protocol
Quorum is an open source blockchain protocol by J.P.Morgan which enables enterprises to create and use smart contracts. It was designed by modifying the Geth protocol to make it more enterprise-based.

The Quorum protocol is mostly used on a private blockchain network where a single member owns all nodes. For example, a company's private blockchain where its employees and clients interact with smart contracts.

It was also designed for situations where several enterprises each own their portions of the network. For example, corporations that have partnered together but are not merged may share a network. Some essential features of Quorum include:
Flexibility: Quorum supports multiple consensus options including RAFT and IBFT.

Peer Permission: The Quorum protocol offers options for peer permission configuration. This type of configuration ensures that all nodes are listed in a permission list. As a result, no foreign nodes can add blocks to the blockchain. An example of this situation is one in which high-level clearance is needed to view and manipulate the contracts.

Transaction Privacy: Nodes on networks where Quorum is used can easily address and send private transactions. These transactions can be sent to only specific nodes without other nodes viewing the messages. This is a necessity in enterprise-owned blockchain networks where information is classified according to clearance level.
ConsenSys As a Driver of Blockchain Innovation
It comes as no surprise that ConsenSys facilitate Amazon's foray into the blockchain scene. The platform has been an avid force in the development of Ethereum-based applications and start-ups.

Since 2014, it has made it its goal to revolutionize the way Ethereum is applied to businesses and society. In 2015, ConsenSys released Ethereum Blockchain As-A-Service (E Baas) with the use of Azure, a Microsoft cloud-powered service. The project was an early attempt to combine blockchain and business. It provided users with tools that would help them to build their blockchain apps.

Kaleido, however, is a significant improvement on E Baas in terms of functionality. Instead of giving its users scripts to let them do all the work, it goes a step further: It comes as a fully completed customizable platform on the AWS marketplace. Kaleido is the first of its kind to be built on the Ethereum platform. This may set it apart as a significant player in the future of how business is carried out.

Joseph Lubin, the founder of ConsenSys and co-founder of Ethereum, has stated that he holds a firm belief that Kaleido will soon be seen as the default standard for business. It will also be placed as the global blockchain business platform as well as a solid foundation. This partnership is part of a more significant effort to increase the adoption of blockchain by customers of Amazon Web Services.

Final Thoughts
The adoption of blockchain technology by a tech and commerce giant like Amazon is a sign that its progression is occurring fast. The new partnerships and adoption strategies by large corporations all constitute a joint effort to encourage mainstream adoption of cryptocurrency.
In the past, there has been no hope for users without knowledge of software development to create their blockchain networks. Amazon is changing that with the help of ConsenSys. Together they bring reliability, good network performance and ease of transaction to the average businessman.

Hopefully, other tech giants will follow in the footsteps of Amazon and diversify their operations to incorporate blockchain. While its concept may be a difficult one to understand and even get used to, blockchain has proven that it can be a great solution to so many problems.


Amazon | Blockchain | Blockchain technology | Consensys | Kaleido | Payment processors | Supply chain