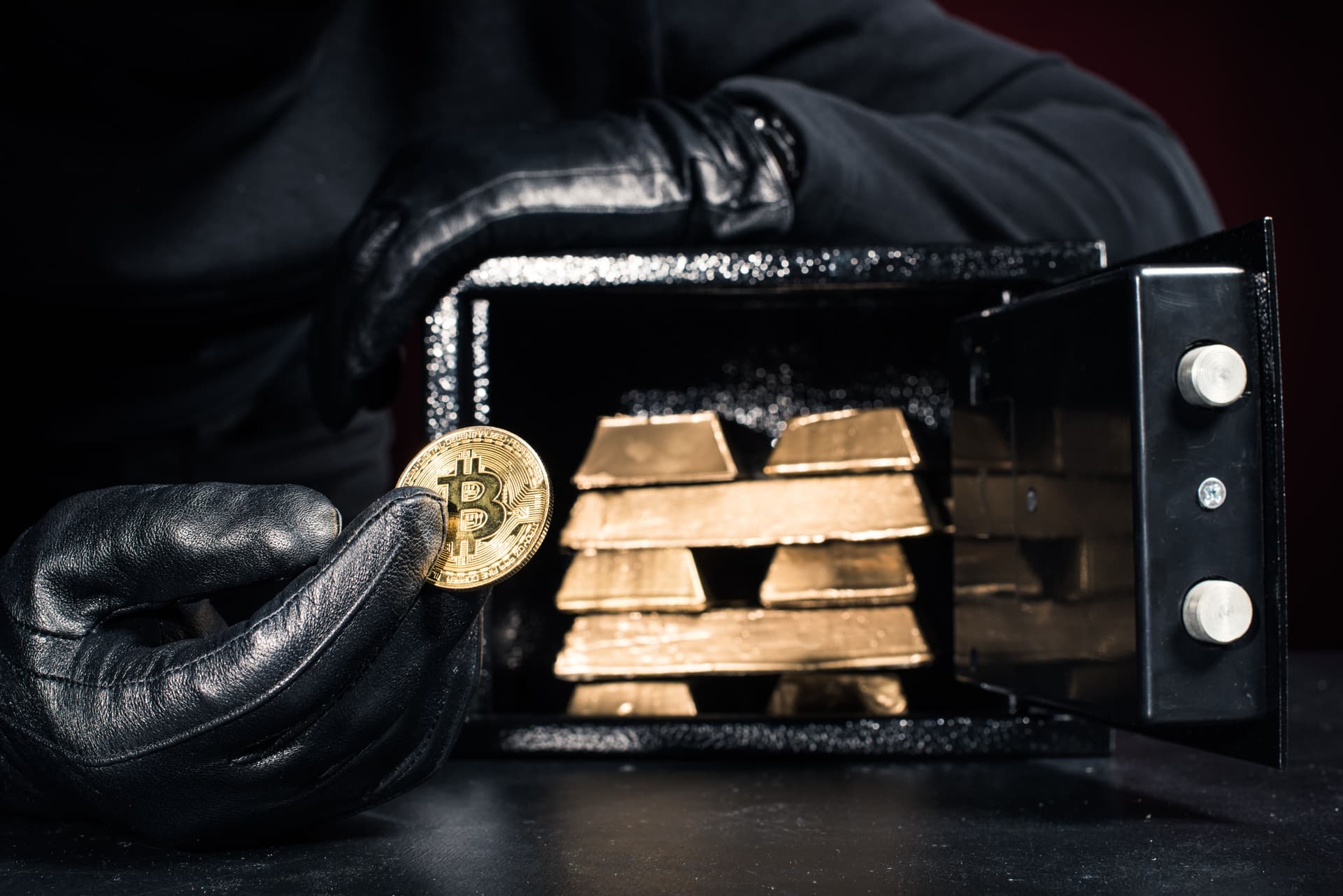 Blockchain Platform Allows Gold Exchange for Crypto
Digital Gold Exchange, a South Korea-based blockchain startup has created a platform that allows cryptocurrency holders to exchange their digital assets for gold. Gold has always been closely associated with money and the exchange of goods and services. Long before the U.S. dollar was created, gold was used as a universal means of exchange. Even after the United States and other countries created their currencies, they pegged them to the precious metal in what was known as the Gold Standard.
The Gold Standard allowed many countries to represent each unit of their coins with a unit of gold stored in a reserve. In the U.S. at the time, $20.67 was equivalent to one ounce of gold and could be exchanged for it. This kept inflation and monetary policies in check due to the scarcity and finite nature of Gold.
Unfortunately, the onslaught of the Great Depression caused unemployment rates to skyrocket, leading to less money being spent. As a way to conserve funds, people began to exchange their dollars for the equivalent value of gold which they held onto. Fearing a collapse of the economy, the U.S. Government unpegged the dollar from gold in 1933. Other countries have since abandoned the gold standard and adopted more advanced financial standards.
The practice of pegging fiat currency to a cryptocurrency isn't new. Digital assets known as stablecoins continue to emerge with the aim of ensuring stability in the markets. They shield investors from market volatility by pegging crypto assets to currencies like the dollar or euro and even other more stable cryptocurrencies like Bitcoin and Ethereum.
Tether (USDT), the biggest and most popular stablecoin is currently the eighth biggest cryptocurrency with a market capitalization of $2,758,334,172 USD. It is used as the basis of exchange on popular exchanges like Binance. Now, blockchain startups like Digital Gold Exchange are working to combine this model with that of the gold standard to create a new age system of trade with numerous benefits for the ecosystem.
What is Digital Gold Exchange (DGE)?
Digital Gold Exchange is a Korean startup that offers an electronic platform for exchange between gold and cryptocurrency. According to the company's whitepaper, the exchange will function both online and offline to create a convenient way for investors to have gold-backed digital assets.
Up until now, the status quo has involved exchanging fiat currency like dollars and euros or cryptocurrency like Bitcoin for other assets. Although gold exchanges for fiat currency are common, the idea is new to the developing world of cryptocurrency and blockchain technology. Using this new approach to trading, the company hopes to create a formidable ecosystem around the solid value of gold.
According to the official DGE website, the company is successfully creating value for consumers in five key aspects:
Provision of a simple, yet sustainable asset model that benefits the ecosystem both in the long and short run. Currently, Digital Gold Exchange claims to be the first company with a model that ties cryptocurrency to gold.

Creation of a monetizing business platform that traders and digital asset stakeholders can use to their advantage. The assets will be traded just like on any other exchange and users can capitalize on profit margins like any other market.

Development of a self-sustaining growth engine that can expand exponentially with time due to the stability and minimal risk it provides.

Provision of verification and authentication processes for assets traded on the platform. TMTG and MDG, the major assets for trading on the platform are fully backed up and all transactions are easily verifiable on the network. This is due to the use of a blockchain, an immutable ledger technology which stores accurate records of all transactions on a network.

Provision of a stable payment reserve ratio. The company claims to be developing and actively monitoring the best reserve ratio that serves all relevant stakeholders.
Digital Gold Exchange claims that users will be able to securely store their assets and trade them without the need for third parties. The company has also stated that it will focus on creating a user interface similar to the payment processing systems used on popular e-commerce sites. This way, it will be easier to understand for a user base that spans across various age groups.
The platform will also eliminate any border restrictions observed in traditional gold exchanges. This means that traders can safely exchange their assets for gold from any location. Although the company is primarily focused on gold currently, they have stated plans to expand their coverage to other precious metals like platinum, diamonds and white gold in the near future.
So far, Digital Gold Exchange has achieved several milestones including getting listed on IDCM exchange, Coinbene and Coinsuper. The company conducted three presale rounds between May and June 2018 and its Initial Coin Offering between July 10th and July 25th.
What Partnerships Have They Established?
According to Digital Gold Exchange, the company recently partnered with some recognizable brands with the aim of building a stable and reliable ecosystem around its platform.
The startup partnered with Korea Gold Exchange 3M Co Ltd, the country's largest gold merchant in February 2018 to ensure functionality of its gold exchange and reserve system. The Seoul-based exchange has been in operation for thirteen years and will offer the necessary guidance needed to run the Digital Gold Exchange.
In March 2018, DGE also partnered with Happy Money Co, a company that offers gift cards which can be used to purchase items from over 500 Korean brands. As a result of this partnership, users will be able to exchange their tokens for gift vouchers in multiple retail locations.
How Does the Digital Gold Exchange Work?
The Digital Gold Exchange platform works like a Bitcoin exchange but with gold as the main exchange item. The platform offers two separate tokens for its operations, the first of which is known as "The Midas Touch Gold (TMTG)".
The TMTG utility token is built on the Ethereum ERC20 standard and functions like the digital assets of other blockchain companies. It is not pegged to tangible assets like gold and can be exchanged for other cryptocurrencies on the platform.
The second token known as MDG can be bought using TMTG tokens. Each MDG token is pegged to 1 gram of real gold and can be traded for gold according to the current base value at the time of exchange.
Along with trading, the DGE platform allows users to carry out price checks and coin-to-cash conversions easily. The company also ensures secure asset storage and trading by using the CC exchange protocol, built on the Decentralized Exchange (DEX). Users are also expected to verify their certificates while making exchanges.
Final Thoughts
Although the Digital Gold Exchange is fairly new, the idea behind it is exciting and potentially beneficial to the cryptocurrency industry. Gold is known to be stable and by pegging digital assets to it, DGE may be able to solve some of the issues associated with the high volatility that has plagued the industry so far.
The unique value proposition of the exchange stands out from those of other blockchain companies because, despite its use of blockchain, gold is an item that the layman can relate with easily. This may help with the adoption in the industry and serve as a focal point of comprehension for new investors.
Bitcoin | Cryptocurrency | Digital gold exchange | Erc20 | Gold | Gold exchange | Metals | Precious metal | Tokenization | Xau