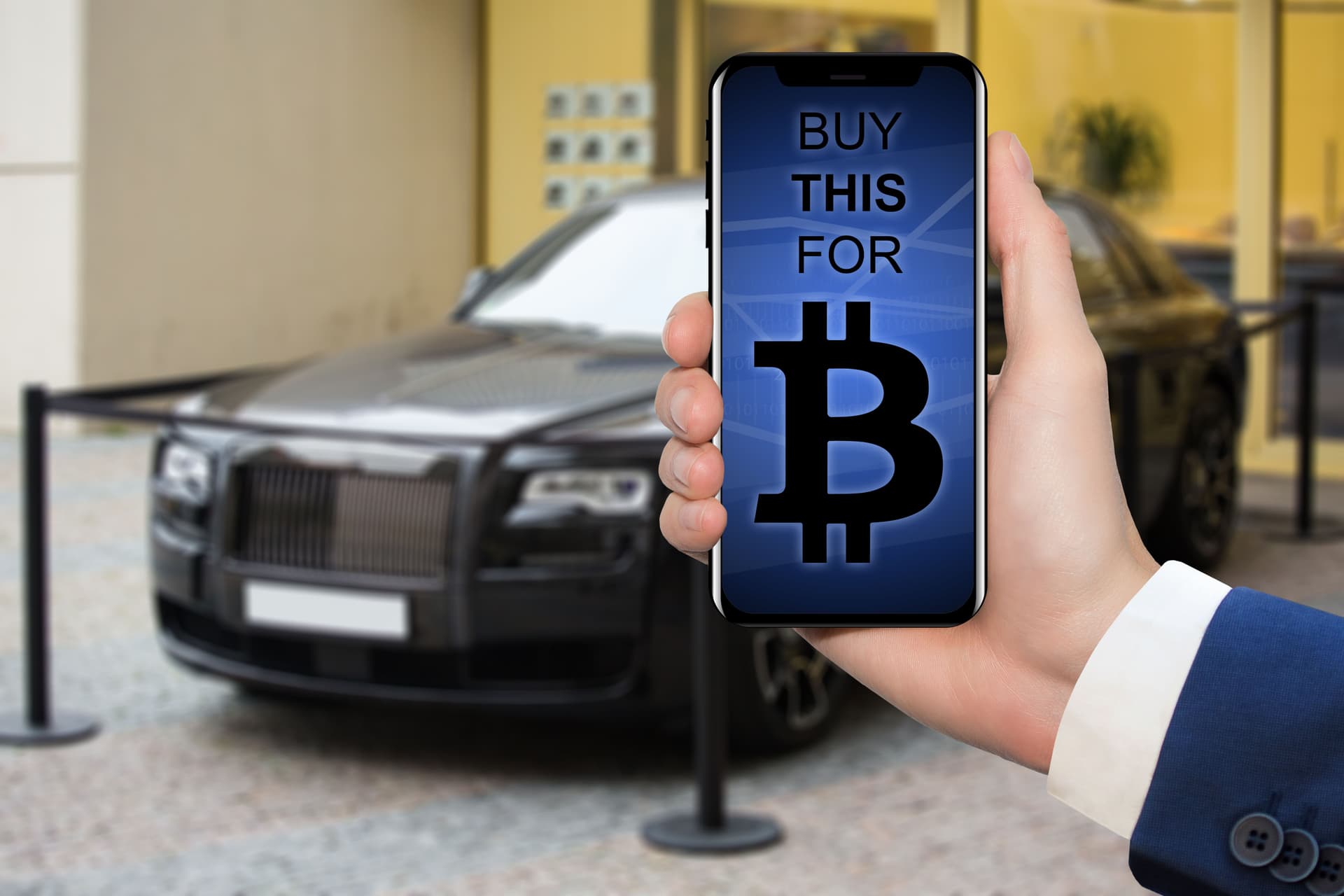 Car Retailer Rolls Royce Will Accept Bitcoin
Post Oak Motor Cars, the luxury automobile retailer which stocks Rolls-Royce, Bentley, and Bugatti vehicles has announced plans to accept Bitcoin and Bitcoin Cash payments at its dealership. The retailer is reportedly the first one in the U.S. to embrace the use of popular cryptocurrencies for retail payments.
The auto retailer will operate its crypto payment service via Bitpay, a popular payment service provider. According to Tilman Fertitta, renowned American businessman, and owner of Post Oak Motor Cars, the company is moving forward with this new plan to enhance the buying experience for its customers who are cryptocurrency holders or wish to use digital currencies for their own reasons. He also stated that crypto purchases will make it easier and faster for people to buy cars from the dealership.
The statement by Fertitta reads:
"Being a premier luxury car dealer, I always want to offer my customers the very best buying experience and this partnership will allow anyone around the world to purchase our vehicles faster and easier."
In 2017, Fertitta opened up to reporters concerning his thoughts on Bitcoin, stating that people will most likely not buy it since it is not exactly insured by the Federal Deposit Insurance Corporation (FDIC). However, Bitcoin adoption has grown considerably since that statement was made and various corporations have risen to the task of catering to the ever-growing population of crypto investors. Currently, Post Oak Motor Cars is no exception.
According to the press release, Bitpay is embracing the dealership's plan due to its reputation and the popularity of the luxury automobiles it stocks.
The statement by Sonny Singh, Chief Commercial Officer (CCO) of BitPay, reads:
"We've noticed people prefer to make larger purchases with bitcoin since it is a simple way to make payments. This partnership is timely with the increasing popularity of Rolls-Royce, Bentley and Bugatti vehicles. Post Oak Motors has a great reputation for selling the finest cars, and we are thrilled to be partnering with Tilman."
The Post Oak Motor Cars Luxury Experience
Like other Tilman Fertitta companies, Post Oak offers a luxury experience to its customers, that seeks to integrate them into its ecosystem, making them return several times. At its prestigious uptown/galleria area of Houston, the dealership welcomes customers looking to purchase Bentley, Rolls-Royce, and Bugatti vehicles.
The world of cryptocurrency is often characterized by the presence of millionaires, flashy cars and real estate. This is why it makes sense that Post Oaks sees an emerging class of cryptocurrency owners among its clients. By allowing this group of customers pay with their digital currency, the firm is retaining customers and opening its doors to even more customers within the field.
The firm aims to create the best possible automotive experience and in the past, this has meant post-delivery services, including major repairs, oil changes, brake repairs, and tire replacements. Now, however, this includes catering to its crypto crowd and ensuring that people are not restricted when paying for luxury items. This is especially convenient for investors since it is not easy to convert cryptocurrency back to fiat currency without any hassle.
Cryptocurrency acceptance is still minimal, seeing as there is still much development going on, in terms of stability, security, and regulation. This means that businesses accepting cryptocurrency are few. There are currently over 20 million active Bitcoin wallets and about 8% of Americans use cryptocurrency, so this presents a unique opportunity, just waiting for brands to snatch it up.
Who is Tilman Fertitta?
Tilman Joseph Fertitta is an American entrepreneur as well as the Chairman, Chief Executive Officer, and owner of Landry's, Inc. With over $3.5 billion in assets, the company operates more than 500 restaurants, hotels, and casinos across various international locations, generating $3.4 billion in revenue annually.
Fertitta is also a TV personality, Chief Executive Officer at The Oceanaire, Inc., and Co-Chairman as well as Chief Executive Officer of Landcadia Holdings, Inc. He currently serves as Chairman at Houston Police Foundation, Houston Children's Charity, Golden Nugget, Inc. and University of Houston System Board of Regents. He is worth an estimated $3 billion and is regarded as the richest restaurateur in the world.
Born in Galveston, Texas, in 1957, Fertitta spent part of his childhood learning the ropes at his father's seafood restaurant. According to many reports, Tilman Fertitta began investing in stock as early as high school and successfully established his first business in his twenties. After graduating from high school he got into Texas Tech University and later transferred to the University of Houston, where he studied business administration and hospitality management.
By 23, a young Fertitta, still in college, took a loan of $6,000 to start a seaside hotel in Galveston. This was his first business. Soon, he was able to build a restaurant empire which he has continued to expand till date.
In September 2017, he signed an agreement to purchase popular NBA team, the Houston Rockets, for $2.2 billion. He is also credited as one of the original investors who helped shape the future of the Houston Texans as an NFL team although he eventually sold his franchise. He served as the director of NBA team, the Houston Rockets for a long time.
Tilman Fertitta was the star of the reality show "Billion Dollar Buyer" which aired on CNBC from 2016 and featured the businessman traveling across the country to test innovative hospitality products to be used in Landry's, Inc.'s hotels and casinos. In 2004, Tilman Fertitta became the second-youngest Texan to be inducted into the Texas Business Hall of Fame.
What are Other Car Brands Doing Within the Cryptocurrency Industry?
As cryptocurrency users continue to increase, the auto industry is making moves to promote adoption and incorporate blockchain technology into their operations. One example is Daimler AG, the Germany based automobile giant responsible for a range of luxury cars including Mercedes-Benz.
The firm recently created MobiCoin, its own digital currency, as a way to reward drivers for maintaining eco-friendly driving practices like low-speed driving. The vehicles will transmit data directly to Daimler AG which will allocate MobiCoins based on this data, all carried out via a mobile app.
Other examples are BMW, Renault, Ford, and General Motors, which are among 30 companies in the Mobility Open Blockchain Initiative (MOBI), including IBM and Bosch. These companies hope to accelerate blockchain adoption and promote new use cases in areas like ride-sharing.
Recently, Ford also filed a patent for a vehicle-to-vehicle communication system, involving the exchange of cryptocurrency tokens as a way to facilitate traffic flow.
Final Thoughts
Brands continue to push for cryptocurrency adoption due to the rising demand and secure ways to purchase items with these currencies. For several reasons including anonymity, and transaction speed, many people find it easier to spend cryptocurrency. This is why it is important for companies to map out ways to cater to this portion of their customer base.
Post Oak Motor Cars is no amateur when it comes to the convenience of its customers. Under the leadership of Tilman Fertitta, the company is showing that it is more than willing to go to great lengths to improve the buying experience for them.
Bitcoin | Bitcoin adoption | Bitcoin cash | Bitcoin millionaires | Bitcoin payments | Bitpay | Rolls royce