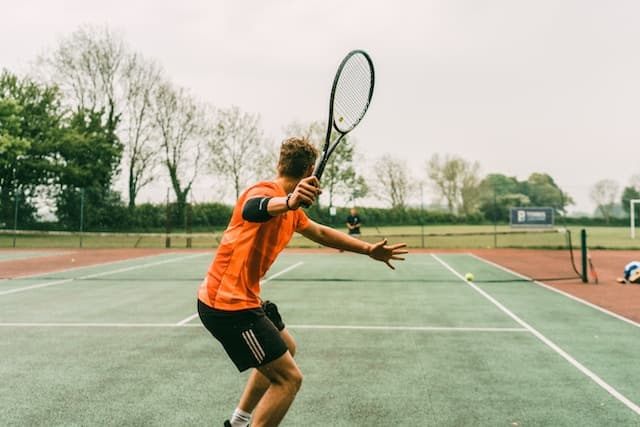 Tennis isn't necessarily a popular sport in the United States, but it's popular around the world. Bettors on all continents have sought to cast their bets on the sport, which means there's an opportunity for anyone to get in on the action.
It's critical to know about tennis betting if you want to participate. We've compiled valuable information to help you better understand the process.
Can You Bet On Tennis?
Tennis might not be the first sport that comes to mind when considering betting. Some might be curious whether or not it's possible to use sportsbooks for the process.
Not only is it possible to bet on tennis, but it's one of the most popular choices for sportsbooks. It's possible to place your bets online and in person, and, just like most other sports you can bet on through a sportsbook.
Related: What Sports Can You Bet On?
How Do You Bet On Tennis?
It's critical to carefully consider where to place your bet before putting down any money. There are good and bad things that come with each choice, and it's vital to know both sides before spending hard-earned cash on the sport.
Those who want to bet on tennis can function through an in-person or online bitcoin sportsbook like the one hosted on MintDice. We've put together all the details surrounding each betting option to help you make the best choice, including how it functions at each location.
How To Bet On Tennis In-Person
It's possible to bet on tennis in person if you're aware of a sportsbook in the area and you'd prefer to avoid all the steps that come with signing up for an account online. It doesn't take too many steps to place a bet in person:
● Head to a local sportsbook that provides betting options for men's and women's tennis
● Determine the bet you want before going to the sportsbook and see if they have it
● Bring a debit card and/or cash to prepare for all payment options as well as an ID to verify your age.

● Speak to a betting clerk or put in your bet at a sports kiosk
● Get your ticket and wait to see if you've won
How To Bet On Tennis Online
There are many instances where an individual might not have access to an in-person sportsbook betting option. In that case, many online sportsbook options allow individuals to register and place their bets online. Many sportsbooks use more forms of currency, such as Bitcoin and altcoins, allowing more payment options than in-person locations.
You can bet online by completing the following steps:
● Locate an online sportsbook that provides options for tennis betting
● Pick the site you want and register with them
● Add money to the website through a card or cryptocurrency
● Determine your wager and hold off until the results are revealed
Important Things To Know Before You Bet On Tennis
It's critical to think through your wager before putting down any money. Let's dive into items to consider before placing any bet on a tennis match.
● Get to know how the game of Tennis works and the players involved before making a decision
● Ensure you don't bet more money than you are comfortable losing
● Examine player injuries to determine weak spots on the playing field
● Look at player history on various tennis surfaces and their history of wins and losses
● Check out the head-to-head record for various matchups between players
● Consider potential fees involved with withdrawal fees in online sportsbooks
● Do not lose any format of physical ticket if you bet in person to ensure you receive the payout
● If you can't find the wager you want to make in person, check one of the many betting options online
It's critical to examine every single aspect of a player, game, and more before making a final choice. These tips might make a huge impact on the results of your wager.
Related: Common Sports Betting Terms Explained
Types of Tennis Bets
If you want to make a tennis bet, there are several approaches to the endeavor. It's critical to determine the types of bets you can place before heading to the sportsbook. There are many more than these four, but these stand out as the most popular for those who want to bet on tennis.
Moneyline Bets
The first type of betting is moneyline, and it's easily the most popular form for those interested in the sport. It's simple - the bettor selects the person they think will win the tournament and wages money on the outcome.
There are various forms of moneyline bets. However, the most common is the outcome of the entire game. Most people bet on the winner, usually resulting in decent payouts if they are correct in their wager.
Match Bets
Match bets are very similar to moneyline wagers in what users bet on when they watch a match. The difference lies in what the bet is placed on. In a moneyline version, the bettor bets on the outcome of the match or of the tournament as a whole. In a match bet, the bettor simply bets on who will win a specific set.
This bet is easier to deal with because you're not predicting the entire game. The player might win the match and lose the tournament, but you still win, thanks to the match bet on your tennis game.
Exact Score Bets
Exact score bets focus on games and sets. The bettor must predict the exact score of a predicted game or set, which will pay out big time if they end up being correct.
It's tricky to emerge victorious with exact score bets. However, those who know tennis have the potential to win big here.
Over/Under Bets
Over/Under bets wager on whether the game will go out with straight sets or dive into additional sets. You don't need to pick a person as a winner. All you need to do is determine whether the game will be over or under - something most people can do easily.
If you keep these items in mind, you will have a great experience with sports betting in the world of tennis. It's one of the most popular selections for a reason!
You May Also Enjoy: Now Announcing the MintDice Sportsbook
Tennis | Sportsbook | Spotsbetting | Sports bets | Bitcoin sports book | Betting on tennis