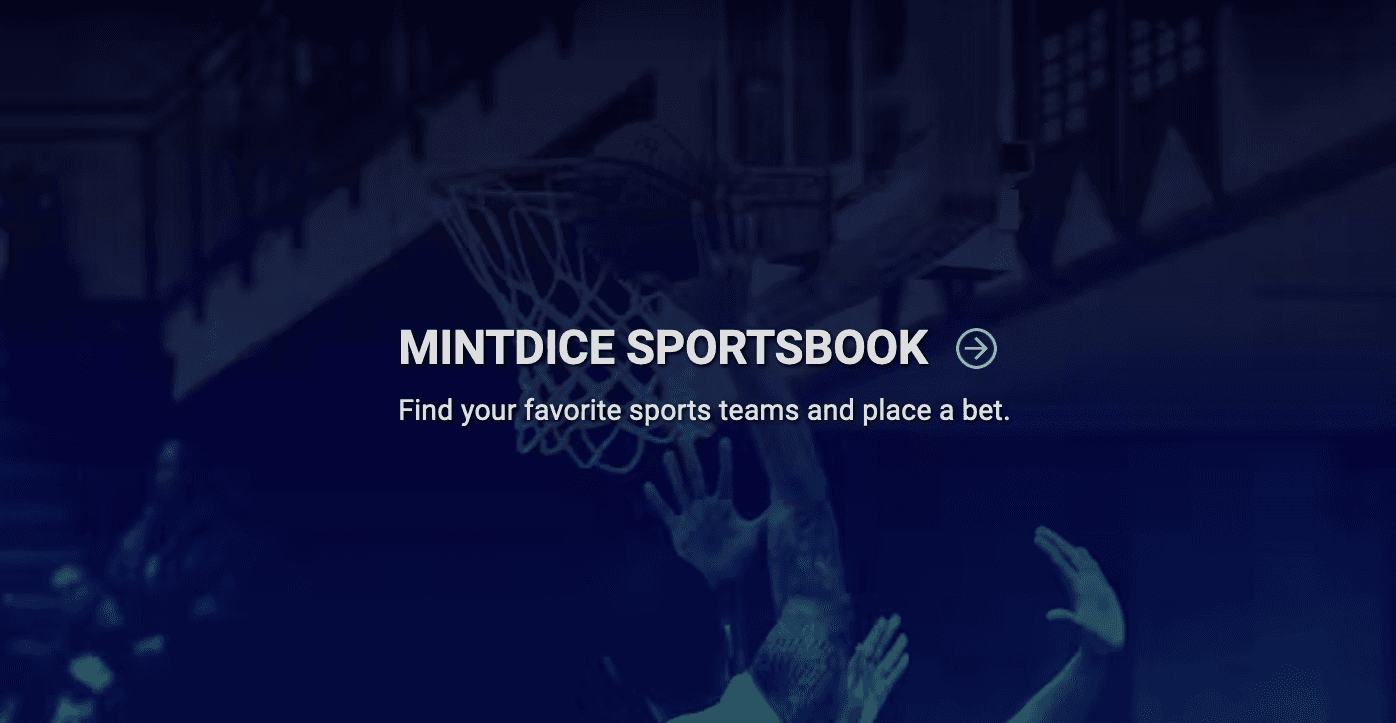 Now Announcing the MintDice Sportsbook
Have you always wanted to bet on sports using Bitcoin?
MintDice.com is proud to announce that it has officially opened its Bitcoin sportsbook.
Whether you bet on sports professionally or just want to get a little action in here or there, the MintDice sportsbook is the place to be! Read on to learn all about this awesome new addition to the MintDice website and everything you can do on it!
Sports Available on the MintDice Sportsbook
Before discussing the types of bets, you can place, it's important to know what sports you can bet on. Here at MintDice, we do our best to cater to everyone, meaning we offer all of the regular sports like soccer, football, and basketball, as well as a number of specialty sports.
The specialty sports include alpine skiing, badminton, floorball, and golf just to name a few. We also offer bets on MMA fighting and car racing. Below is the full list of sports you can bet on at the MintDice sportsbook.
Soccer
Tennis
Ice Hockey
Basketball
Volleyball
Biathlon
Alpine Skiing
Badminton
Bandy
Baseball
Boxing
Cricket
Cycling
Darts
Floorball
Futsal
Gaelic Hurling
Golf
Indy Racing
Lacrosse
MMA
Rugby
Ski Jumping
Speedway
Table Tennis
Waterpolo
Besides just betting on games, know that you can also bet on players as well. For example, you can make prop bets if you think a certain player will score during a game or that a certain player won't score. Either way, if you want to explore these options, you'll first need to select the game you are interested in, then look at the bar across the middle of the screen to see what options are available to you.
Betting on Politics and Pop Culture
Not a sports person? Not a problem! MintDice offers far more than just sports bets! You can bet on almost anything under the sun, from who will win the next election to who will win an Oscar award.
It isn't just American politics either, you can also bet on UK politics as well as which songs you think will hit the top charts. No matter what you firmly believe in, you can place a bet to back it. All of the best mentioned above (and more) can be found under the "specials" section in the MintDice Sportsbook. The bets available here are constantly changing, so ensure you check back frequently to be able to bet on the outcome of whatever you would like!
How to Place a Bet on the MintDice Sportsbook
Found a bet you like? Here are the directions for placing your very own sports bet on MintDice!
Step 1: Deposit Money
Start out by depositing some Bitcoin so you can bet. In the future, MintDice will offer other currencies for sports betting, but as of the writing of this article, only Bitcoin is accepted.
You can also find more information about How to Buy Bitcoin in our blog, as well as information about which cryptocurrency wallet is the best choice for you.
Step 2: Choose Your Bet
Once you've deposited, head on over to the sportsbook to place your bet. If you aren't already there, you can find the sportsbook in the drop-down menu when you click 'games' at the top of the home screen.
Step 3: Place Your Bet
Once you have found your bet, click on it to see in-depth information about the lines and types of bets available. For help reading this information, take a look at our sports betting guide.
When you know what team you wish to bet on, click on that team. A box will pop up on the right-hand side where you can select your bet amount. Click place bet in order to place your bet.
Step 4: Wait
Now is the hard part, you have to wait to see who wins or loses. You can watch a mini representation of the game for some sports on the sports book, or you can relax on your couch and enjoy the game on your home screen.
Step 5: Win/Lose
After the game ends, head back to MintDice.com to see if you won or lost your bet! If you won, the money will be added to your balance, and you can request a withdrawal if you want—or you can bet again!
Note that if you do request a withdrawal, all withdrawals are manually processed for your safety and may take up to 48 hours to complete.
How to Get Free Bitcoin
Want to try out the MintDice Sportsbook but don't have any Bitcoin? Head on over to the faucet on the main page of MintDice.com to receive a small amount of free Bitcoin. You can then use this Bitcoin to try out the sportsbook.
Additional Features of the MintDice Sportsbook
The MintDice Sportsbook is a place where you can bet on all kinds of different sports, and it is also a place where you can do some statistical research. If you head over to the Statistics Center, which can be found on the left-hand side of the page at the bottom of the list of sports, you can explore all kinds of statistics from different sports. This can help you to make more informed betting decisions in the future!
How to Learn More About Sports Betting
If you are looking at the sports book and aren't sure how to read all the bets available, don't despair, it takes a bit of time to get the hang of sports betting. At MintDice.com, we are committed to your education and often post blog articles about all different types of subjects. Some of these subjects are sports betting to help you better navigate our sportsbook. For more information, head on over to our blog, and soon you can be a professional sports bettor!
Sportsbook | Sportsbet | Betting on sports | Betting | Sports | Bitcoin sports book