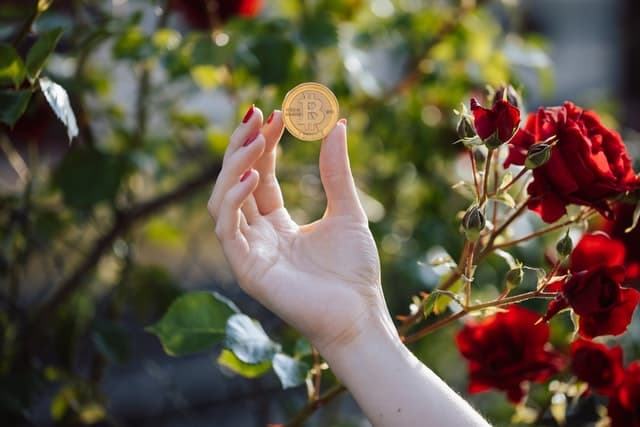 Learning everything you need to know about Bitcoin can seem like a daunting task, especially if you are new to the crypto world. Luckily, sending and receiving Bitcoin can be done without extensive knowledge of the technical side.
Receiving Bitcoin is a relatively simple process, as long as you follow the steps provided by your cryptocurrency wallet exchange. Using your Bitcoin wallet and providing your address can make exchanging crypto much easier.
Knowing how to send and receive Bitcoin through your crypto wallet can be as straightforward as exchanging fiat money through your bank account. Keep reading to discover just how to receive Bitcoin through your crypto wallet.
Do You Need a Bitcoin Wallet to Send and Receive Bitcoin?
For any transaction done in the cryptocurrency world, it must be done through your digital cryptocurrency wallet provided by either an exchange or wallet company. Keep in mind that every wallet has its setup processes as well as methods of exchanging cryptocurrency.
To send and receive Bitcoin and other digital coins, you will need to find a wallet you like and then set it up. Once this is completed, you will be able to send and receive Bitcoin from others as payment.
How to Find Your Bitcoin Address
Finding your Bitcoin wallet address is also a straightforward process that requires that you only log into your account. Once you are logged in, you should be able to find your standard Bitcoin address to share with those who will be paying you. Usually there is bold printing or a drop down menu leading directly to your wallet address somewhere on your wallet app.

If you do not want to use the standard wallet address, most wallet exchanges offer the ability to create fresh wallet addresses. This allows you to give a new address to those who will be sending you Bitcoin. It is recommended that if your exchange offers this feature, you use it when exchanging cryptocurrency as it is a bit more private than always using the same address.

How to Receive Bitcoin
There are several ways that you can receive Bitcoin from either family or friends or even as a business transaction. The method depends entirely on your preferences and whether the person or business is local or further away.
For friends and family that you are near or even in the same room, you can use a QR code that they can scan to send you Bitcoin. This method is recommended because it makes it easier for all parties involved.
If you have friends and family who are not as near, you can either give them your Bitcoin wallet address found on your account or create a fresh address to give them. It is important to keep in mind that when recieve Bitcoin you do not run the risk of them emptying your wallet, since other security features exist to prevent this from happening when you give our your wallet address.
For companies that you do business with, you will want to create a fresh crypto wallet address for each of these transactions. This is because it adds a layer of security that you may not get if you give them your normal Bitcoin address.
No matter which method you choose, the process of sending and receiving Bitcoin can be mostly straightforward. It is important to note that when you give your Bitcoin address, while it is difficult for them to steal your crypto, they may be able to see just how much you have and any past transactions you have performed.
Can You Get Free Bitcoin?
Many websites and apps are using the enticement of earning free Bitcoin to get people to sign up for their services or at the very least their email list. The idea behind this marketing tool is that when individuals begin to use the site, they may continue.
Here on MintDice, you can earn free Bitcoin just by using the chat box as well as through the Free Bitcoin Faucet. By visiting the website and clicking a button, they will give you a small amount of Bitcoin.
In addition to websites and apps that offer free Bitcoin as an incentive, credit card companies are following suit as well. Many crypto credit cards are offering similar rewards like other credit cards, but instead of cashback, they provide free Bitcoin.
How Can You Protect Your Bitcoin?
Sending and receiving Bitcoin can be somewhat overwhelming, especially at the beginning of your experience. What makes it even more nerve-wracking is that if you make a mistake in sending or attempting to receive crypto, it is gone forever.
There are some things you can do to protect yourself from losing your Bitcoin when you are making transactions. The most important thing to keep in mind is that when you are sharing your crypto wallet address with someone, you should ensure that you are giving them the correct address.
Here are some things you can do to protect your Bitcoin:
Ensure you are working through a secure internet connection. Just like when you are connecting to your bank account or other secure websites, you should always do so from a secure connection. Connecting to a public network can leave you subject to hackers gaining access.

Be careful with your private wallet keys. When you share your Bitcoin wallet key, you need to ensure that you are only sharing the public one that is required for others to send you money. If you share your private key, others can gain access to the funds in your wallet.

Use a strong password. When it comes to dealing with your money and other information, you should make sure that you are being as careful as possible. This starts with ensuring that you have created a strong password for your wallet and then changing it often.

Use cold storage wallet. Keep in mind that anything on the internet is subject to someone gaining access. Using a cold storage wallet means that your Bitcoin is stored offline which makes it virtually impossible for someone to gain access. Keep in mind, however, that it also makes it more difficult for you to buy, sell, and trade with your cryptocurrencies.
The bottom line is that receiving Bitcoin into your crypto wallet can be relatively simple if you follow a few simple steps. Although it can seem daunting at first, you can learn how to send and receive Bitcoin through your crypto wallet in no time at all.
Bitcoin | Receive bitcoin | Receive cryptocurrency | Spend crypto | Crypto | Cryptocurrency | Crypto wallet