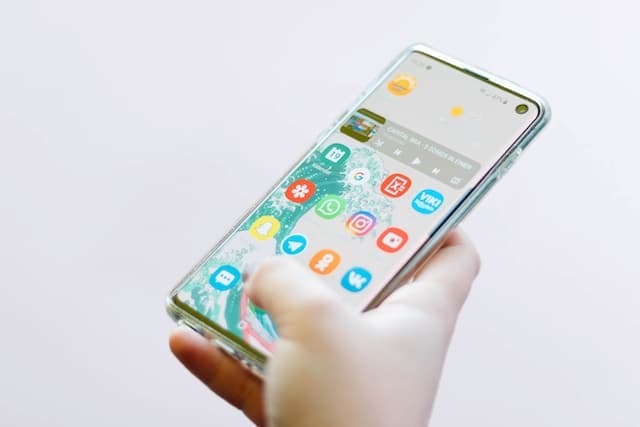 Top 5 Best Crypto Apps (2023 Review)
In the rapidly evolving world of cryptocurrencies, having the right tools at your fingertips can make all the difference in maximizing your returns and staying ahead of the game.
With a plethora of apps available, it can be challenging to determine which ones are best suited for your needs. To help you navigate this landscape, we've compiled a list of the top 5 best crypto apps, each excelling in a specific aspect of the crypto experience.
Coinbase: The Most Popular Crypto App
Coinbase is a leading cryptocurrency exchange platform that allows users to buy, sell, and manage their digital assets with ease. Launched in 2012, this San Francisco-based company has become a go-to destination for millions of people seeking to enter the world of cryptocurrencies.
Coinbase supports a wide range of cryptocurrencies, including Bitcoin, Ethereum, and Litecoin, among others. The platform is designed to cater to both beginners and experienced traders, offering a user-friendly interface, advanced trading features, and robust security measures to protect user assets and personal information.
Coinbase's popularity can be attributed to its accessibility and reputation as a trusted platform in the crypto community. With its easy-to-use app and web interface, Coinbase has become the first barrier of entry for many new users looking to venture into the world of cryptocurrencies. The platform's intuitive design and step-by-step guides make it simple for users to set up an account, deposit funds, and start trading, regardless of their prior experience with digital assets.
Related: The 5 Best Cryptocurrency Exchanges for Beginners
BlockFi: The Best Crypto App for Interest-Bearing Accounts
BlockFi is a groundbreaking financial services platform that specializes in providing cryptocurrency-based interest-bearing accounts and loans. Founded in 2017, BlockFi aims to bridge the gap between traditional finance and digital currencies by offering innovative financial products that leverage the power of cryptocurrencies.
With BlockFi, users can deposit their digital assets into interest-bearing accounts and earn competitive interest rates, often higher than those offered by traditional banks. Additionally, the platform enables users to access loans using their crypto holdings as collateral, providing a unique alternative to traditional lending services.
When it comes to interest-bearing accounts in the crypto space, BlockFi stands out as the best option for users looking to maximize their returns on digital assets. The platform offers interest rates that are substantially higher than most traditional banks and even some other crypto-based platforms.
By depositing cryptocurrencies like Bitcoin, Ethereum, and stablecoins such as USDC and GUSD, users can enjoy the benefits of compounding interest, which accrues daily and is paid out monthly.
(Do note, however, that BlockFi was recently penalized by the SEC for violating US law, therefore their platform might make several changes in the coming future).
Binance: The Best Crypto App for Trading and Exchanging
Binance is a global cryptocurrency exchange platform that has quickly become one of the largest and most popular options for trading and exchanging digital assets. Founded in 2017, Binance offers a comprehensive suite of services for both novice and experienced traders, including spot trading, futures trading, and staking.
The platform supports an extensive list of cryptocurrencies, providing users with ample opportunities to diversify their portfolios. With its advanced trading tools, impressive liquidity, and low fees, Binance has solidified its position as a leading player in the world of cryptocurrency exchanges. The platform also offers a user-friendly mobile app, allowing users to manage their assets and trade on the go.
Binance's dominance in the crypto trading and exchanging market can be attributed to its numerous advantages over competitors. The platform boasts some of the lowest trading fees in the industry, which, when combined with its high liquidity and fast order execution, makes it an attractive choice for traders seeking to maximize their profits.
Furthermore, Binance offers a wide range of trading pairs, giving users the flexibility to exchange their assets for various cryptocurrencies with ease. The platform's advanced trading features, such as margin trading and futures trading, cater to experienced traders looking for sophisticated trading options.
(Note that Binance is also facing regulatory problems as of April 6th, 2023).
Related: What is Binance Coin (BNB)? Basic Overview
Exodus: The Best Crypto App for Portfolio Management
Exodus is a multi-currency software wallet designed to provide users with an intuitive and secure way to manage their cryptocurrency portfolios. Launched in 2016, Exodus supports over 100 cryptocurrencies, including popular assets like Bitcoin, Ethereum, and Litecoin, as well as a wide array of altcoins.
The wallet offers a sleek and user-friendly interface, making it simple for users to track their assets, exchange cryptocurrencies, and monitor the performance of their portfolio. In addition to its desktop version, Exodus also offers a mobile app, enabling users to manage their crypto holdings on the go. With its emphasis on usability and security, Exodus has become a popular choice for crypto enthusiasts seeking a reliable wallet for portfolio management.
Exodus stands out as the best app for portfolio management due to its combination of features tailored specifically for this purpose. The wallet's visually appealing and easy-to-navigate interface allows users to quickly assess the value of their holdings and track the performance of individual assets over time.
With support for a wide range of cryptocurrencies, users can diversify their portfolios and keep track of all their investments in one place. Moreover, the built-in exchange feature allows users to quickly swap assets without leaving the wallet, streamlining the portfolio rebalancing process.
Robinhood: The Best Crypto App for Beginners
Robinhood is a pioneering financial services platform that offers commission-free trading of stocks, options, exchange-traded funds (ETFs), and cryptocurrencies. Founded in 2013, the company's mission is to democratize finance and make investing accessible to everyone, regardless of their experience or financial background.
Robinhood's user-friendly interface, simple fee structure, and integration of both traditional and crypto investments have garnered widespread popularity among retail investors. With its mobile app and web platform, Robinhood makes it easy for users to invest in cryptocurrencies like Bitcoin, Ethereum, and several others. By combining traditional investing with crypto trading, Robinhood has become a one-stop-shop for many individuals looking to enter the world of finance.
Robinhood's appeal to beginners lies in its simplicity, intuitive design, and educational resources. The app's straightforward interface eliminates the complexity often associated with trading platforms, making it easy for newcomers to navigate and execute trades. Additionally, Robinhood offers fractional shares and small minimum investments, allowing beginners to start investing with minimal capital.
The cryptocurrency landscape offers a diverse range of apps to suit various needs and preferences. By selecting the right app or combination of apps that cater to your specific requirements, you can harness the full potential of the cryptocurrency market and take your digital asset experience to new heights. Happy investing!
You May Also Enjoy: Elon Musk's X App
Crypto apps | Trading apps | Coinbase | Binance | Robinhood | Exodus | Blockfi