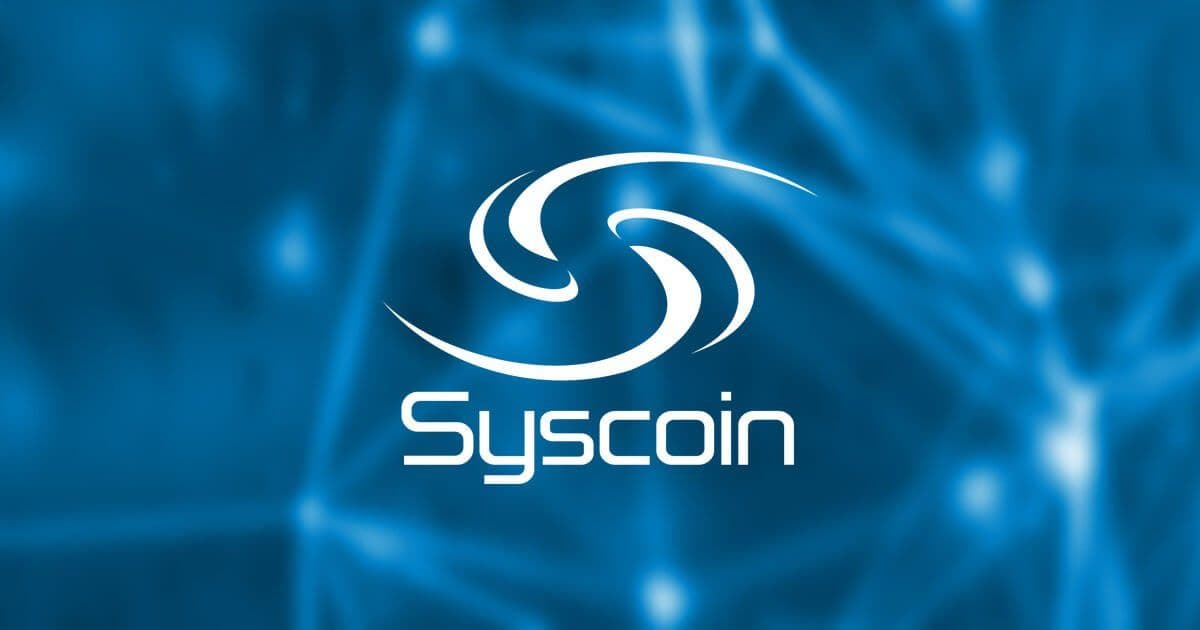 What Is Syscoin and Should You Invest In It?
When Satoshi Nakamoto originally birthed the vision of a peer-to-peer digital currency network using blockchain technology, the full scope of the idea included a decentralized marketplace to leverage innovative digital currency. However, due to a lack of resources, this complete vision never became a reality.
A few years later in 2014, Blockchain Foundry released a whitepaper intending to bring Nakamoto's idea of a decentralized marketplace to fruition. Fast forward again a few years, and Syscoin is now primarily recognized as the Amazon and eBay of the blockchain world, and the first cryptocurrency to provide a fully decentralized marketplace service.
Dan Wasyluk, a developer at Syscoin, describes the cryptocurrency project this way: "Syscoin is like eBay stores or 'Buy it Now' listings, except with a payment and escrow system built-in." In order to make trading in the decentralized marketplace as easy and painless as possible, Syscoin offers low cost and high-speed transactions. Its host of native features is intended to encourage all types of businesses to leverage the blockchain and their implementations.
Syscoin Origins
The whitepaper released in 2014 detailed the proposed functions and attributes for Syscoin using the decentralized nature of the blockchain network: decentralized marketplace, decentralized smart contracts and documentation, decentralized certificate issuance and transfer, decentralized data storage and retrieval. This is all made possible through the utilization of peer-to-peer technology.
Blockchain Foundry (BF) is the group developing the software, infrastructure, and ecosystem behind Syscoin. BF focuses on services, projects, and products using blockchain technology for a wide range of applications in order to disrupt markets and industries.
In September 2017, Blockmarket Desktop 1.0 was released after undergoing months of testing and an extensive security audit, fulfilling the vision of a completely decentralized marketplace based on blockchain technology with a desktop user interface. Buyers and sellers on Blockmarket Desktop are able to transact using Syscoin, Bitcoin, and Zcash.
BF plans to take it one step further in Q1 2018 with the release of Blockmarket Web. More advanced sellers and online stores will be able to participate in this web-based version of the decentralized marketplace, without needing to install software.
Syscoin Features
Syscoin's Blockmarket platform has a host of features that set it apart as an online marketplace. One way to think of it is a blockchain-based eBay where it's easy to buy and sell goods and services with incredibly low fees.
DECENTRALIZED MARKETPLACE
The concept of a decentralized marketplace allows buyers and sellers to securely transact items without the need of a middleman or central point of authority. Entire online stores can be created in the marketplace and effectively avoid political disruptions, corporate bureaucracy, and hefty transactional fees.
Features related to the marketplace include pegged exchange rates, sales of digital ownership, resale of goods, feedback and rating system for both buyers and sellers, multiple payment options, and secure shipping notifications.
ENCRYPTED MESSAGING
Syscoin features an encrypted messaging system that offers higher levels of privacy relative to competing marketplaces like eBay. The unique alias and identity system is a critical factor in determining the proper keys used for encrypted messaging. Furthermore, the keys of both sender and recipient are encrypted along with the message, restricting unauthorized third-parties from reading the data in transit. The system also supports multiparty encryption with multiple alias signatures.
DIGITAL CERTIFICATE SIGNING & AUTHENTICATION
Syscoin's blockchain provides capabilities to issue, authorize, and exchange digital certificates, while the proof of work is used to authenticate the certificates.
ARBITRATED ESCROW CAPABILITIES
Syscoin offers an arbitrated escrow service to ensure buyer funds are secure during the transactional process while goods or services are in transit.
CONVENIENT TRANSACTIONS
Money and digital assets can be transacted in a secure, reliable way using the blockchain technology.
MASTERNODE INFRASTRUCTURE
After being approached by several larger companies for blockchain-based solutions, Syscoin realized the system wouldn't support a large scale implementation. In response, the team started working on ideas to redesign the infrastructure to maintain the same level of security on a single platform that is also flexible and scalable for all types of project sizes. What resulted is a forthcoming Masternode network with the ability to solve a wide range of use cases with full API functionality.
The Masternode network sets out to combine the mining concepts of Proof of Stake (POS) along with Proof of Work (POW). Proof of Work is commonly known as the cheaper version, but the ideal solution might be a combination of both, which brings about the Masternode idea. In order to qualify as a Masternode, it must hold a certain number of coins. Masternodes are eligible for a percentage of block rewards and service fees, making it a type of POS. However, at the same time, the ability to mine block rewards makes it a POW and blends the two concepts together.
The Masternode infrastructure creates the proper incentivized approach to solve POS issues while leveraging the scalability advantages at the same time. Once Masternodes are introduced into the system, it opens the door for decentralized databases and file storage, faster transaction speeds, higher smart contract capabilities, sidechains, application layers, and identity layers through simple APIs.
The Syscoin network is eagerly anticipating the Masternodes becoming reality before the end of Q1 2018, transforming Syscoin from a simple marketplace coin to a utilitarian token.
Water Under the Bridge?
One compelling note about the Syscoin team is the turmoil that ensued during their initial fundraising in 2014. Syscoin partnered with Moolah to launch a presale initial coin offering (ICO), where the project raised approximately 1,500 Bitcoin for development. However, the Syscoin team apparently only had access to 750 of the raised Bitcoin.
The partner Moolah (reportedly an individual named Ryan Kennedy) fled the scene with the majority of the ICO funds, leaving the Syscoin team stranded. There is an ongoing case against Moolah, as reported here. However, the Syscoin team took the tragic blow and pressed on with the project anyway. Now, more than three years later, their decentralized marketplace platforms are becoming a reality.
While many cryptocurrency projects and ICOs turn out to be scams or projects that lack innovation and development, Syscoin proved their resiliency and belief in the project despite having most of their funds stolen out from under them. The development team is quite skilled and committed to the success of Syscoin. And now, much of the team is full-time since the beginning of 2018, further solidifying a robust product offering.
Syscoin Hack
Recently, the issue of hacking has become fairly rampant in the cryptocurrency industry. The problem has mostly affected exchanges, leaving users devastated in the aftermath. However, Syscoin got a piece of the hacking pie when a hacker compromised its Github account and disrupted the platform's official Windows client by uploading a malware version.
Syscoin developers have warned that users who downloaded version 3.0.4.1 of the client between the 9th of June, 2018 by 10:14 PM UTC and the 13th of June, 2018 by 10:23 PM UTC may be compromised.
The malware strain known as Arkei Stealer (Trojan:Win32/Feury.B!cl.), a malware that steals passwords and private keys, was the hacker's weapon of choice in this case. Despite the setback, the other clients like Mac and Linux were not compromised. Users who were affected were given directions on how to rectify the situation as well.
Final Thoughts
Syscoin is a blockchain-based project solving several business needs and leveraging the technological capabilities of the blockchain. It's actively disrupting the online marketplace by infusing the security and reliability of the blockchain to connect buyers and sellers on their platform.
There is a lot to like with this project, as the development team is committed, skilled, and growing, and 2018 is expected to see several major releases like Blockmarket Web and the Masternode infrastructure.
With the longevity of the project in the blockchain space, despite early adversity, and its ability to demonstrate successful development releases along the way, there is no reason to think this shouldn't be a banner year for Syscoin. It appears to be one of the promising blockchain projects, with a token gaining utility at every release.
Altcoins | Bitcoin payments | Blockchain tecnology | Blockmarket | Masternodes | Online marketplace | Sys | Syscoin