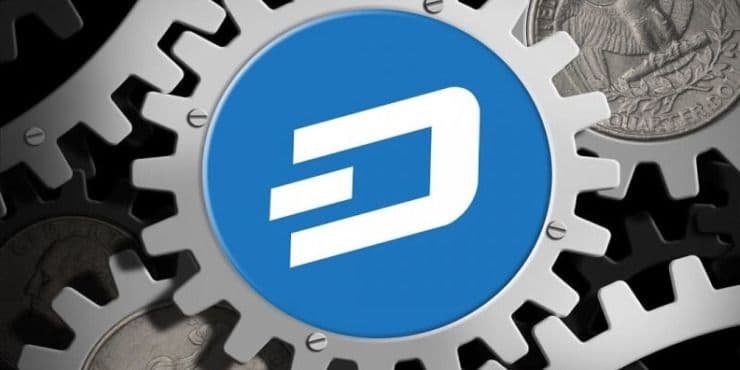 Diving Into Dash: Here's What You Need to Know
Investors and people buying cryptocurrencies are quickly realizing there are plenty of options outside of Bitcoin. The world's most popular cryptocurrency has several notable shortcomings, which has led to the development of alternative cryptocurrencies to address these issues. Some of these so-called 'altcoins' have gained tremendous momentum over the past year, including Dash.
Dash is often referred to as 'digital cash' because it attempts to solve the transactional inefficiencies of Bitcoin, and provides a quick, cheap and private way to send tokens between parties. So, while you might think the two cryptocurrencies are similar and serve the same purpose, there are a few distinct features that separate the two and make Dash an interesting choice.
Let's dive into some of the basics and get you up to speed on Dash.
Dash 101
Dash was originally launched in 2014 under the name Xcoin, quickly pivoting and changing its name to Darkcoin before settling on Dash in 2015. It operates using the same blockchain technology as Bitcoin to provide an immutable ledger of transactions. From the user standpoint, Dash holders can transfer tokens to other wallets, various prepaid debit cards, participating ATMs, and select merchants who accept Dash as payment.
The way Dash is structured makes it unique. While Bitcoin relies on a community of volunteers and donations, Dash set up a decentralized governance model and self-funding system that makes it a decentralized autonomous organization (DAO). What that means is that the participants in the network make decisions through a consensus voting process and direct funds toward approved projects.
Because Dash is self-funded and has a budget system, they have been able to build out a strong core team behind the project with over 30 full-time employees, 20 part-time employees, and numerous supporting volunteers. They also sport one of the most active altcoin communities, making it easy for you to find updates and information on their various social media channels and forums.
Draws of Dash
Dash, along with other altcoins like Litecoin and Bitcoin Cash, noticed the shortcomings in the Bitcoin network and responded by implementing a few distinct features into the system.
Transaction Fees & Processing
Dash's blockchain network supports larger block size limits than Bitcoin's, allowing for faster processing times. Where Bitcoin normally takes at least 10 minutes to confirm transactions, and often times longer when network activity peaks, Dash's processing time is right around 2.5 minutes. Transaction fees are also considerably lower than Bitcoin's, but that rate is expected to normalize as more users start adopting Dash and trade volumes rise.
Masternodes
The backbone of Bitcoin's network is the functions performed by the mining community to confirm transactions and mine Bitcoin. Dash, in comparison, uses a two-tiered approach in their mining network. Traditional miners handle simple network functions like creating new blocks. However, a group of super miners called Masternodes take on a larger role, enabling features like PrivateSend and InstantSend.
In order to qualify as a Dash Masternode, you must accumulate and hold at least 1,000 Dash coins. Masternodes are an integral part of the decentralized governance structure that characterizes Dash. When decisions are made regarding funding or the direction of the project, each Masternode gets one vote. Proposals are made in the Dash community and voted on by Masternodes for approval. This makes it much easier for the project to reach a consensus on important funding or operational decisions.
As a result of the additional responsibilities, all block rewards are split between miners and Masternodes, with each receiving 45% of the block reward. This incentivizes Masternodes to be an active part of the Dash network. The remaining 10% of the block reward is channeled back to the overall budget as the self-funding mechanism for future operations.
Privatesend
Dash included the additional feature of user privacy in the transactional process. PrivateSend allows users to anonymously send predetermined amounts of Dash, using the Masternode network.
In the current iteration of PrivateSend, Masternodes combine multiple, identical inputs into a single transaction, with multiple resulting outputs. The privacy of the transaction comes from blending the flow of funds together so a third-party is unable to identify and trace a single transaction.
Instantsend
Masternodes also enable a service called InstantSend where transactions can be processed in seconds. Users can take advantage of this feature when instant confirmations are necessary, like paying at a checkout line.
With InstantSend, inputs are attached to specific transactions and verified through a consensus of the Masternode network. If the Masternodes can't reach a consensus, the transaction is simply verified by using the standard block confirmation method. What the InstantSend aims to achieve is a way to instantly transact coins without running into the potential double-spending issue.
Who Accepts Dash?
Currently, the potential for instant processing times and low fees make dash an attractive payment option. As a result, Dash is gaining momentum as a form of payment and is accessible through traditional outlets like ATMs.
Update:
One industry Dash seems to be targeting is the legal cannabis markets. They have partnered with Alt Thirty Six, which focuses on point-of-sale software for the cannabis industry. Venezuela has also adopted Dash on a larger scale than any country in the world, surpassing even the U.S. Out of the 1,250 firms on the DiscoverDash list, Venezuela accounts for 273 of them while the U.S accounts for 255.
The adoption in Venezuela is mostly due to an initiative known as Dash Merchant Venezuela which consists of a merchant onboarding program and customer support which the local users find very helpful.
Dash as an Investment
Dash has been around for a relatively long time in the crypto world. With new projects popping up right and left, Dash's four-year history has nestled it among the top 10 cryptocurrencies. The current market cap is $5.4 billion, which puts it at number ten and a little behind competitors like Litecoin and Bitcoin Cash. Trade volumes have been increasing, and currently, $155 million in Dash exchanges hands every day.
Investors should focus on the increase in trade volumes, as that signifies more users and transactions happening on a daily basis. The more Dash is adopted as a form of payment and used in everyday transactions, the more value the cryptocurrency will hold.
The high market cap and trade volume aren't the end-all-be-all, but along with the project's longevity, it proves Dash's place in the market and shows potential upside. Larger investors can consider investment in Dash at the Masternode level. At current prices, purchasing 1,000 Dash would be a substantial $680,000 investment. However, it firmly establishes you as a Masternode and gives voting rights and revenue sharing from block rewards. The principles of a Masternode are similar to owning a large percentage of a company, and the leverage that provides for investors.
Update:
Dash also has some exciting plans for the future which will make it a great investment. In May 2018, the platform announced its partnership with Rewards.com and plans to be bigger than Paypal. The partnership will allow users who sign up to receive cashback on the rewards.com platform in the form of Dash tokens. Over 7000 merchants will be available for cashback and savings on the Rewards.com platform including Nike, Neiman Marcus and Walmart.
In the past, Rewards.com users have received cashback through Paypal that has totalled more than $100 million. However, the partnership will divert all that cash value back to the Dash platform. This move will contribute to the mainstream adoption of cryptocurrency by allowing people to interact directly with it in a simple way.
Dash has also sponsored cycling teams in Finland as well as Russia and continues to make a name for itself as a social brand. The teams sponsored by Dash won the gold and silver medals at the Grand Prix in Sochi (the Russian Championship). There were about 130 cyclists and up to 5000 visitors at the event where the winning teams were seen sporting the Dash logo on their jerseys.
Dash also produced "Dash champion trophies" for the international cycling competition in Turku, Finland. Although their sponsored cyclist finished in fourth place, there were visitors from all over Europe present at the event.
While Dash is still far behind the ever-popular Bitcoin, it presents a viable investment opportunity and has a promising future and outlook in the world of cryptocurrencies.
Altcoins | Crypto | Cryptocurrency | Dash | Hybrid coins | Instantsend | Masternodes | Privacy | Privacy coins