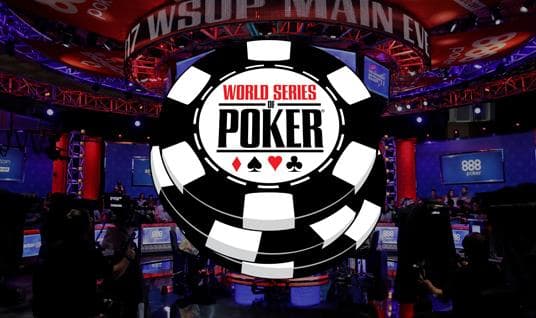 WSOP Main Event 2021 Update
Every year in the city of Las Vegas, Nevada, thousands of poker players come together to play a bunch of poker tournaments known as the World Series of Poker. And of these tournaments, there is one tournaments that trumps the rest, and it is known as the main event.
The main event is one of the main reasons so many poker players make the pilgrimage to Las Vegas each and every year. This game isn't cheap to buy into, and the price you win is no paltry sum. But the competition is fierce, and the tournament takes days to complete.
Whether or not you ever intend to play in the World Series, the main event is truly an event to behold. Keep reading to learn more about this iconic event, and how it's currently looking for this year's final players.
When is the Main Event?
The 2021 main event at the WSOP began on November 4th, 2021. If you are wondering why this is so late (as this event usually takes place in July every year) part of this is due to the COVID19 pandemic.
The WSOP was completely cancelled in 2020(well, it was played online, but does that even count?). And although it was rescheduled to its normal time period, the summer of 2021, because of low vaccination rates in the state of Nevada at that time, the tournament was forced to be rescheduled to late fall 2021.
Although the event officially began on November 4th, because the United States finally eased its European travel restrictions on November 8th, the WSOP was quick to add extra late registration days to allow for European players to join in on the action. These days, day 1E and 1F, ran on November 8th and 9th respectively. This overlapped a bit with day 2 for the 1A, 1B, and 1D players. Players from these two new day 1's joined 1C on November 10th for their day 2.
Playing the main event in the WSOP isn't cheap. But despite the cost, the event draws thousands of people each year, which is why it is split into so many days. You can find the full schedule, adjusted for the latecomers from Europe, below.
| | |
| --- | --- |
| Date | Tournament |
| Thursday, November 4th | 1A |
| Friday, November 5th | 1B |
| Saturday, November 6th | 1C |
| Sunday, November 7th | 1D |
| Monday, November 8th | 1E |
| Tuesday, November 9th | 1F |
| Tuesday, November 9th | 2A, 2B, and 2D |
| Wednesday, November 10th | 2C, 2E, and 2F |
| Thursday, November 11th | Day 3 |
| Friday, November 12th | Day 4 |
| Saturday, November 13th | Day 5 |
| Sunday, November 14th | Day 6 |
| Monday, November 15th | Day 7 |
| Tuesday, November 16th | Day 8 |
| Wednesday, November 17th | Day 9 |
What Do You Need to Play in the WSOP Main Event?
Even though you can't register for this year, you may be wondering just what kind of hoops these players had to jump through in order for thousands of them to be allowed in the same building to play poker.
First of all, even if you are coming from a European country, like the UK, where gambling is legal at 18, you must be 21 to gamble in the US. Additionally, you must be fully vaccinated against COVID19. This means you must have received your second dose (or one dose if you received Johnson and Johnson vaccine) at least 14 days prior to the tournament you want to enter.
Not to mention that players must wear a mask while they move around the casino. They can take it off while they sit down and play, but this can be quite annoying to remember to put on and off as needed. And obviously you will need the $10,000 buy in, which is no small sum.
Despite all of these rules and regulations, the 2021 WSOP main event had 6,650 entries with a prize pool of over $62 million.
Who's Still in the Main Event?
It's November 15th, meaning the majority of players have already been eliminated from the event. There are but 36 players who will go on to play Day 7. They are as follows, and listed in the order in which they are currently ranked by number of chips held:
Hyde Park
Demosthenes Kiriopoulos
Joshua Remitio
Chase Bianchi
Koray Aldemir
George Holmes
Ramon Colillas
Alejandro Lococo
Ozgur Secilmis
David Cabrera
Chance Kornuth
Arkadi Onikoul
Sean Ragozzini
Jareth East
Philipe Pizzari Pinto
Andreas Kniep
Matthew Jewett
Vasu Amarapu
Jung Woo
Stephen Gerber
Lewis Spencer
Robert Mitchell
Norbert Koh
Nicolas Vayssieres
Mitchell Halverson
Jesse Lonis
Jack Oliver
Jonathan Dwek
Nicolas Dumont
Glynn Beebe
Matthew Schulte
Denys Prydvor
Matija Dobric
Ronnie Abro
Ruslan Dykshteyn
Roongsak Griffeth
As you'll notice, one notable individual that is no longer in the main event is Chris Moneymaker. Although the rag to riches champion of the 2003 main event did play in the year's main event, he was eliminated on day 5. Qui Nguyen, winner of the 2016 main event was in the running for this year's title as well, but was also eliminated on day 5.
Who Wins Money in the Main Event?
Contrary to popular belief, it isn't just the winner, or even the top three finishers that win money from the WSOP main event. In fact, just about 1000 players will earn money from the event. While the money made at the lower levels is a paltry sum compared to the grand prize, the main event can still be a good pay day for professional players even if they don't win overall.
All 36 player that currently remain will make at least $198,500 depending on where they finish. Of course the last 9 will each win over a million dollars each, but a $198,000 isn't something to turn up your nose at. Even if you were in the main event and finished 226th, you will still walk away with $38,600 pretax, which isn't too bad seeing as you were likely eliminated on day 4 or 5.
But before you start gearing up to play next year's main hoping to make a little extra cash, remember that the buy in itself is $10,000 and there are over 6,000 opponents battling you to make it to the top.
Wsop | Poker | Poker players | Main event | Wsop main event | Prize pool | Cashout