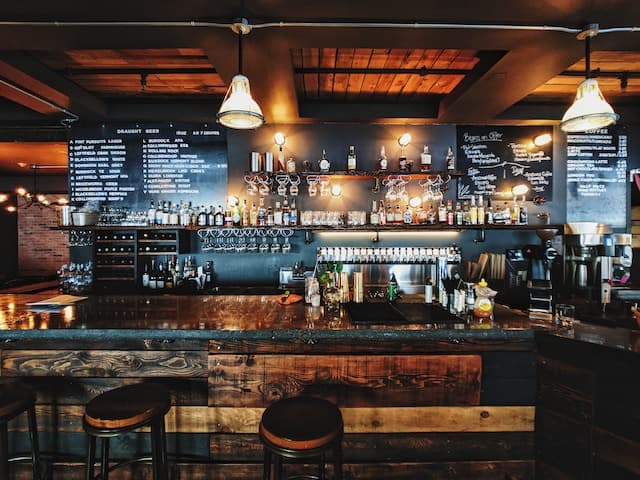 10 Best Bars in Atlantic City
Atlantic City is an iconic resort town on the coast of New Jersey. It's known for its hotels, casinos, places to eat, and boardwalk. One thing many enjoy in Atlantic City is the bars - but where are the best places to grab a drink in this iconic tourist location?
If you're interested in learning more about the best bars in Atlantic City, you've come to the right place. Read on to learn more about the top places to grab a drink in this dazzling city, whether you're looking for a beautiful location or an exciting adventure.
Bally's Beach Bar
Bally's Beach Bar is a classic if you want to head to the beach of Atlantic City and relax. Their primetime is the summer, as they're famous for their tasty cool drinks and grill fare, which individuals flock to from up and down the sandy shores. It's charming but right on the water, allowing some incredible views.
Here, you will find live music, beach cabanas, and more. If you prefer a tropical feel in your bar experiences, head to Bally's Beach Bar to test out some of their enticing beverages. Plus if you want to game, the casino is easily accessible!

Related: All About Atlantic City Casinos
Cuba Libre Restaurant and Rum Bar
If you're a fan of the classic mojito, Cuba Libre is for you. They know what they're good at here, and they do it well. They provide nine unique versions of the mojito here, along with some non-alcoholic versions known as nojitos.
You will find Latin inspiration galore here. There is salsa dancing, tasty food, and an extensive cocktail menu. The goal of the owners is to preserve their homeland of Cuba, offering a complete experience for visiting customers while supporting their country. It makes for a lovely time and a full stomach.
Plus this bar is conveniently located in Caesars...so you can drink and game at the same time!
Boogie Nights
Boogie Nights is right in the Tropicana City Hotel. Just like its name, this bar and dancing nightclub offer everything you could need from an older time. They play tunes from the '70s, '80s, and '90s, all while creating an amazing atmosphere for all to enjoy.
They have many drinks, mostly your standard lineup. If you want a bar that focuses more on the party than the beverages, Boogie Night is the place for you.
Nola's Bar and Lounge
Nola's Bar and Lounge is the closest you will get to Las Vegas in Atlantic City. The bar is situated in the Ocean Casino Resort, offering elevated seating to the guests. It's a Las Vegas lounge in all the best ways.
There are plenty of top-notch drinks here. A few customer favorites include the spicy Frida, sweet Nola, or smoky Salvador. They also bring on talented musical guests for entertainment on some nights.
The Irish Pub
Every location has an Irish pub, but there is no Irish pub quite like The Irish Pub in Atlantic City. This location is right on the main boardwalk area and offers some of the best appetizers and drinks in the town.
If you head upstairs to The Irish Pub, you'll find a lovely Victoria Inn upstairs with cheap room offerings. It's a fun place to go, right smack in the center of all the action on the boardwalk of Atlantic City.
Related: Top 10 Best Gambling Destinations in the World
Mountain Bar
Mountain Bar is one of the most unique locations in Atlantic City. From the moment you enter the room, you know you're in for a show. It's hard to miss the unique mountainous background of the dancing cowgirls front and center by the main bar area.
You'll find Mountain Bar in Bally's Wild West Casino, so you can enjoy drinks, dancing, and games on the various machines. There's also a mechanical bull, ping pong, and a live music stage for all your entertainment needs. You won't want to miss the action here.
Wet Willie's
Wet Willie's isn't exactly a fancy bar, but it's the perfect location if you want to stop for a quick drink before heading out to enjoy the rest of what Atlantic City offers. They're known for their frozen alcoholic beverages, some half the size of your body.
The original Wet Willie's began in Florida, and it shows with their tropical and exciting attitude. If you're interested, try their famous Call a Cab or the equally tasty Attitude Improvement. You can take them to go, enjoying the booze on even the hottest days of the New Jersey summers.
Back Bay Ale House
Back Bay Ale House is an opportune bar if you're looking for a relaxed place to hang out with friends and grab a drink. It's rustic in all the best ways, complete with drinks in iconic mason jars to create the full picture of relaxed living and drinking. They have enjoyable patio seating so you can enjoy the outdoors while sipping.
You'll find domestic and imported beers here, as well as wine and classic mixed drinks. They also have an indoor and outdoor bar selection, so you can enjoy whatever vibe you want while taking a moment to yourself.
Wonder Bar
Wonder Bar is a unique experience with plenty of beverages and a deck looking out over the water. It's impossible to beat a good view of the ocean, and Wonder Bar understands that fact.
Wonder Bar is lively and light-hearted in all the best ways. If you want something laid back and gorgeous, try a drink here.
Gypsy Bar
Gypsy Bar is located in the Borgata Hotel by MGM, known for its extravagance. Gypsy Bar is known for its tequila, offering an electric tequila bar setting with plenty of live entertainment. If you love agave, this location has everything you will love and more.
If you have a gathering to host, Gypsy Bar can take up to 215. It's just casual enough to be comfortable and filled with 100s of varieties of tequila to keep every customer satisfied in Atlantic City all night long.
Final Thoughts
If you're heading to Atlantic City, these are some of the best places to grab a drink. Whether you're looking for a down-to-earth pub or a location with a classic slushie, there's something for everyone.

Atlantic City is an exciting place to go on vacation, and the bars live up to the expectations. It's well worth visiting any of these spots if you're ever in town.
You May Also Enjoy: The 10 Best Bars in Las Vegas
Bars in atlantic city | Atlantic city bars | Gaming bars | Gambling bars | Best bars | Atlantic city