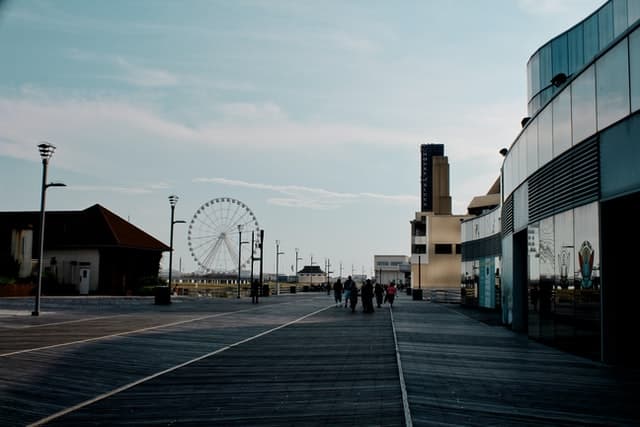 All About the Atlantic City Casinos
Atlantic City is widely known for its legal gambling similar to Las Vegas. For people living in the east coast, it is a lot cheaper and faster to travel to Atlantic City as opposed to traveling all the way out to Vegas. This is why there are so many casinos in Atlantic city.
If you were wondering about which casinos are good to visit in Atlantic City, you should keep reading the sections below to find more information on what the casinos there offer and which ones you should visit if you are in Atlantic City.
Bally's
This newly renovated casinos is one you should certainly consider visiting if you go to Atlantic City. This Hotel has a beautiful view that overlooks the beach while also having a very wide selection of table games and options for you to gamble.
When it comes to gambling, Bally's has you covered. Here you can choose to play games such as Blackjack, Craps, and Baccarat just to name a few. If none of those games appeal to you, you can also play their wide variety of slot machines in the lobby.
In addition to their casino, this hotel also has many dining options for you to enjoy while you are there. One of the most popular eating experiences you will find at Bally's is in The Yard. Here you can enjoy live entertainment while also enjoying a wide variety of beers on tap which include local and national beers as well as craft cocktails.
Caesars
Perhaps the most popular out of all of the casino hotels in Atlantic City is Caesars hotel. This hotel has been operating for more than 40 years in Atlantic City and features one of the biggest casion floors in the city.
As you can imagine, you have a ton of options when it comes to gambling. You can choose to play a wide variety of games including roulette, Blackjack, Craps, etc. If you are someone that prefers to play slot machines, then you have nothing to worry about because you will be able to find plenty of those on the casino floor.
In addition to the casino floor, you can also visit The Circus Maximus Theater which offers live entertainment from muscians, comedians, and more. Other than enjoying the live entertainment, you can also visit the beach side bar which as the name suggests overlooks the beach.
For those of you who love to try new foods and really enjoy restaurant experiences, you will be pleased to know about all of the different dining options that you can find here. The most popular restaurant in the hotel is Gordon Ramsay Pub & Grill. This restaurant from Michellin Star chef Gordon Ramsay is a must try if you visit the Caesars Hotel in Atlantic City. There are also several different steakhouses for you to try if that is more of your liking.
Borgata
If you are still looking for more options of casinos to visit while visiting Atlantic City, then you should definitely consider going to Borgata. This Hotel which opened in 2003 is one of the most popular ones in the city and is constantly operating near maximum capacity.
In addition to their beautiful hotel accomodations, their casino floor is sure to satisfy all of your gambling needs. The casion floor in this hotel is more than 160,000 square feet. Here you will find over 4,000 slot machines and over 200 table games so you are sure to find what you are looking for.
If you are looking for more than just a casino, you will find that Borgata also offers many different entertainment options that don't involve gambling despite that being its main attraction. There is also a comedy club and an event center with nightly musical performances.
On top of all of the entertainment options, there is also a spa avaiable should you choose to get a message. In addition there is also a beauty salon and a barbershop to get you ready for your night out visiting the different bars that you can find in the hotel.
There are also several different restaurants within the casion as well as different restaurants where you can grab a quick bite.
Can't Make it to Atlantic City?
Let's face it, a vacation to Atlantic City sounds wonderful. At the end of the day who wouldn't want to stay in a hotel resort like the ones mentioned above and visit delicious restuarants, enjoy amazing live entertainment, and do a little gambling. However, not everyone can afford the cost of taking a flight, paying for a hotel, and spending all of the extra money on entertainent and gambling.
If you want to gamble but can't afford to take the trip to Atlantic City, then you should consider gambling on MintDice.com. Here you will be able to gamble from the comfort of your own home which will save you tons of money on travel and hotel expenses.
MintDice offers many of the traditional games you would find at a casino while also offering games that are unique to the website and you won't find at a casion such as Plinko and Bit.Rocket.
With that being said, if you choose to gamble on MintDice or by visiting a casion in Atlantic City, you should be cautious with the money you gamble. If you find yourself developing a gambling addiction you should reach out for help immediately.
There are many options to choose from when it comes to visiting a casino in Atlantic City. These casinos have many things in common such as beautiful installations, bars, restaurants, and live entertainment. It is a great vacation for adults to take and enjoy everything that Atlantic City has to offer.
However, if you want to gamble but don't want to break the bank on travel and hotel expenses, you should consider online gambling on websites such as MintDice. Although gambling at home may not be the same as gambling at a beachfront hotel while eating delicious food and cocktails, it is much more affordable for those of you that aren't swimming in money.
Atlantic city | Casinos | Gambling | Gaming | Bitcoin gambling | Online gaming | Online casinos