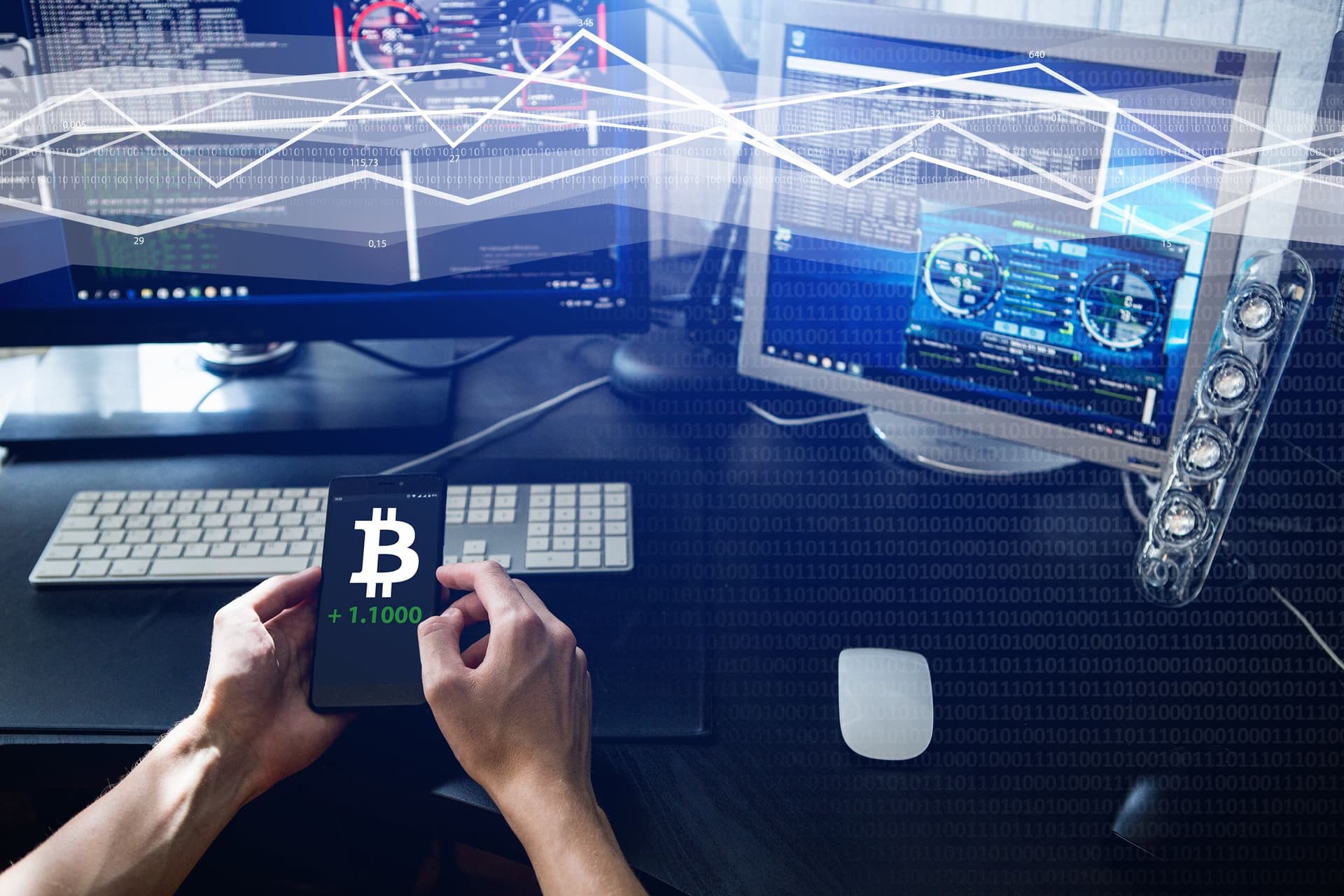 A Guide to Cryptocurrency Exchanges
Many people have heard tons of news around Bitcoin and other cryptocurrencies. But at the same time, they might be scratching their heads wondering how to buy virtual currency. As Bitcoin and other types of cryptocurrency become more popular, there are various ways to purchase these digital assets.

One of the easiest, most popular, and quasi-regulated ways to buy cryptocurrencies is through a crypto exchange platform. Crypto exchanges serve a key role in the entire digital asset ecosystem. Like purchasing stocks and shares of a company through a traditional stock exchange, there are exchange platforms that exist to serve buyer and seller of cryptocurrencies. Investors and traders can use crypto exchanges to convert their fiat currency into Bitcoin, and trade Bitcoin for a multitude of other cryptocurrencies in the market.

Crypto exchanges as a whole are still in the early stages of maturity. When it comes to user experience, security or regulatory protection, the existing crypto exchanges vary tremendously. This guide should give you the basics on crypto exchanges and equip you to execute your first cryptocurrency trades.

What is a Cryptocurrency Exchange?
A crypto exchange is simply a way for investors and traders to buy and sell cryptocurrencies, or digital currency. If you are an active stock investor or trader, the concept should be very familiar. Crypto exchanges support the open marketplace of people wanting to buy and sell a particular cryptocurrency pair.

For example, if you have Bitcoin, but you want to trade it for some Ethereum tokens, you would trade the BTC/ETH pair. This means you would sell your Bitcoin in exchange for the equivalent amount in Ethereum coins.

Relating it back to a stock exchange, this is like a transaction of trading your dollars for stock. You would be selling your dollars and buying the equivalent amount of shares in the company. In the crypto world, Bitcoin is often viewed as the dollar part of the equation and is used to purchase other cryptocurrencies, often referred to as 'alt coins.'

What is The Process for Using An Exchange?

Crypto exchanges are basically a mechanism to trade dollars or fiat currency for Bitcoin, and convert that Bitcoin into other cryptocurrencies trading on the market. So how exactly do you buy cryptocurrency?

The first step is to take our fiat currency (US Dollars, Euros, British Pounds, etc.) and convert them into Bitcoin after setting up a cryptocurrency wallet. The most common, and easiest, way to accomplish these transactions is by using a crypto-fiat exchange. These exchanges allow you to deposit fiat currency and trade for Bitcoin with low or no fees. We cover the process of opening an account in the section below.

Once you're set up on a crypto-fiat exchange platform, the next step is to deposit fiat currency into the exchange. Similar to a stock exchange, you can use a wire transfer or bank transfer to send money to the exchange. Select exchanges even allow you to fund your account with a credit or debit card. Then you simply buy Bitcoin at the current market rate using your fiat currency. Your exchange will then show your account with Bitcoins after the platform calculates the exchange rate automatically.

Most investors and traders don't want to stop there. They are interested in expanding past Bitcoin and trading other alt-coins. That's where a true crypto exchanges come into play. Crypto exchanges don't touch any fiat currencies. Instead, they only allow 'crypto-to-crypto' trades. The BTC/ETH trading pair is an example of a crypto-to-crypto trade.

So trading other cryptocurrencies generally requires you to open an account with at least two different exchanges. Once you've opened an account with a crypto exchange, you need to fund that account with the Bitcoin you bought on the crypto-fiat exchange.

Again, this process is just like sending money back and forth between stock exchanges. You simply initiate a withdrawal from the crypto-fiat exchange and input the Bitcoin address from your crypto exchange account you set up.

From there, the process involves the crypto-to-crypto trades you want to make. You identify a particular coin you want to buy, then find its Bitcoin trading pair. You can think of Bitcoin as the digital reserve virtual currency for these trades, rather than the dollar. The cryptocurrencies you want to buy will be priced in Bitcoin.

When viewing the trading pair on the exchange, there is typically a buy and sell wall to show the open orders in the marketplace. You can select one of those, or place your order to buy the specific cryptocurrency, choosing the number of coins you want and the rate at which you're willing to buy.


How Do I Open An Account On An Exchange?

Opening an account on a crypto exchange is very similar to any other online account. Generally, you visit the website and go through the process of setting up an account with your email and a password. The thing to take note when opening an account with a crypto exchange is that they will probably require some extensive due diligence.

As regulators are chiming in on how cryptocurrencies should be treated, regulated and traded, crypto exchanges are under constant pressure to run a tight ship with their users. So you will find the level of diligence for crypto exchanges is often on par with the process of opening a bank or brokerage account.

In order to stay in compliance with the multitude of regulators, digital currency exchanges are regularly performing Know-Your-Customer (KYC) and Anti-Money Laundering (AML) checks on customers opening new accounts. As you move forward in crypto trading and investing, the KYC and AML terms and processes will become familiar. This ensures they know who is behind their accounts and they are putting forth the effort to eliminate any illegal trading activity.

Another thing you'll notice when opening accounts with crypto exchanges is they require some extra security measures, such as Two-Factor Authentication. Exchanges might give you the option to enter your mobile number and receive authentication codes by text message. So when you log in with your email and password, the exchange sends you a text message, and you need to input the number in order to log in.

Once establishing the account, the exchange will probably require proof of identity and proof of address documents as part of their due diligence process. The specific documents required will vary by trading platform and also depend on your location, but a photo of your current passport or driver's license is usually sufficient.

Which Exchange is Right for Me?

When it comes to finding the right currency exchange for you, you need to identify your specific needs. There is no one crypto exchange that is a one-size-fits-all solution. Some crypto exchanges only support a select number of cryptocurrencies, while others have hundreds of active trading pairs. Some crypto exchanges have limitations based on geography and which country the user is physically located. Some crypto exchanges will only accept certain fiat currency deposits, while others might not accept fiat and only trade in Bitcoin or digital assets.

So the first step is determining your investing and trading goals with cryptocurrency. If you are simply looking to convert your dollars to Bitcoin, you want to find an exchange that is reliable and user-friendly. If you want to actively trade multiple cryptocurrencies, you want to find an exchange that supports a large variety of tokens and makes it easy to execute digital trades.

Here Are Some Crypto-Fiat Exchanges to Consider:
Coinbase
Supports Bitcoin, Ethereum, Litecoin and Bitcoin Cash

Available in 32+ countries

Allows USD, EUR, and GBP fiat deposits

Ultra-popular exchange, user-friendly, mobile version available, accepts credit and debit cards

Gemini
Supports Bitcoin and Ethereum

Available in US, Canada, UK, Singapore, Hong Kong, South Korea

Allows USD deposits

Another popular exchange, reliable and easy to use, good security

Kraken
Supports Bitcoin plus a couple dozen other cryptocurrencies

Available in US, Canada, Europe, Japan

Allows USD, CAD, EUR, GBP, JPY deposits

Better for more advanced users, supports more coins, user interface is not the best

Blend of a crypto-fiat and a true crypto exchange




And Here Are A Few Crypto Exchanges to Consider if You Want to Truly Expand Past Bitcoin:

Bittrex
Supports a wide range of cryptocurrencies, 200+

Available in nearly all countries

Fairly easy exchange to use and navigate

One of the most popular crypto exchanges
Supports a large range of cryptocurrencies, 50+

Available in nearly all countries

Not the easiest exchange to use

One of the most popular exchanges and has lots of trade volume

ShapeShift
Supports Bitcoin and 35+ other cryptocurrencies




Available in all countries




Fairly easy exchange to use




No account required to trade
Bitcoin trading | Bittrex | Buy bitcoin | Coinbase | Cryptocurrency | Crypto exchange | Exchanges | Guide