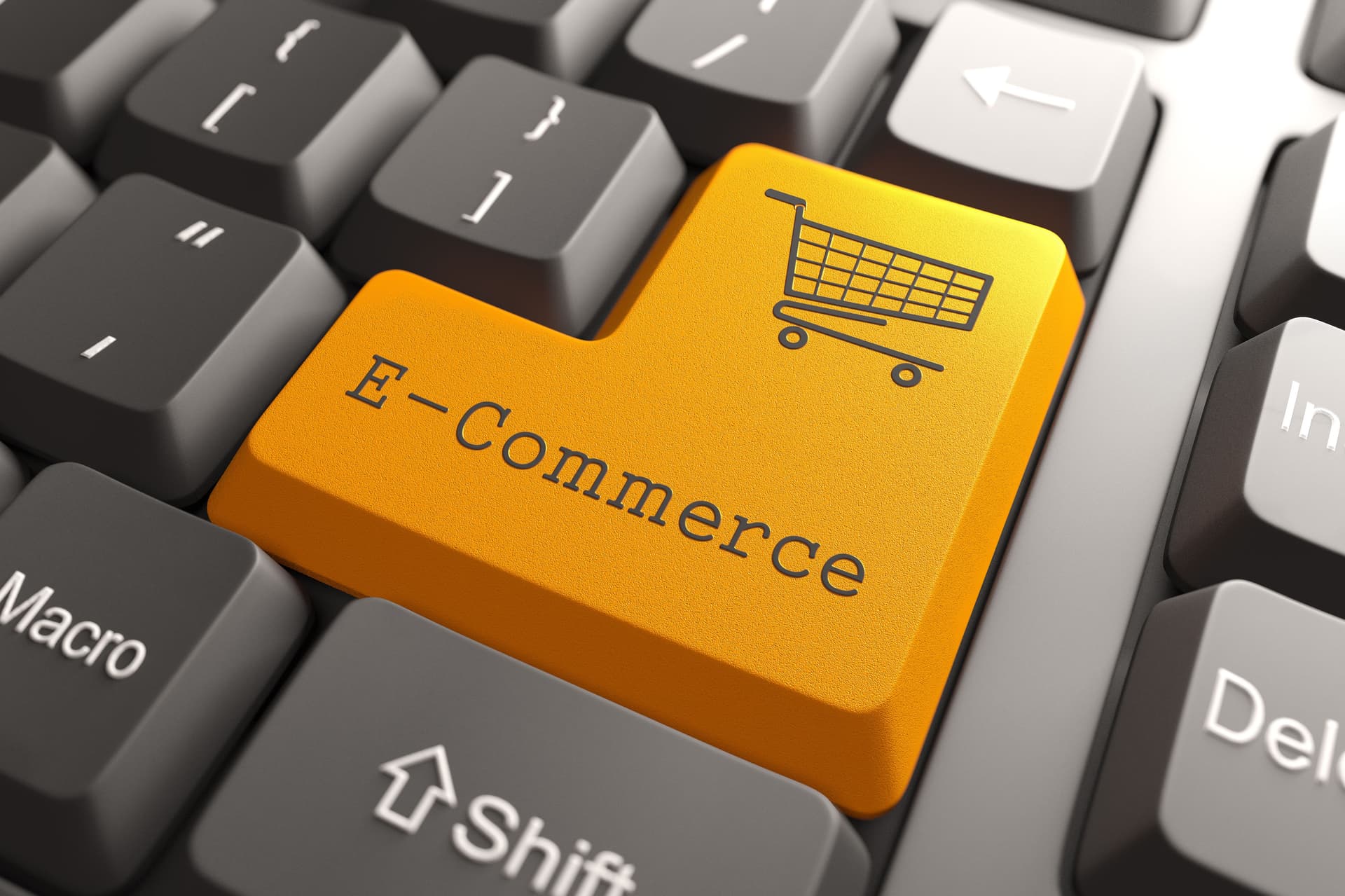 Cryptocurrency & E-Commerce: A Future Together?
Digital currencies and blockchain technology really started gaining traction and attention with the huge rise of Bitcoin. Over the past few years, more and more people have begun to view Bitcoin as an alternative form of currency, much like a digital comparison of gold to cash. As the Internet evolves and becomes ever more integral in our lives, digital assets and transactions are going to become the new normal.
The new wave of transactional cryptocurrencies has sparked a transformation within the e-commerce market. Many people are now looking to cryptocurrencies as the future transaction mechanism for online purchases.
We're going to explore the trends of blockchain in e-commerce, the relationship between the cryptocurrency industry and e-commerce, and the pros and cons of accepting crypto payments for retailers.

Crypto & E-Commerce Trends
Cryptocurrencies and e-commerce are each helping transform the entire process of how consumers and retailers transact business.
Crypto as the future of currency
The term cryptocurrency came about because Bitcoin was literally looked at as a digital form of currency. Then other coins and other forms of digital currency started hitting the scene. As Bitcoin's blockchain network became inefficient, other coins tried to take advantage and develop a better blockchain protocol to make transactions faster and cheaper to create a better currency exchange.
Through these efforts, cryptocurrencies are starting to break the mold of how people conceptualize money. Bitcoin is much like the dollar, as the crypto markets have basically acknowledged it as the reserve digital currency. With a new paradigm of currency, the door is open for blockchain applications to innovate the way we do business, including e-commerce.
E-commerce as the future of shopping
Much like cryptocurrency is doing with the concept of currencies, e-commerce is drastically changing the landscape of consumerism, retail, and shopping. What people consider normal is vastly different than a few years ago, and still changing each day.
Brick-and-mortar stores continue to suffer as companies such as JC Penney and Sears are struggling to compete with online retailers. People are perfectly content and happy shopping on their computers from the couch and using Amazon Prime to get free two-day shipping. Other retailers are even starting to let customers receive clothes, try them on at home, then purchase what they want while returning the rest.
However, with e-commerce comes online payments and card-not-present transactions. There are plenty of security concerns for e-commerce and room to improve the online transactional process.
Cryptocurrency & E-Commerce
With the trends taking hold above, in theory, cryptocurrency and e-commerce are a match made in heaven. Blockchain technology allows for digital forms of security that are cryptographically created, with transactions that are quick, cheap, and secure. The migration of our lifestyles to the Internet makes shopping and paying online a perfect fit. The question is whether cryptocurrencies can be a viable option as a form of payment for e-commerce consumers.

Advantages of Cryptocurrency in E-Commerce

Processing Times
Cryptocurrencies can enable lightning-fast processing times for transactions on a blockchain network. That has been one of the knocks on using Bitcoin as a transactional currency – the blocks each take 10 minutes to process and transactions can take hours to confirm depending on network speeds. To solve this problem, blockchain forks resulted in faster processing coins like Bitcoin Cash, Dash or Litecoin. Each of those cryptocurrencies is trying to gain adoption as a transactional coin for your everyday purchases, processing transactions in a matter of seconds.
Transactional Fees
Cryptocurrency transactions can be done for a fraction of the cost of traditional payment processors like credit cards or PayPal. A credit card company typically charges around 1 to 3 percent of the transaction amount. Again, due to network speeds, Bitcoin transaction costs were getting a little too high for your daily coffee purchases. However, other coins came to the rescue again and many boast fees that are a fraction of a dollar. On top of that, you can usually opt for a higher or lower fee with cryptos depending on how fast you want the transaction verified.
Reward Programs
Similar to credit cards, cryptocurrencies have the potential to offer users rewards, making them an attractive payment option for customers. For example, coins can be used as a frequent flyer program, exchanged for perks that have real value. The reward points or tokens then represent a liquid, tradeable asset depending on the value of the program.
Other Reasons for E-Commerce to Accept Crypto
Crypto payments are considered push transactions, initiated by the purchaser, eliminating possible chargebacks.

Push transactions also remove the need to store customer payment information, minimizing the chances of a data breach.

Payments can be processed immediately with minimal fees.

Crypto payments can be exchanged directly into USD through third-party processors, Coinbase, for example, charges less than 1 percent to convert crypto to fiat.

Offering cryptocurrency payments could entice crypto enthusiasts to shop on your website and promote your business.

Accepting cryptocurrency payments could raise brand status as an industry leader and early adopter of new technologies.
Cons of Accepting Cryptocurrency
Of course, there are potential cons when considering cryptocurrency payments for your e-commerce business. The technology is pretty new and implementing it correctly could present a challenge. However, plugins and widgets have made it pretty easy to 'plug and place' to include a crypto payment option.
Even though you can convert your crypto to fiat, there is the risk of the volatile cryptocurrency markets. If you are holding cryptos, or Bitcoin, for any period of time you might realize the value of your holding has changed significantly. It's not uncommon for the price of Bitcoin to rise and fall by 10% within 24 hours. The volatility of other cryptocurrencies is even higher.
For e-commerce retailers that have a lot of online exposure and revenue, the volatility of the crypto markets is probably a real turn off. However, there are plenty of benefits to consider, and if direct crypto to fiat options are feasible, it helps limit the downside potential.
Companies Accepting Crypto Payments
Many e-commerce platforms have started accepting cryptocurrency as a form of payment, including several major online retailers. Overstock was one of the first big players to announce Bitcoin as a payment option. Others like Microsoft, Zynga, and OKCupid have jumped on board as well.
Interestingly, travel companies are starting to adopt crypto payments. Big names such as Expedia, CheapAir, Virgin Galactic, and Bitcoin.travel all accept Bitcoin.
Final Thoughts
Blockchain technology is finding numerous applications in the world of business. One of the major fits for digital currencies is in the e-commerce space. As more and more people begin adopting digital currencies, there will be a bigger push for online companies to accept cryptocurrency payments.
It will be interesting to see how many more familiar names get added to the list of e-commerce sites that accept Bitcoin. The primary player to keep an eye on is Amazon, of course, with their dominance in the e-commerce market. They are, no doubt, considering the best way to implement blockchain technology and cryptocurrencies into their dynamic business model.
Overall, cryptocurrencies have the power to disrupt the online payment system. The big factor will be user adoption. If people want to use cryptos as a form of currency for online shopping, then there is a lot of opportunities. Bitcoin cryptocurrency has definitely emerged as the most trusted coin, but there are a whole host of other coins vying for a spot at the top.
Bitcoin adoption | Bitcoin payments | Bitpay | Blockchain startups | Cryptocurrency | E-commerce