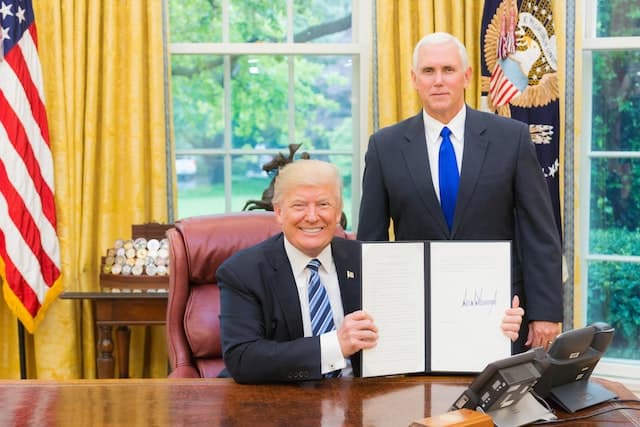 All About the Donald Trump NFTs
Former U.S. President Donald Trump is the latest celebrity to hop on the NFT train. Amidst the likes of Bella Hadid, Snoop Dogg, and Tony Hawk, Donald Trump has thrown his hat into the ring of cashing in on NFTs.
He announced his collection of NFTs on Truth Social, the social media site he founded in 2021, and it was met with a wide array of reactions. But what exactly are they? Do they come with any perks or special offers? How can you purchase one? We've answered all of those questions and more in the following article.
What Are Donald Trump NFTs?
In the infomercial style video that Donald Trump made for this initial run of NFTs, the former president compared them to baseball cards, or other collectibles. The website for the cards depicts images of a cartoon-style Donald Trump in different settings, scenarios, and costumes. These range from superheroes, astronauts, and football players. Each purchase also came with an automatic entry into a sweepstakes, which offered many different prizes.
According to the website's FAQ, once purchased, the card is randomly generated and delivered to your wallet. They are also assigned different rarity levels, which could have implications for its value. The rarity levels could be limited to 2, 5, 7, or 10 copies or even one of ones. The site also says that only 45,000 total cards will be released in this series, and no more than 20 copies exist of any single card.
The website also explicitly states that the proceeds that come from these cards will not contribute in any way to the campaign funds of Donald Trump's announced third presidential bid.
These cards are minted on the Polygon blockchain, which describes itself as eco-friendly and carbon neutral. This means that they are also available to be traded or sold on any secondary marketplace that accepts Polygon-based digital assets.
How to Buy Donald Trump NFTs
These NFTs were available for purchase at CollectTrumpCards.com, but all 44,000 available to the public sold out within hours of release. They were available to purchase either with cryptocurrency or with the use of any major credit card.
If you missed out on the initial release, and are still interested in owning a Donald Trump NFT, they are available for trade or purchase on secondary markets such as OpenSea, where the floor price is currently over double what they initially released for.
How Much Do Trump NFTs Cost?
On their initial release, these NFTs were available for purchase on the CollectTrumpCards website for $99. Since they all sold out, the only way to purchase them now is secondhand, where prices can be set to whatever the owner pleases.
Many of these Trump cards are ranging from $300 to thousands of dollars, with the rarer ones in the collection reaching five figures. Some of the one of one edition cards have offers in the hundreds of thousands, however none have yet to be resold.
Why Are Donald Trump NFTs Popular?
Most of the popularity with these NFTs is due to their connection to Donald Trump himself. As someone with many strong supporters, it's no surprise that this collection of NFTs sold out fairly quickly.
Their popularity could also be due to the sweepstakes aspect behind them. Every purchase of a Donald Trump NFT came with an automatic sweepstakes bonus entry that promised 1000's of prizes. Some of the prizes listed on the website include: a dinner in Miami with Donald Trump, a one-on-one meeting with Donald Trump, a day of golf with Donald Trump and 2 friends, and even hand signed physical memorabilia.
In addition to the sweepstakes, the website states that anyone who bought at least 45 Trump cards was guaranteed a ticket to attend a Gala Dinner with Donald Trump in Florida.
What Was the Reaction to These NFTs?
Although the collection sold out completely in just a few hours, and the price of the cards on the secondary market is trending upwards, the overall reaction from the public seems to be negative, even from Trump's own supporters. This collection comes after Trump himself said he was "not a fan" of cryptocurrency in 2019. Some fans immediately labeled the collection a "scam" and questioned why Trump would be focused on an NFT collection amidst a presidential bid and following an investigation of his home in Mar-a-Lago by the FBI.
Twitter was especially harsh on the project, making it the subject of many viral memes mocking the cards. Anthime Gionet, who is facing sentencing for his role in the January 6th assault on the Capitol tweeted, "i can't believe i'm going to jail for an nft salesman". He later tweeted, "i wanted to make america great again but all i got was this sh--- nft".
Should You Buy Donald Trump NFTs?
Donald Trump NFTs are as risky an investment as any other digital asset. However, keep in mind that since these are tied to a celebrities' popularity, and not based off of any utility, perks, or movement behind the project, Trump cards don't exactly hold the same amount of investment merit that other digital assets may hold.
It may be an attractive feature that there are only 45,000 cards in the collection, and that some of them hold a certain rarity rank, which could raise their value in the eyes of a collector. Remember to invest wisely in your digital portfolio, and to follow the projects you think have real merit or utility, and not just the ones that are currently popular.
Donald Trump's cards came at a strange time for an NFT release, as NFT trading has dropped significantly since their initial boom. However, that did not stop NFT collectors and Trump's supporters alike from selling out the complete collection in less than one day.
It is also yet to be seen what exactly comes of the sweepstakes offered with the purchase of these collectibles. Thousands of prizes were promised but no deadline was given for the delivery of these items.
Donald trump | Nft | Donald trump nft | What are nfts | Polygon | Nfts