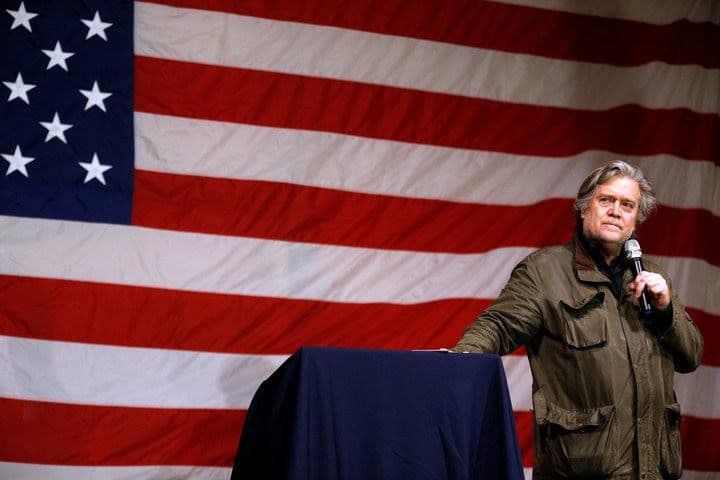 Former Breitbart News Executive Invests in Crypto
The crypto world seems to have a new player in the game.
Nearly a year ago, he was fired from the White House. Now, he is touring Europe preaching about economic nationalism.
The former White House chief strategist Stephen Bannon is no stranger to stirring a buzz in the media. Most recently, he has been getting a lot of attention for investing in Bitcoin, and particularly for his initiatives involving cryptocurrency, which he hails as a tool that can help liberate Western nations from centralized control —whether it be banks or governments— and promote "disruptive populism."
But Bannon is not just spreading the word. His meetings with cryptocurrency investors and hedge funds have pointed to a potential launch of an initial coin offering through his investment firm Bannon & Company. Additionally, Bannon has held conversations with Harvard academics about the possibility of launching a new cryptocurrency, the "deplorables coin." As The New York Times explains, this name is "a nod to Hillary Clinton's description of Mr. Trump's supporters as 'a basket of deplorables.'" His endeavors may even extend to helping other countries make their own coins.
Bannon Embraces "Disruptive Populism"
For Banning, it's not just about owning and profiting from Bitcoin; he sees cryptocurrencies "as the future." As he expressed in an interview with The New York Times, "It's disruptive populism...It takes control back from central authorities. It's revolutionary." But the decentralized future he's helping to advance may seem a bit surprising for a former politician, as well as a former executive chairman of the alt-right platform Breitbart News, which was reputed with having a critical role in the election of President Trump.
Most recently he has been touring Europe to disseminate a message of economic nationalism, targeting new local populist parties. According to Bannon, "central banks are in the business of debasing your currency… Central governments are in the business of debasing your citizenship." By using cryptocurrencies, Bannon believes "We take control of the central banks away. That will give us the power again."
Bannon is not only focusing on central banks but also sees the potential of cryptocurrencies in defeating corporate giants. For example, according to Bannon, letting companies such as Facebook and Google control our personal data and mine it gives them our identities and renders us into mere "serfs."
"Control of data, citizenship, and currency will be true freedom," Bannon exclaimed in Switzerland, and he sees cryptocurrencies as a pivotal step toward this ownership.
As for his motives, Bannon's interest in Bitcoin and cryptocurrencies could be rooted in something other than social progress. It is not impossible that he sees it as a potential tactic to return to politics or to gain influence in a different form. After all, it was Bannon who said: "Control of the currency is in control of everything." In an interview, he stated, "It was pretty obvious to me that, unless you got somehow control over your currency, all these political movements were going to be beholden to who controlled the currency." In the meantime, however, Bannon has dodged the subject of returning to politics.
Stephen K. Bannon: Background
Born in Norfolk, Virginia, in 1953, Bannon describes his background as a "blue-collar, Irish Catholic, pro-Kennedy, pro-union family of Democrats." He had received his bachelor's degree in urban planning from Virginia Tech, a master's degree from Georgetown University, and an M.B.A. from Harvard.
A "colorful" character, Bannon has lived multiple careers and endeavors, involving inflammatory comments, lawsuits, and three divorces. The two most widely-known roles that he has held include his time at the White House and Breitbart News.
Most recently, Steve Bannon was President Donald Trump's chief strategist and senior counselor. His appointment to this role received massive criticism because of his reputation for ultra-conservative and controversial views. During his time in the White House, Bannon worked on President Trump's inaugural address as well as the travel ban that took effect in January. He also joined the National Security Council Principals Committee in January 2017, a small group of advisors for questions regarding national security policy, only to be removed by April of that year. Bannon was fired in August 2017.
Previously, Bannon was the chairman of Breitbart News, an ultra-conservative website known for its provocative views. In an interview in July 2016, Bannon declared it "the platform for the alt-right." Indeed, the website reached a new level of inflammatory content during his time there, from 2012 to 2016. Given his resume of controversial roles and comments, there is a widespread view of Bannon as being aligned with supporters of white nationalism and white supremacy.
As a sampling of Bannon's many previous experiences, he had started a small bank that focused on media deals called Bannon & Co. Before that, Bannon spent five years as an investment banker at Goldman Sachs. He was also in the Navy for seven years, spending a portion of that time at the Pentagon, where he served as a special assistant to the Chief of Naval Operations.
New Utility Tokens?
While Bannon is a strong supporter of Bitcoin, having invested in the cryptocurrency himself, he also plans to generate a range of utility tokens that will promote "the populist movement on a worldwide basis." But he is not going to rush it. As Bannon explained, "they've got to be quality."
His idea is to help countries launch their own digital coins, which would be backed by national wealth. For example, an Italian coin could be backed by local marble deposits, although this does not yet exist. However, other countries have launched their own domestic currencies before, such as Venezuela.
Additionally, his deplorables coin would allegedly be designed for Trump supporters.
More detail about this former Breitbart News executive's cryptocurrency projects have yet to be revealed. For the time being, the unique use cases of these new tokens are left to our imaginations. Bannon's history is a messy one, and he could be concerned that revealing his name could negatively affect new projects. Indeed, cryptocurrency supporters who aim to move this industry into the mainstream share the concern that Bannon's association with the crypto world will hurt its credibility as a legitimate and lasting phenomenon.
Bannon is also staying quiet on the question of whether he intends to hold an initial coin offering (ICO) to distribute the new token(s), but he has been quoted in criticizing the quality of the token sale industry overall:
"Ninety percent of the ICOs have been a disaster...Too many investors get blown out by things that aren't thought through."
Billions have been raised through ICOs, which allow companies to bypass middlemen and get to the investors directly. However, many scams have also come about in this way, and now regulators are beginning to crack down on it worldwide.
Final Thoughts
Bannon's interest in the cryptocurrency industry is not all that surprising given his taste for existing on the periphery, breaking old rules, and challenging authoritative figures and institutions that have been in charge. With Bannon's self-professed "good stake" in Bitcoin and his medley of private meetings discussing various cryptocurrency projects, it will be interesting to watch just what kind of a mark this controversial figure will make in the ever-evolving world of digital assets.
Breitbart news network | Crypto | Cryptocurrency | Federal reserve | Ico | Regulation | Stephen bannon | Token