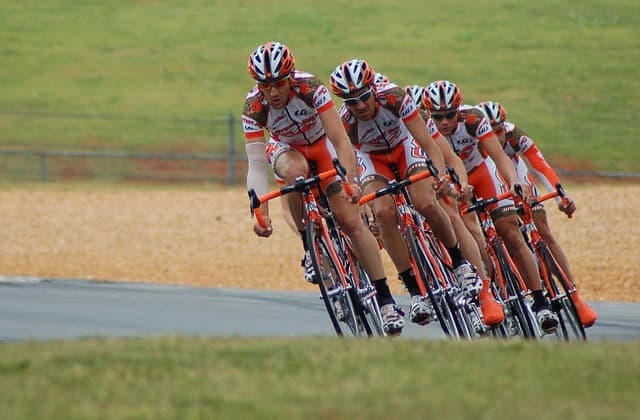 Cycling has steadily grown in popularity worldwide for the last decade. With viewership at an all-time high, more eyes are on the sport than ever before. Naturally, this has led to sports bettors wanting to get in on the action of the cycling world.
Knowing how to bet on cycling is important for those who are interested, so we've compiled the following information for those looking to get into betting on cycling.
Can You Bet on Cycling?
Since cycling is a new sport to many, some may question if sportsbooks even offer betting odds for cycling events.
The short answer to this question is yes, you can bet on cycling. Cycling, like any other sport, can be bet on at an in-person sportsbook or at an online sportsbook.
How Do You Bet on Cycling
Before placing any bet, it's important to consider your options of where to place your bet. Knowing the benefits and drawbacks of each choice can greatly benefit your betting experience.
There are two options for placing cycling bets: an in-person sportsbook and an online sportsbook. We've outlined the processes for placing bets at both venues, and how they differ from each other.
How to Bet on Cycling in Person
For those that have access to an in-person sportsbook, and do not want to go through the hassle of signing up for an online account, betting in person may be the option for you. Here are the steps to successfully place a cycling bet in person:
Find a local sportsbook that offers cycling bets

Decide on the bet you'd like to place and make sure that the sportsbook offers it

Bring cash, most in-person sportsbooks do not accept credit cards

Place your bet at a betting kiosk or by telling a betting clerk

Collect your ticket and wait for the results
How to Bet on Cycling Online
If you do not have access to an in person sportsbook or would simply like to place your bets from the comfort of your own home, an online sportsbook may be best. Online sportsbooks also allow for bitcoin sports betting or other types of cryptocurrencies. Here are the steps to take to place a cycling bet online:
Important Things to Know Before You Bet on Cycling
Now that you know how to place a cycling bet let's get into some important things to know before you place that wager.
You should always set aside an amount of money you feel comfortable losing or are able to afford to lose when sports betting, and make sure not to exceed that amount should you lose it

Take note of the time and date of the event you intend to bet on, and make sure you leave yourself an ample amount of time to place your bets

Check the weather forecast for the day and location of the event, it may give you helpful information on which bets to place

If possible, shop around at different sportsbooks to see if you can find the best odds for your bet, as odds may differ from book to book

Most online sportsbooks have deposit and withdrawal fees, so keep them in mind when creating your budget

Make sure not to lose your physical ticket when betting in person, as it is how you will be paid out as the result of a winning bet

Online sportsbooks typically offer more types of bets, so if you can't find your bet in person, try checking online

Most in-person sportsbooks have a place for you to watch the event, and some even serve food and drink
Remembering some of these tips may be the difference between a winning ticket and a losing one, so make sure to keep these in mind before placing any bets!
Types of Cycling Bets
With all of the logistics of betting on cycling out of the way, it's time to learn about the different types of bets you can place on cycling. As with any other sport, there are a multitude of things you can place bets on in cycling, but here are some of the most popular:
Moneyline Bets
This is the most popular type of cycling bet. Moneyline bets are simply placing money on the person you think will win the race. You'll notice that these odds are normally pretty long, as it is tough to pick a winner in a race that can have dozens of entrants.
Prop Bets
A prop bet, or "proposition bet" is betting on something not related to the matches' outcome. These are normally small details about the match that may be fun to have money on. For example, some cycling prop bets include how long the fastest or slowest finishing times will be, whether or not there will be a crash, or even what color the winner of the race will be wearing.
Over/Unders
Over/Unders in cycling are just like Over/Unders in any other sport. Take a stat and choose whether it will go over or under the line that the sportsbook has predicted. Some things you can bet the Over/Under on in cycling are the number of people that will finish the race, the average time it takes for completions, or even how many bikes will suffer from mechanical issues.
You should now know everything that goes into placing a bet on cycling. However, be sure to remember that when it comes to sports gambling, no matter how sure you are of your bet, you are still taking a monetary risk. Never place more money on a bet than you are willing to or can afford to lose. It is always best to bet with caution and to set a strict budget or "bankroll". If you find yourself with a gambling problem, seek help immediately.
If you can follow these rules, the world of betting on cycling can be very fun, and sometimes even profitable! Good luck at the sportsbook!
Cycling | Sports betting | Bitcoin sports betting | Online sportsbook | Professional cycling