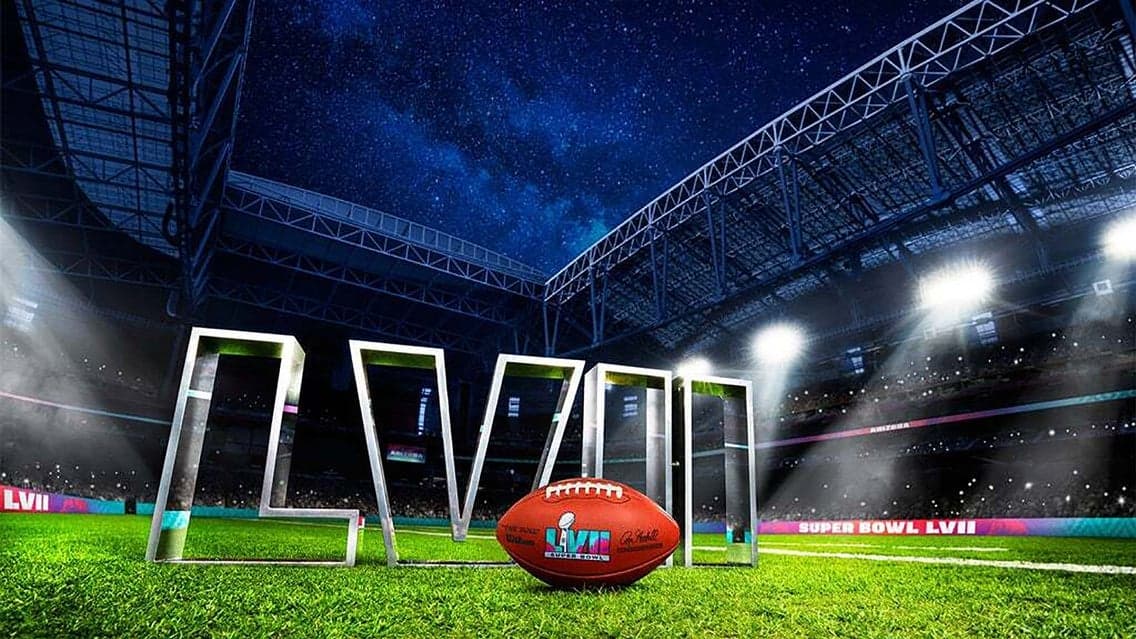 How to Bet on the Super Bowl 2023 (Complete Guide)
The 2023 Super Bowl is almost here! As the final countdown begins to see who this year's football champion is, you might be wanting to place a little wager on the winning team.
In the United States, it is legal to bet on football in most states. Read on to learn all about how you can place a bet on the super bowl this year.
Super Bowl 57 Information
Date: February 12, 2023
Location: State Farm Stadium in Glendale, AZ
Time: 6:30pm ET
Teams: Philadelphia Eagles vs the Kansas City Chiefs
How to Bet on the 2023 Super Bowl
Here is a step-by-step guide for betting on the 2023 Super Bowl.
1. Check Betting Regulations
While betting on sports is legal in most US states, it is not legal in all US states. This means before you can get too excited about betting on the Super Bowl, you need to make sure it is legal in your state. If not, you might be able to travel to a nearby state to place your bet.
Related: Where is Sports Betting Legal?
2. Find a Sports Book
After you have discovered whether or not it is legal to bet on sports in your state, it's time to find a sportsbook. If you live near a city like Las Vegas, this might be a no brainer, but if you live somewhere else, an online sportsbook is probably a good option. This will allow you to bet on the Super Bowl without leaving the comfort of your own home.
It's also important to consider how you will pay for your bet. Many online sports books like MintDice.com offer Bitcoin sports betting which can be an easy way to place a large bet.
Related: How to Pick a Sportsbook
3. Open an Account
Hopefully you are reading this at least the day before the Super Bowl so you have time to register for an account on the sportsbook you have chosen. While many online sportsbooks offer instant accounts, some do require a verification procedure or may hold deposits for 24 hours.
4. Deposit
Before you can place your bet, you need to deposit some money in your chosen sports book. It is recommended to do this ASAP so there is time for the deposit to process if the website requires it.
5. Place Your Bet
In the sportsbook you have chosen, head over to the section where you can place bets on American Football or NFL games. You'll want to select the team you want to place a bet, on, review your lines, then click 'Place Bet' or 'Submit.'
Remember that it is a good idea to know a little bit of information before you place your bet, such as which team is favored to win, and how to read the lines and point spreads.
Related: Common Sports Betting Terms Explained
6. Watch the Game
Once you have placed your bet, it's time to watch the game. Many in-person sportsbooks will have a way to watch the game, such as a TV and chairs. Plan in advance though, as these sportsbooks often require a reservation or advance booking if you wish to watch the Super Bowl.
7. Collect Your Winnings
After the game is over, if you have won your bet, head over to the sportsbook and collect your winnings. Congrats!
What Types of Bets Are Available for the Super Bowl?
Like any other sport, there are tons of bets available for the Super Bowl. We've listed the major ones below, but there are typically even more available depending on the sportsbook you go to!
Moneyline
Point Spreads
Totals
Prop Bets
Futures (more on this below!)
Tips for Betting on the Super Bowl
Everyone wants to win their Super Bowl bet, but this isn't possible. Increase the chances that you will win your bet by keeping the following in mind.
Don't Bet with Emotions
Football is a very technical game. Although you may like one team more than another because they are from your hometown, it's important to look at the spreads and the teams and make an informed bet. It can be a challenge to leave your emotions behind, but if you can manage to do so you'll have a better chance of winning.
Don't Bet More Than You Can Afford to Lose
Betting on the Super Bowl is incredibly risky. Never place a wager that is more money than you intend to lose. If you find yourself having a problem with gambling, it is important to seek help through the proper channels.
Bet When You See a Spread You Like
The lines and spreads for a certain sports game are always changing as more and more people place bets. This means if you see a spread you like on a certain sportsbook, it's best to book it right away rather than waiting. If you choose to wait, you might find that the spread you wanted is no longer in your favor when you go to book the bet later.
Only Use a Sportsbook You Trust
Don't ever bet money on a sportsbook that you aren't sure of. If the lines and spreads seem too good to be true, know that they probably are. It's also a good idea to place a few practice bets on an online sportsbook before you go all in on a big bet to ensure you know how to work the sportsbook and that the site is trustworthy.
How to Bet on Super Bowl Futures
Did you know that as soon as the current Super Bowl is done betting begins for the next one? It's true! These bets are incredibly risky, especially because you don't even know who will be in the Super Bowl next year. But if you win one of these bets, it can be incredibly rewarding.https://www.cbssports.com/nfl/news/ranking-every-super-bowl-56-1-rams-bengals-cracks-top-20-patriots-play-in-best-games-plus-more-classics/
If you want to bet on Super Bowl Futures, you may want to sign up for the newsletter of an online sportsbook you enjoy or ask at the sports book where you place your Super Bowl bet for 2023 when these will be available.
You May Also Enjoy: How to Bet on NFL Football Games
Super bowl | Superbowl 57 | The super bowl | How to bet on football | Nfl | How to bet on the superbowl | Sportsbetting | Bitcoin sportsbook