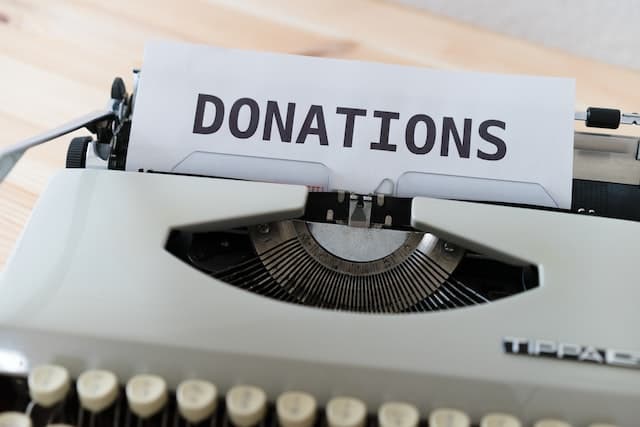 How To Donate Crypto (3 Easy Steps)
Cryptocurrency has risen from an obscure store of value to something that can be used to make payments for goods, and can even be spent using a debit or credit card. But can you use cryptocurrency for charitable giving?
Absolutely! Cryptocurrency is a great method of charitable giving and is a recommended method due to its privacy and security. There are many organizations which are already set up to receive cryptocurrency donations if you so choose.
Read on to learn more about donating cryptocurrency and how you can go about donating to your favorite causes with your digital coins.
Why Should You Donate Cryptocurrency?
It's Private
The number one reason you should consider donating cryptocurrency is because it is more private than cash or a bank transfer. Sure, Bitcoin isn't 100% private due to the digital ledger, but if you use a cold wallet that isn't connected with your name and address then donating cryptocurrency is a truly private way to give.
In the increasingly social media judgmental era, companies are becoming more and more afraid to support their favorite causes. This is because many donations are made public and they are afraid that customers will stop patronizing their business because of a donation they made. A prime example of this is Chic-Fil-A which publicly donates to anti-gay organizations causing many gay men and women to avoid eating at the company's restaurants.
It's Tax Deductible
Another big reason that many companies donate money is because they can use it as a tax write off. You probably do the same and worry that if you donate cryptocurrency, you won't get the same tax benefits.
This isn't entirely true. Every year on taxes you are asked to state the amount you donate to charity. On a personal level, self-reporting is enough and if you roughly translate the number of Bitcoins (or other cryptocurrency) donated into dollars, you can still claim it on your tax return. Just be sure you have a paper trail in case you are audited.
Businesses, unfortunately cannot usually take the tax refund from charitable donations made with Bitcoin. But often times, the privacy they gain from donating with cryptocurrency is well worth it.
Not to mention that if you buy Bitcoin, and sell it in the same year, that your gains are subject to capital gains taxes. This means if you donate directly with Bitcoin, you can avoid these pesky taxes and save up to 20% that you would spend on capital gains taxes donating crypto to your favorite charity.
The Charity Gets More Money
The final reason to donate with cryptocurrency is that the organization you are donating to will actually get to keep more of your donation when you donate with crypto than with dollars. Unfortunately there are high fees that many charitable organizations incur when they accept donations. Anything from credit card fees, to online processing fees.
Either way, when you donate with your favorite crypto directly to their wallet, you can help the organization avoid these fees and allow them to keep more of your money to use for positive purposes.
How to Donate Crypto (3 Easy Steps)
As mentioned before, donating cryptocurrency is easy, all you have to do is follow these simple steps.
Step 1: Find a Charity
First, you need to decide what charity you want to donate too. If you already have one in mind, then head to their website. If you aren't sure, after this How-To there is a list of charities that accept crypto which you may be interested in donating to.
Step 2: Get Their Wallet Address
Most companies which accept cryptocurrency as donations will have a wallet address directly on their website. If you don't see one, contact their customer service and explain you want to donate crypto. They should be able to send you a wallet address directly.
Step 3: Send Crypto
Log into your own crypto wallet and send crypto to the wallet address the charity provided. Just like that, you've donated crypto!
What Companies Accept Crypto Donations
Not sure what company you want to support with your crypto? Or maybe you first choice didn't accept cryptocurrency donations. Below is a list of companies that accept cryptocurrency donations as well as the currencies they currently accept.
Daffy Charitable (a good choice if you find your desired charity doesn't accept crypto, as Daffy is an app that lets you donate to 1.5 million different charities and they will give them your donation in cash.)
Internet Archive-Bitcoin, Bitcoin Cash, Ethereum, XRP, and ZCash
Human Rights Foundation-Bitcoin and Ethereum
Electronic Freedom Foundation-Bitcoin, Bitcoin Cash, Ethereum
Khan Academy-Bitcoin, Bitcoin Cash, Litecoin, and Ethereum
Rainforest Foundation-Bitcoin, Bitcoin Cash, Ethereum, and Litecoin
Freedom of the Press Foundation-Bitcoin, Bitcoin Cash, Ethereum, Litecoin, and ZCash
org-Bitcoin, Bitcoin Cash, Ethereum, Litecoin, and USDC
Greenpeace-Bitcoin
The Reagent Project-Bitcoin, Bitcoin Cash, Ethereum, Litecoin, and USDC
Red Cross-Bitcoin
The Water Project-Bitcoin, Bitcoin Cash, Ethereum, Litecoin, and USDC
What Cryptocurrency Should I Donate?
When it comes to donating cryptocurrency, the currency you should donate depends on what the organization you are donating to accepts. As you can see in the list above, Bitcoin is the only cryptocurrency that is currently accepted by a majority of organizations.
Bitcoin is one of the oldest cryptocurrencies and has the most infrastructure is in place which is why most companies accept it as donations. However, Bitcoin is very volatile, so if you are looking for something a little less volatile, you may consider making a donation using a stablecoin.
Currently, USDC is the only stablecoin which several organizations accept for charitable donations. If you have a different stablecoin you would like to donate, it's always worth reaching out to the organization to see if they will accept it instead. You never know what they might say!
Overall, donating cryptocurrency is a great way to give charitably while maintaining your privacy and helping companies save on processing fees. If you'd like to donate crypto, it's highly recommended to purchase Bitcoin as this is the most accepted donated cryptocurrency.
Donations | Donate crypto | Cryptocurrency | Crypto | Charities