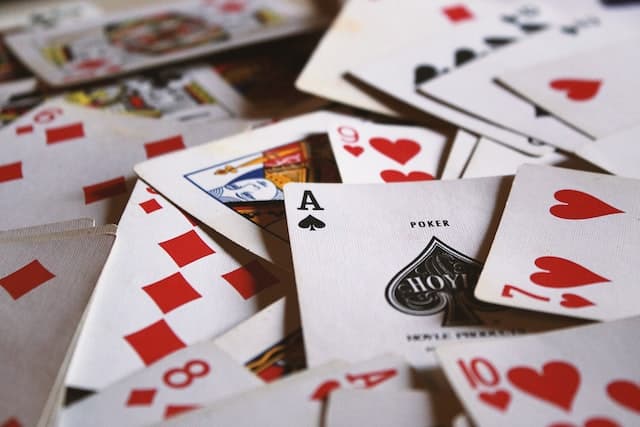 How to Win Video Poker (4 Easy Strategies)
Video poker is one of the most popular casino games, and it's easy to see why. With straightforward rules and an easy-to-use interface, it's very simple to play video poker and to develop your own strategies for winning.
Some people swear by their video poker strategies, while others claim it is just luck that helps them win big. Although there is no for sure way to win when gambling, there are some strategies that may increase your chances of winning while playing video poker.
Read on to learn all about how to win and video poker using some common gambling strategies.
Related: Why is Video Poker so Popular?
Video Poker Strategies
It's important to note that there is no winning strategy when it comes to video poker. There is also no single strategy that is a fit for all play styles. Take a few minutes to become acquainted with different video poker strategies before choosing the one that is best for you.
1. Keep Only Face Cards
In most video poker games, only pairs of jacks or higher are rewarded with winnings. Therefore, many people adopt the strategy where they only keep face cards from their first hand. This way, they won't waste time holding other cards that aren't worth winning as just a pair.
The thing with adopting this strategy is you also need to be prepared to abandon it if your first hand gives you something which has a higher chance of winning. For example, if your first hand gives you 3, 4's, then of course, you don't want to toss these away in favor of face cards.
The Keep Only Face Cards strategy is good for beginners, especially when you may not know the pay tables by heart yet. But you should at least know what you should keep over face cards to know in which hands you should be abandoning this strategy.
2. Play Max Coins
This isn't as much of a play strategy as a maximize your win strategy. While this method may not suit everyone's bankroll, it is a good way to make sure you win all you possibly can.
To bet max on every hand, you'll need to press the bet max button before pressing draw. Just be sure you know how much the max bet is for the location you are playing video poker before you press that button so you don't overspend your bankroll.
3. Keep Low Pairs
The opposite of the Keep Only Face Cards strategy is the one where you keep low pairs and hope for a third card to make them a three-of-a-kind in your second hand.
The reason this strategy isn't very popular is because in most casinos, a pair that isn't a face card doesn't pay. This means you could hold tons of number pairs and walk away with nothing. Most people prefer the Keep Only Face Cards method to this one.
4. Go for a Royal Flush Every Time
This next video poker strategy is a bit complex, especially for beginners, but it basically is a strategy where you go for a royal flush with every hand. This means even if you get 2 of a kind jacks, you would only keep one before pressing draw in hopes that you would get the rest of the cards needed to make a royal flush.
Using this strategy, you will almost always be breaking up full houses and other possibly winning hands in search of the elusive flush. While this is incredibly risky, many gamblers swear that it pays off.
If you are trying this strategy, know that it is best paired with the max betting strategy because this way, when you win, you will win big.
Related: How to Play Poker (The Basics)
Related: Now Introducing MintDice Casino Games
Video Poker Variations
It's important to note that the above strategies will only work for basic video poker. There are many other types of video poker, and you will need to become acquainted with the rules of those games before you play in order to develop a strategy.
Jacks or Better
Jacks or Better, is the most common version of video poker you will come across, and it is a video poker game that many of the strategies above work for. Just remember that if your hand doesn't have a jack in this version of video poker, it is basically worthless.
Bonus Poker/Double Bonus/Double Double Bonus
After Jacks or Better, any of the Bonus or Double Bonus video poker games are the ones you will likely encounter. In Bonus Poker, you should see the payouts for each hand listed at the top of the machine or screen.
Before you play this version of video poker, check to see what hands pay, as this can change your strategy. Some types of Bonus Poker pay for pairs that aren't face cards, while others don't. You'll want to be aware of this before you decide on a video poker strategy to use.
Deuces Wild
As the name implies, in a game of video poker Deuces Wild, all the cards with a 2 on them are considered a wild card. Therefore, you can substitute any card you need to make a winning hand by holding a 2 in its place.
While most of the above strategies work for Deuces Wild, you'll want to employ them with the idea that you always hold a 2 when you can. After all, these twos can be literally any card you need to make a hand that pays!
Joker's Wild
Just like in Deuces Wild, in Joker's Wild video poker, the Joker's are the wild cards. You can apply any strategy of your choice on Joker's Wild as long as you remember to hold on to those Jokers!
Overall, as we mentioned at the beginning, there is no one strategy that will help you become a pro at video poker. There are, however, strategies that can help you maximize your winnings. No matter what strategy you decide on, ensure you take the time to make sure it fits the type of video poker you plan to play. You will also want to check the pay lines before you make a bet. Good luck!
Video poker | Poker | Deuces wild | Jack or better | Video poker strategies | How to win video poker