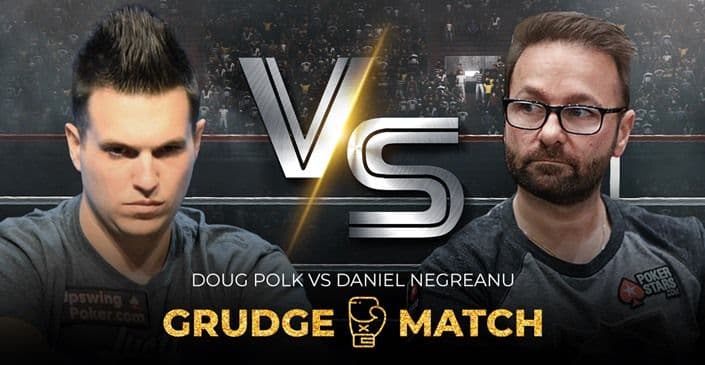 Poker Battle: Doug Polk vs Daniel Negreanu
Within the high stakes poker community, there has been a constant feud among two of the more well known players. Daniel "Dnegs" Negreanu has been a fan favorite having been shown on television since his appearances in the earlt 2000s in the World Series of Poker (WSOP) and many other such events. Having continued a life long grind and adoration of the game, he still makes a commitment to play decades on and is the recipient of six WSOP bracelets and two WPT championship titles. Meanwhile, the slightly less public facing but still extremely popular Doug "WCG|Rider" Polk rose to notoriety becoming the world's undisputed best heads up no-limit poker player from 2014 through 2016 after beating Ben "Sauce123" Sulsky in a top tier heads up challenge for the ages. Doug Polk also has won three WSOP bracelets in addition to his laundry list of stellar poker achievements.
How The Feud Started
It all began with Daniel Negreanu's deep association with the company named Pokerstars. Early on, the community liked this partnership between Pokerstars and Daniel Negreanu. Pokerstars was owned by more or less benevolent owners that very few people had qualms with and Daniel's association with the company was good for attracting new players to the game. However, following the tragic events of "Black Friday" where online poker was banned from the United States and the sale of Pokerstars over to the Amaya group a short while later, a number of changes were made to the underlying rewards and rake structures of their website. Most notably, players of the highest caliber VIP rewards, known as Supernova Elite players, were promised bonus rewards each following year for participating in the program any present year.
However, during an abrupt change, Pokerstars reneged on their offer by refusing to pay out their Supernova Elites the following year and effectively stole a huge sum of money that was technically in writing due to it's player base. This enraged the online poker community. Notably, however, Daniel Negreanu, still one of the website's representatives at the time, stood up for Pokerstars and defended their actions of theft and it's deliberate actions to harm professional players from being able to interact with the website and killing part of the dream of becoming a professional poker player. These fairly indefensible actions were hugely criticized by the online poker community with no one person coming out stronger to the defense of the online poker players than Doug Polk who made a mockery of Daniel Negreanu for years to come in a relentless barrage of attacks.
During the defense of the Pokerstars, Daniel Negreanu implied that because the website Pokerstars was now charging more rake (poker commissions) that this was effectively better for the overall user base because it would force more professionals out of the game. This of course, is a huge fabrication of reality. A website simply charging it's customers more money is good for only one side of the equation, the company. It's virtually mathematically impossible for the players to come out ahead in such a scenario as Daniel Negreanu describe. This lead to one of the more famous attacks at this particular comment by Daniel Negreanu which involved Doug Polk purchasing a billboard just outside of the World Series of Poker saying that "More Rake Is Better" to troll Negreanu as seen here:
After years of these kinds of high stakes antics between very wealthy poker players, there was probably a final tipping point or straw that broke the camel's back. Doug Polk's Video editor, known in the poker community as SrslySirius, released a video that made a parody of Daniel Negreanu's poker masterclass by splicing in some moments from his masterclass video with segments of wild antics that Negreanu has been caught on video doing over the years. This video can be seen here:
Daniel Negreanu probably correctly assumed at this point in time that these attacks were going to continue for the rest of time. Doug Polk enjoyed making these attacks for a few reasons. They were supportive of the online poker community whom he cared for, it was presumably a fun side quest for him to engage with on Twitter for his fan base, and it also probably brought some extra attention towards the way of his online poker coaching brand, Upswing Poker.
Heads Up For Rolls (HU4Rollz) Declared
After a bunch of drama from both ends, in true high stakes poker fashion, the two decided to settle their differences by playing a very long heads up poker match against each other. While it may seem silly from an outside perspective (OK, maybe even on an inside perspective too), some professional poker players do like to settle their differences in this fashion as it gives them both a chance to test their poker wits against each other and prove to the world who is best.
The terms of the match were agreed to as follows:
$200/$400 NLHE Blinds, otherwise known as $40k No-Limit Hold Em'.
25,000 hands to be played, with the person down money at 12,500 hands given the option to quit at 12,500 hands.
2 tables minimum
3-4 days per week, 2 hour sessions minimum
As of this blog post on November 21st, 2020, they have currently already played 9 sessions together. The first session was played live in the PokerGo studio in Las Vegas which had the two in close contact for 3-4 hours in a mostly friendly and cordial context to the displeasure of some fans that were looking for more of a mean spirited brawl and shit-talking.
The game for the following matches will almost exclusively be played online after this first PokerGo match with the exception that some more live poker hands may occur around hand number 12,500 or at the very end of the match near 25,000. This will be at the later determined discretion of both Daniel and Doug.
The grudge match has seen some fairly dramatic swings in the hundreds of thousands of dollars. For short cliff notes and updates on the action, you can see what is happening on this HU4Grudge link. And despite Doug Polk coming in as the huge odds on favorite, the match so far has been nail bitingly close as they are only approximately 15% of the way through the match so far seeing these results:
Where Can I Rail The High Stakes Poker Action?
If you live in a few select states within the United States, you can actually simply just load up the WSOP.com client and watch the action for yourself if you prefer to do it this way. For most of the rest of the world, however, it's probably both easier and more enjoyable to go with one of the major streamers that are broadcasting it live with their expert opinions as they play things out and other random ramblings that come along their way. Some of the streamers invite on various high profile guests as well to mix things up as this challenge will take place over the course of months.
To date, the streams are starting live at 14:30 PST (Las Vegas Time) and run for a minimum of two hours, sometimes longer. To date as well, they have played mostly on Monday, Wednesday and Friday but did play a session this past Thursday as well, so it's important to get the latest information from Twitter or some other reliable source.
For actually viewing the high stakes poker games between Doug and Daniel, the major options are:
Doug Polk's YouTube channel or Twitch Channel. This channel is run and managed by Upswing Poker and of course has a heavy Doug Polk bias.

Joey Ingram's YouTube channel. This channel is run by Joey Ingram and is probably the overall fan favorite of the bunch and has the least bias, but still has a bit of a Doug Polk favored slant

GGPoker's YouTube channel. As GGPoker is officially sponsoring Daniel for this grudge match, it is the major channel featuring a positive Daniel Negreanu slant.
So be sure to tune into the channel that fits your fancy the best at the appropriate times. If you miss it, no big deal, you can always watch the videos afterwards as all of the live streams are saved and can be rewatched at any time.
How Can I Bet On The Doug Polk vs Daniel Negreanu Grudge Match?
In true fashion on the MintDice Blog, we realize that our audience has a taste for two major things, cryptocurrency and gambling. Because the match in question is so high profile, there are actually betting markets in place where you can bet on the outcome of the match or even a variety of proposition bets such as short term outcomes, short term winnings or other such events. MintDice wishes that we could provide these types of bets and props, and one day we will once our proper infrastructure exists, but until that day comes, we can refer you to other sources.
There have been massive bets placed among part of the high roller community. Most notably, Bill Perkins placed a $550,000 bet at 4:1 odds on Daniel Negreanu vs Doug Polk who bet more on himself posted $2.2 million to cover as a side bet to the eventual final winner of the match. This bet though is just the tip of the iceberg. Community members far and wide have put in millions upon millions of dollars in bets between the match favorite, over/unders, crossbooks on the action with handicaps and so on. If you really start to take a deep dive into either Twitter or Twoplustwo (a poker forum) you can start to see a dizzying amount of money being bet from person to person.
However, not everyone is that wealthy or in that circle of trust and would prefer to place something more casual. And there's options for that. Most famously, Betfair, the world's biggest p2p betting exchange, even lists this match presently hosting a decent enough amount of liquidity on the line as can be seen in this present day screenshot:
It can be seen here that despite only a very small lead in the grudge match so far that Doug Polk is still a heavy match favorite with the line held at 1.15x/1.16x in his favor. So if you want to participate in this action, you'll have to go to Betfair.
On the other hand, you can also check out PokerShares which offers the same match and additional props if you want to bet on individual matches and so forth. And more importantly, they also offer the opportunity to bet in BTC from start to finish. Something we approve of on MintDice!
So if you are a fan of the old schooler Daniel, you can get laid some pretty nice odds if he's able to close out the 25,000 hand session on a win. Daniel was looking quite strong just recently at around the 3,000 hand mark with a nice lead. Or if you trust in math and recent online poker heads-up history and think Doug will cruise to an easy win, there's also an option to bet on him as the match favorite.
And stay tuned with the MintDice Bitcoin Casino, because in 2021 we plan to offer a fully featured bespoke SportsBook that will also contain a lot of fun unique props, such as things like this type of high stakes poker grudge match, that will be added to our inventory.
Bitcoin poker | Daniel negreanu | Doug polk | Grudge match | Heads up poker | High stakes | High stakes poker | Hu4rollz | Nosebleed stakes