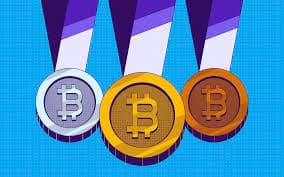 What Does Bitcoin Have to do With the Olympics?
Every two years, the entire world comes together for an event known as the Olympics. At this event, top athletes from all over the world compete to see who is the best of the best. Although they Olympics have been going on for over a century, it, like anything else in this world has become a player in the cryptocurrency world.
Bitcoin is becoming a major technology all over the world, including in the Olympics, as it becomes the national currency of one country, and the currency used to bet on the massive sporting event.
Whether you want to know more about the country that has adopted Bitcoin as it's national currency, or how you can get it on the Olympic Bitcoin betting action, keep reading to learn exactly what all the buzz surround Bitcoin at the Olympics is all about.
El Salvador Names Bitcoin Their National Currency
Although this headline has recently made the news, Bitcoin has actually been a staple in El Salvador for the past few years. Back in 2019, a wealthy donor gifted one town in El Salvador with enough Bitcoin to issue all residents of the town a sort of universal basic income, as well as to stimulate businesses and the local economy. The result was astounding, kids began to stay out of gangs, learn more about finances, and a city in which no residents had a bank account, now has people pulling out their phones to pay for their goods in cryptocurrency.
Because this worked so well to save the economy of one El Salvador town, the government of El Salvador has officially named the Bitcoin as an official legal tender of the country. Therefore all businesses within the country must allow customers to pay in Bitcoin. This has led to a record number of people within the country downloading an app known as Strike, which uses the lightning network to make fast payments with Bitcoin possible. There are still many skeptics however, and even the World Bank has not seemed pleased with El Salvador's proclamation--which occurred earlier this year.
The reason this has all resurfaced with the Olympic games is because, upon arriving at the Olympics, the El Salvadorians who arrived to compete, were associated with the picture of Bitcoin as their arrival was announced. This shows that it isn't just the El Salvadorians that align themselves with Bitcoin, but the world has clearly begun to see the currency as a part of the identity of the country—which is exactly what the government wants.
Whether this country wide experiment of using Bitcoin for currency is successful or not, remains to be seen. But if it is successful, it will not only put El Salvador on an all-new economic playing field, but it will also lead other countries to adopt Bitcoin as their own currency.
Betting on the Olympic Games
Sports betting is another trend which is sweeping nations around the world just as fast as the COVID19 pandemic did last year. Sports betting used to be an activity that only selected nations offered to their citizens, and usually only in special cities that the government specified. But when many countries found themselves in lockdown, countries like the United Stated began to ease these restrictions to allow citizens to bet on sports from the comfort of their own homes. And this has become possible thanks to the increased role of using Bitcoin and other cryptocurrencies to sports bet.
As a result, people everywhere are getting into sports betting. And it isn't just the next football game or baseball match, as you can now spend your time betting on the person you think will win a certain event in the Olympics. But because these events are structured so much differently that traditional sports bets, there are some things you should know before you start tossing your money on your nation's gymnast or handball team.
Most Bets are Moneyline Bets
Yes, you read that right, if you want to bet on the Olympics you need to be prepared to place moneyline, better known as straight up bets, on your individual or team. Generally, you will pick one individual to win each event. This means you should know a lot about your athlete, their sport, and the other people they will be competing against. This way you will know if putting your money on them is a good bet or not.
Point Spread Bets Do Exist
Even though you will encounter mostly moneyline bets as mentioned above, there are team sports in the Olympics as well, and some sites allow you to bet on the point spread. This way you can have alternative betting options when you wish to bet on sports like rugby, handball, volleyball, and basketball.
You Can Bet on A Country Overall
Just as you can bet on the overall winner of a season of a certain sport, so too can you bet on which country will win the most medals overall in the Olympics. Not only that, but you can also bet on how many medals you think a country will win both outright and in head-to-head bets. This means you can pick two of your favorite countries and pick the one out of the two that you believe will take home the most medals. Pretty cool, huh?
Prop Bets
Yes, prop bets exist for the Olympics as well, they are just much rarer than in a traditional sporting event. Some of the prop bets which were available for the 2021 postponed Olympics were: if certain athletes will make a gesture on the podium when they won, which athlete will be the flag bearer for a country during closing ceremonies, and if the Olympic flame will be put out prematurely.
Now some in person sports books will allow you to bet the Olympics live, and if this is the case, then they may offer parlay bets. But this is unique to the sports book, and because of increased COVID-19 concerns once again sweeping the US, many sports books are asking that players bet from the comfort of their homes to keep crowds to a minimum.
Overall, the doubters in the world may think that Bitcoin isn't going anywhere. But just having Bitcoin as a major topic during something as large as the Olympic games shows that this really is the technology of the future. And since you can now use Bitcoin anywhere in the country of El Salvador, and anywhere in the world to bet on your favorite Olympic athlete or team—it's already become part of the world economy in its own way.
Olympics | Olympics 2021 | Olympic games | Sports betting | Handball | Volleyball | Bitcoin | Cryptocurrency | Gaming | Betting | El salvador