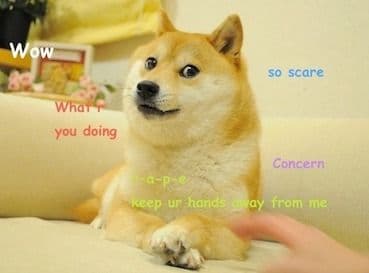 Since it's advent in 2008, Bitcoin and other cryptocurrencies have taken the world by storm. One of these cryptocurrencies is known as Dogecoin. So what is Dogecoin exactly? It's a decentralized currency used for person-to-person payments similar to Bitcoin. It usually appears as a gold coin with a fluffy dog on it. This dog is a Shiba Inu a breed that is originally from Japan and was made famous by an Internet meme in the early 2010's.
So How do I Buy it?
In order to purchase Dogecoin, you must first download a wallet to store it in. If you go to the Dogecoin official website, they have an option there for both a desktop wallet as well as an app that you can download for your smart phone. This official wallet is very easy to use, however it is quite outdated. This quality can be easily overlooked though, as using the official wallet is usually the safest way to store your currencies.
However, if you enjoy investing in other cryptocurrencies as well as Dogecoin, this wallet will not help you much as it is only a Dogecoin wallet. If you want a wallet that serves multiple purposes as well as holding Dogecoin, check out the Guarda Wallet. The Guarda wallet is a digital wallet owned and regulated by the European Union and can be used in conjunction with physical wallets such as the Ledger Nano S.
If neither of these appeal to you, then look into purchasing a physical wallet to store your coins on such as the Ledger Nano S, or the Trezor. These are both hardware wallets that will store your coins safely and securely. They are both outfitted to hold multiple currencies are a great option if you are looking for long-term investments. There is a cost associated though, and the delivery of the hardware isn't as instantaneous as an online download. So if you want to use this option, purchase it well before you wish to buy your Dogecoin.
Now that you've set yourself up with a place to store your coins, you can begin to purchase them. There are many ways to do this by either purchasing from friends or an exchange such as Kraken, Bittrex, or Changelly. If you do decide to purchase from a friend, make sure it is someone you know and trust and thoroughly vet all your transactions to make sure you aren't being scammed.
If you don't want to spend your hard earned money on Dogecoin, there are many ways to get it for free. One of the easiest ways is via a faucet. Check out Dogefaucet.com where you can register with your address for a small amount of free Dogecoin. You can also receive Dogecoin for participating in the Dogecoin community via Reddit or the online chat titled #dogecoin IRC. Not only are these good resources if you want to purchase coins, but the moderators also give out 'tips' or small amounts of Dogecoin to reward participation. The third manner of obtaining free Dogecoin is to mine it. This is not recommended, as it is very advanced and takes quite a bit of equipment to accomplish, however it is an option for those who wish to establish a steady influx of coins.
Now What?
So now you've purchased or earned your Dogecoin and you are probably wondering what you can do with it. Believe it or not, there are many stores and markets that accept Dogecoin as a valid form of payment.
For all the food lovers out there, check out Strange Donuts. This donut shop has three locations in St Louis, MO and as of the writing of this article does not accept online orders. If you are lucky enough to live near them, or are visiting St. Louis, they offer many tasty basic donuts as well as vegan options. If you're feeling adventurous they even have crazy donuts like a friend chicken and waffle donut or their pork BBQ donut that even comes complete with a rib bone! Either way bring your Dogecoin wallet, make your selection, then let the cashier know you want to pay in Dogecoin. On a healthy kick and not feeling the donuts? Then check out SaltsWorldWide.com. They offer all sorts of fancy salts for every occasion including Dead Sea Salt and White Truffle Salt. Now you have to order by the kilo, so make sure you've got enough Dogecoin to cover your purchase. When you've made your selection of what you would like to buy, contact customer service via email in order to inquire about how you pay using your Dogecoins.
If you have a furry friend at home, check out The Diamond Collar. This online pet boutique has everything you need to deck out your furry friend including jackets, collars, and clothes. They offer products for both cats and dogs. They do have an online ordering option, but in order to use Dogecoin to pay you need to visit their store location in Brooklyn, NY.
Besides just basic shopping, there are many services you can purchase with Dogecoin, such as graphic designers, advertising for your business, and photographers. Dogecoins.com keeps a full list of all the locations that accept their coins. And if you're really a fan, don't forget to check out the Dogecoin fashions from DgoeDayz boutique!
Not a shopper? Not to worry! There are many other ways to use your Dogecoin, and one of these is to gamble. Just like Bitcoin, Dogecoin offers a way to remain anonymous while making online purchases. MintDice.com is currently a fully featured cryptocurrency casino that allows you to gamble with complete anonymity. Although they currently only offer Bitcoin gambling, the CEO has big plans to add Dogecoin as an accepted coin in the near future. For right now, you Dogecoin fans can spend your time playing plinko with Dogecoin themed dice. These dice fall from the top of the screen, emitting Dogecoin sayings as they fall. Even though you aren't using your Dogecoin for it, this game is still a lot of fun to play!
If gambling isn't up your alley either, you may choose to simply buy Dogecoin as an investment, and there is nothing wrong with this! Time the market right, and who knows, you could make it big! If this sounds like the right option for you, make sure you do some research before you begin. Check into resources regarding Dogecoin and altcoins as a whole. And make sure before you make any large investments that you review the risks and rewards associated with these activities.
For more information, check into these free investment guides at MintDice.com
Altcoins | Cheap coin | Cheap cryptocurrency | Cryptocurrency | Doge | Dogecoin | Fun crypto | Wow reddit