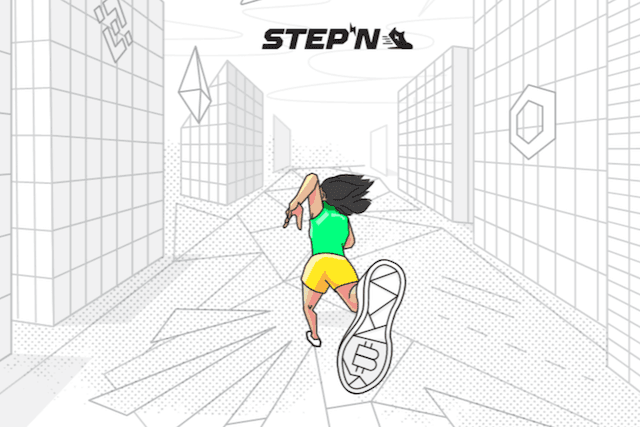 Altcoin Spotlight: What is STEPN (GMT)?
Do you wish there was a way for you to get fit while investing in cryptocurrency and NFTs? Well now there is thanks to an all new altcoin by the name STEPN.
Confused? Not to worry, keep reading to learn all about what STEPN is, how it works, and whether or not it is a good investment to add to your portfolio.
What is STEPN?
STEPN is the name of an altcoin with the ticker symbol GMT on cryptocurrency markets. But STEPN isn't just an altcoin, it's actually a lifestyle app on Web3 that ties in with an NFT. The application is built on the Solana blockchain and functions on a play to earn setup.
Well, it isn't quite a play-to-earn setup, rather it's an all new "move-to-earn" setup created by the specialty NFT sneakers a user needs to purchase to be involved in this application. A user activates the sneakers, and then they earn in-game currency when they move (such as walking or running).
The program uses a special proof of movement consensus mechanism that combines GPS with whatever motion app the user already uses, such as Fitbit or an Apple Watch. After so many steps are taken, the user will receive in app badges in the form of tokens and NFTs, effectively tokenizing movement.
Sound familiar? It should, STEPN was inspired by Pokémon Go, an app that rewards users for going to certain locations, then walking to others from that point. STEPN uses two tokens, the GMT or native token to pay the gas fees needed for the game to operate. Users will win Green Satoshi Tokens (GST) as they move which will be used to purchase items within the app.
The app isn't dumb, and it knows when users take another form of transportation other than their two feet. When this happens, a notification of "moonwalking" will be place on the app and the holder will not earn tokens or rewards for that movement. Any sort of jailbreaking, or attempting to transfer sneakers without a cooling off period will result in a user's rewards being burned, meaning STEPN is not a game you can cheat at.
Who Created STEPN?
STEPN is actually a recent addition to the cryptocurrency world as it was just launched in March 2022. It was created in 2021 by a fintech company in Australia known as FindSatoshi Lab. It quickly became popular thanks to the Solana Ignition Hackathon Gaming Track in which it took 4th place.
The creators, Jerry Huang and Yawn Rong, made the game for the purpose of combining GameFi with fitness. They also wanted to do something to help lower the carbon footprint of people around the world. Users of the app can see the current carbon offset thanks to STEPN on their website.
Should You Invest in STEPN?
Although STEPN is just the sort of project the cryptocurrency world needs, there are lots of concerns about the project that should warn anyone looking to invest.
First and foremost, cryptocurrency is supposed to be decentralized, and STEPN only works because it interacts with an app like Apple Watch or Fitbit. These programs are not decentralized, and using them is basically the same as giving the government your data. Therefore, using this data for STEPN may be compromising your personal data as a whole.
Hopefully in the future, the company can develop a full decentralized method of data collection for their app, but for now, this fact alone is enough to scare most investors off. Not just because of the privacy issues, but because it means users of the app need to have a Fitbit or Apple Watch to get started, so those who are too poor to purchase one cannot use the app, which is a huge barrier for entry.
Additionally, there is the issue that giving users rewards for movement requires that the money comes from somewhere. Likely this money comes from fees and other mechanisms of the game which generate money, but there is no guarantee that they will always be able to pay out all players, making this a bit of a shaky investment.
If you take a look at the company's whitepaper, you will see a bunch of math equations which are used to calculate how the user will earn energy which will convert to tokens in the game. You will also see that it is not straightforward how rewards are earned in the game. This will eliminate many of the less intelligent people in the world from using the app. Which while that isn't necessarily a bad thing, it eliminates a huge market share(just look at who uses Pokémon Go), meaning it will be harder to gain returns on your investment.
Basically, it's a bit too soon to trust an investment in STEPN. But, if you use the product, then it is probably a good idea to invest as you will benefit from this as you use the project. But, as a straight up investment, it's probably better to skip STEPN for now.
Do You Need NFT Shoes to Start with STEPN?
In order to get started on the STEPN platform you have to buy the NFT shoes on their platform. These NFT shoes are used to play the game as well as track your progress and earn rewards. And, strangely enough, once you have two pairs of sneakers, you can breed them to create new sneaker NFTs that you can sell to other STEPN users.
If you have questions about how STEPN or the NFT sneakers work, you should contact the creators on either Discord or Twitter.
Overall, while the idea of STEPN is great, the execution isn't all that it should be. Rather than being a decentralized tokenization of assets, STEPN requires expensive equipment as well as an initial NFT purchase that will discourage low-level entry. So, while perhaps this may be the next big thing for Solana, it is not recommended to go out and get involved in the STEPN altcoin just yet.
Altcoin | Stepn | Pokemon go | Gamefi | Solana | Blockchain | Web3