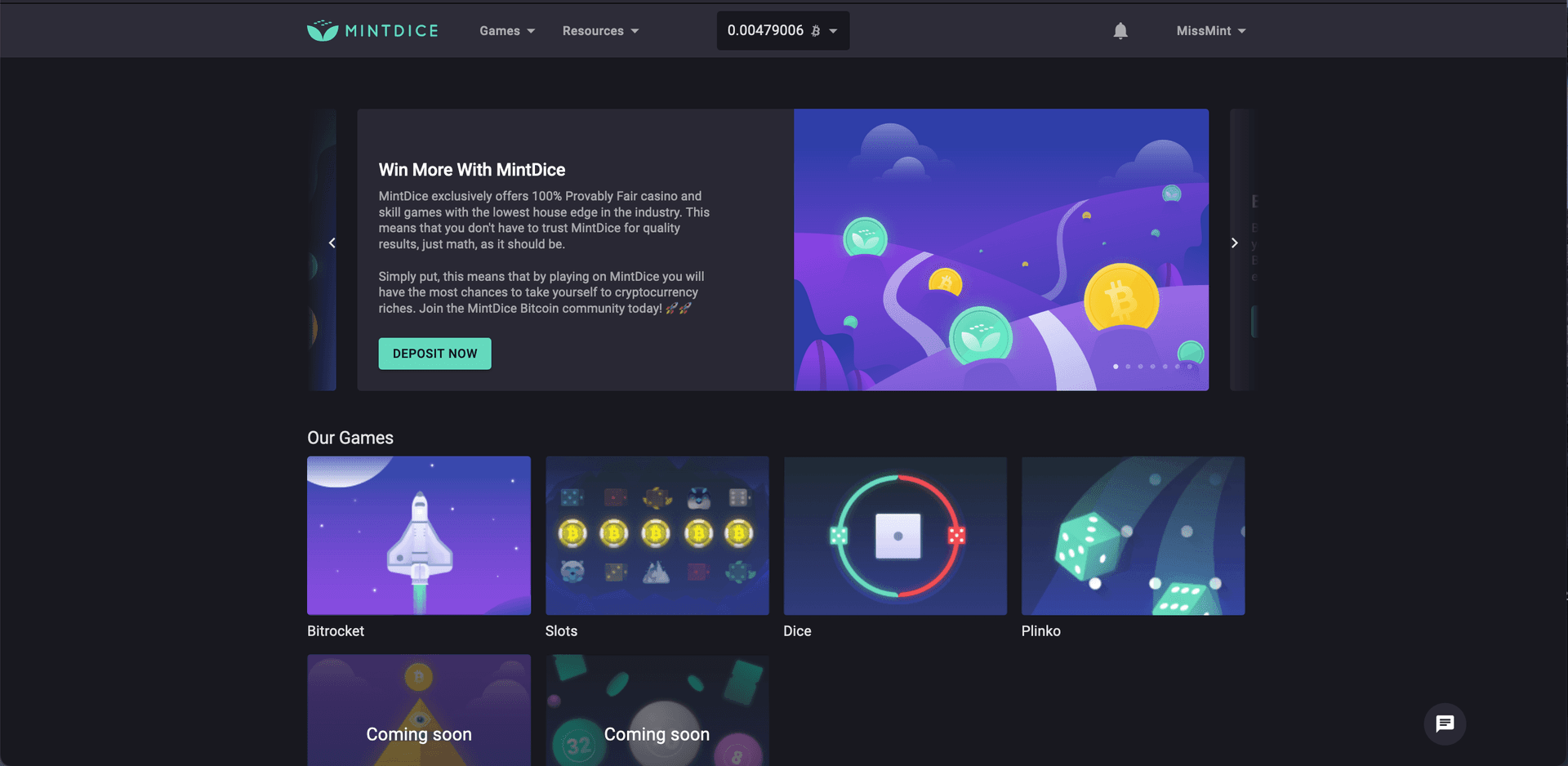 Announcement and Overview of MintDice 2.0
It's always nice when your favorite website gets an update, and this week, MintDice, one of the best online cryptocurrency casinos, announced an overhaul of its own. If you've visited the website recently, you've probably noticed that a fair amount has changed. But besides just the layout, there are several other upgrades to be enjoyed in this new, sleeker version of MintDice.
New Layout
The first thing you will notice about the new version of the MintDice desktop website is its new layout. At the top center of the screen you will see information on current specials going on as well as announcements for any new games the site has recently added. You can also find direct links to learn more about all of the games MintDice has to offer, as well as investing in different types of cryptocurrency or the casino itself.
When you scroll a little further down, you will see direct links to all of the MintDice games you have come to know and love. And for those that didn't notice, you will see that there are two added games! Along with the launch of the new platform, MintDice has also announced that two awesome new games, PowerMint and Pyramid will be coming very soon!
Below that you can see a list of all the recent bets that have happened on the website—that way you can quickly see where all the action is at. Keep scrolling and you will find information about depositing, how MintDice is run, and guides to everything under the sun from investing, to betting on casino games. At the very bottom you will also see the MintDice blog where you can find weekly updates on all sorts of interesting topics like cryptocurrency projects, esports, gaming, and much more!
Mobile Compatibility
One of the coolest parts of this update, is that the MintDice website, which previously had limited mobile functionality, can now be enjoyed entirely from the comfort of your cell phone. Not only can you enjoy traditional games like slots and dice, but you can also enjoy some of the unique games MintDice has to offer like Bit.Rocket and Plinko. And if you look really closely when you first start playing Bit.Rocket, you'll see there's even an astronaut that boards the Rocketship now! How cool is that?
You can scroll through the mobile website to find everything that you would find on the main page of the desktop version. Or if you are looking for a short cut, just click the three lines by MintDice in the top left corner of your screen. This can help you to get directly where you want to go! While you're at the top of your screen, you will also notice that you can visit the faucet for some free cryptocurrency, as well as login to your account. And if you are without a MintDice account, you can click the 'register' button in the upper right corner.
When on the mobile version, if you want to chat with friends while you play, just click the chat button you'll see in the bar across your screen. In that same bar you'll also find short cuts for depositing cryptocurrency into your account, and a list of all the bets that have recently been made on the site. If you need help at any time, click on the green chat icon on the far left to be connected with one of MintDice's awesome customer service agents!
About MintDice
Maybe this is the first time you are hearing about MintDice and you are wondering what it's all about. MintDice is one of the best, provably fair, Bitcoin casinos on the internet!
Unlike other websites which keep how they function shrouded in mystery, MintDice is open about every aspect of betting on their site. If you ever have questions as to whether your win or loss is fair, just scroll to the bottom of the page and click 'provably fair.' This will lead you to the FAQ where there is a link that will allow you to verify the results you've experienced on the website. Each casino game will have a separate link to where you can verify the results for that game, so make sure you click the game you are curious about in the FAQ to get the proper link.
New Games
As mentioned above, this update comes with the announcement that MintDice will be adding some cool new games to their website. The first one will be PowerMint, a lottery where you buy your tickets in Bitcoin for a weekly chance to win some Bitcoin!
The next game that will make its debut on the website soon is called Pyramid, and in this game, players will purchase bricks using cryptocurrency to build the pyramid. Once the pyramid is complete, the last person to have purchased a brick will win a massive prize! There will be a timer running, and when it reaches 0, this is when the pyramid will be complete. But the coolest part about this game is everyone who purchases a brick after you, part of that purchase amount will be given to you. So it's in your best interest to purchase lots of bricks!
If you are geared up and ready for these new and awesome games, then check back frequently directly with the MintDice website, or with the blog, to find out when they will open for players! In the meantime, enjoy a fun game of slots, relaxed game of dice, or keep yourself on your toes by seeing if the rocket in Bit.Rocket reaches the moon!
Overall, MintDice is one of the best cryptocurrency casinos out there, and they continue to improve each and every day. This new update to their website is the first of many, and gives a hugely positive outlook of what is to come for this company. So if you want to spend your money in a provably fair casino while playing some of the best games available, sign up for an account on MintDice today! Happy gambling and good luck!
Update | Casino | Bitcoincasino | Freebtc | New | Newgames