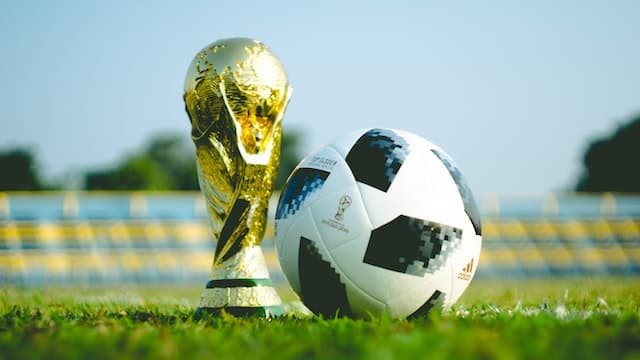 Can You Bet Crypto on the World Cup?
The World Cup is one of the biggest events in all of sports. It only comes around every four years, making it a very big spectacle worldwide. With the rise of sports betting in the last few years, especially online, it's no surprise that sports bettors want to get in on the action of the World Cup. Read on to learn more about betting crypto on the world cup.
Can You Bet on the World Cup?
Yes, the World Cup, like any other soccer game or sporting event, is available to be bet on at any sports book, online, or in person. Check in with your local laws to see if you are able to sign up for sportsbooks before you do.
Can You Bet Crypto on the World Cup?
Yes, you are able to wager crypto on the World Cup. Any sportsbook that offers deposits of cryptocurrency will allow you to use it to bet on the World Cup. Common cryptocurrencies accepted by online sports books include Bitcoin, Ethereum, USDT, and Litecoin, to name a few.
How Do You Bet Crypto on the World Cup?
So, if you want to get started betting on the World Cup, we've compiled a list of steps for how you can do so!
Find a Crypto Sports Book
Your first step to betting crypto on the world cup is to find a sports book that accepts cryptocurrency. One of these options is MintDice, which offers World Cup betting odds, as well as a multitude of other sports available to you to bet on. MintDice also allows users to deposit funds using Bitcoin.
The biggest part of this step of the process is to make sure that you find a provably fair site that you trust. You want to make sure that your money will be paid out in a timely fashion should you win your bet and request a deposit. Look at online reviews of the sports books, personal testimonials, and any other proof you can find that the site may be trustworthy.
Deposit Money
Follow the instructions on the site in order to deposit your funds. You may want to leave yourself an ample amount of time between the deposit and the game you'd like to bet on since deposits can sometimes take some time to process.
This process usually entails transferring a set amount of cryptocurrency from your own personal wallet to an address that the site assigns to you. Before sending your funds, be sure to verify the amount you are sending and address you are sending it to, and the type of cryptocurrency you are sending. You want to make sure all of these things line up, as an erred transaction could end up in lost funds.
Wait for your deposit to hit your account and verify that the amount reflected in your wallet is the amount you sent. Your account should now be funded, and you are ready to bet on the World Cup.
Look at the Lines
Before you place your bet, study the lines of the games. Take a look at how much each country is favored by, what the total goal line is, and even some of the prop bets available. Some examples of bets offered on World Cup games include:
Moneyline Bets: a line offered for which team will win the game outright or if the match will result in a draw. The favorite team's line will pay out less of a profit than the underdog, based on what the sportsbook believes the odds for each team to win are.
Over/Under Bets: a line offered for how many total goals will be scored in the match. You can then choose if you think the total goals scored in the match will be over or under the set line.
Spread Bets: a line offered for what the margin of winning/losing will be for a team. For example, if you bet on a team at -1.5, they must win by at least 2 points for your bet to be graded a winner.
Prop Bets: short for proposition bets, these are bets on certain stats within the match. Some examples within a World Cup match could be an exact goal scorer, how many corners will be taken by a certain team, or even how many yellow cards will be given out.
Future Bets: as their name implies, a bet on what team will win the tournament or advance to a certain stage in the future.
These are only a few of the bets you can place on the World Cup, so make sure to check out the lines and decide what bet you think is best. Also, while it may be fun to bet with your heart or to simply bet on your home country, consider that this strategy may not always be the most successful.
For tips on Bitcoin sportsbetting, check out our article How to Win at Sportsbetting.
Place Your Bet
Once you've done your research on what bet you'd like to place, it is time to officially place the wager. First, find the exact bet you'd like to place. Make sure that it is for the right side, on the right match, and on the correct date of the match.
Next, confirm the amount you'd like to place on your bet, it's best to create a system to manage the amount you place on each bet. Finally, you can lock in your bet!
Watch the Game and Wait for the Results!
The final step is the most fun! It's time to watch the game and see if your prediction was correct.
Withdraw Your Winnings
If your prediction was correct, and your bet was graded a winner, you will now be able to withdraw your winnings. For online sportsbooks, this is normally fairly similar to the deposit process but in reverse. Simply input your personal wallet address into the sports book and verify the amount you'd like to withdraw.
So, you should now know all there is to know about betting on this year's World Cup. Make sure to practice responsible gaming and enjoy your betting experience!
Crypto | Crypto sportsbetting | Sportsbetting | Soccer | World cup | Bitcoin sportsbook