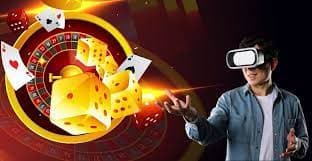 How is VR Technology Transforming the Gambling World
Imagine visiting casinos in places like Las Vegas, Atlantic City, or even Monte Carlo without ever leaving your couch. This is something that is not only quickly becoming possible but is advancing rapidly thanks to technology companies that are creating and updating the world of virtual reality.
VR technology is transforming the gambling world by offering people the opportunity to play their favorite casino games from the comfort of their own homes. This not only provides more freedom for gamblers who cannot travel to their favorite casinos but allows the companies to earn more revenue in an inventive way.
If you are looking for more convenient ways to participate in casino games without the cost of traveling, then VR technology may be worth checking out. Keep reading to learn more about what virtual reality is and how it is transforming the gambling industry.
What is VR Technology?
The technology industry is an ever-changing entity that provides people the opportunity to interact and gain information in a variety of ways. Virtual reality extends those possibilities by immersing people into the virtual world, or metaverse, by using some added equipment such as a headset and glasses.
The VR world is a way for people to be somewhere else, to immerse themselves into a world that is outside of the realm of reality. This allows them the opportunity to visit places they would not normally visit, or participate in events that they may not otherwise be able to.
Technology companies around the world have found ways to make the VR experience more available and affordable for consumers. By doing this, more people can immerse themselves in these virtual worlds.
The following devices are currently providing VR technology that is transforming a variety of industries today:
Microsoft Hololens 2
Google Pixel 2
Google Pixel 2 XL
Oculus Quest 2
HTC Vive Cosmos
What Companies Are Currently Using VR Technology?
Although a few years ago VR was just a possibility, today it not only exists, but many companies are using it to provide services in different ways. Industries such as healthcare, automotive, retail, and even gambling are finding ways for their consumers to interact with them in ways that are best for them.
Here are some unique ways that VR technology is being used in various industries all over the world:
Toms Shoes created a "walk in their shoes" event where consumers can, through the use of a headset and goggles, go along with an individual who traveled to Columbia to see a child receiving a pair of shoes that were donated.
YouVisit allows potential college students to visit campuses in various locations that they may not be able to visit in person. Individuals can walk around the campus and see the various features.
Patrón Spirits uses VR technology to allow customers to experience the sights and sounds of the entire production process of the tequila from the perspective of a bee. This experience takes you to a distillery in Jalisco, Mexico for a personal tour.
By using VR technology these companies and other industries are not only providing new ways for their customers to interact with them but also are changing the way that business is being done.
How is VR Technology Being Used in Gambling?
Do you want to go to a casino without leaving the comfort of your home? VR technology is allowing you to do just that. By donning the headset and goggles, you can visit your favorite casinos from your home or wherever you have an internet connection.
Whether you enjoy slot machines or sitting at a table for a game of poker, with VR technology, you can do both. Users can experience the sights and sounds of casino life in a way that makes you feel like you are there.
While you are participating in the various games within the virtual casino world, you can virtually interact with the other players. You can see the other avatars that are playing the same game as you are and also share in some conversation with them if you choose.
For many people, the excitement of sitting at a slot machine with the sounds of the bells and music and lights flickering on and off is the draw of going to a casino. Imagine being able to experience the same emotions but doing it from home. VR technology provides exactly this opportunity, which is why many casinos are providing this service.
How Will VR Gambling Be Used in the Future?
As technology advances, more and more will become available. This is especially true for VR technology. The current availability of this technology is just the tip of the iceberg when it comes to the opportunities that are in the works.
As VR technology advances, there will be more companies that will offer a variety of opportunities for people to interact without leaving their homes. As this happens, more industries are likely to provide various services through virtual reality.
When it comes to the gambling industry and VR technology, there is still so much that can be done to provide further opportunities to consumers. For this to happen, though, casinos will have to invest financial resources towards technology that can handle the extra load. Casinos wanting to immerse themselves further into the VR world will need to ensure that they have the money to make the needed updates to their software.
Unfortunately, the world of gambling via VR technology is probably a few years away. But in the meantime, there are several ways you can gamble from the comfort of your home while still enjoying a social setting. Once of these websites is MintDice, and although you can't see the other players as you play on the site, you can use the chat function for discussion as you play. This gives you the great social feel of the casino right from the comfort of your home.
Overall, most people today are looking for more opportunities to participate in the activities they enjoy most. Technology has been an ever-increasing staple in most households and businesses and it is only a matter of time before VR casinos become the next big advancement in technology.
Vr | Virtual reality | Gaming | Gambling | Casino | Casino technology | Bitcoin casino | At home gaming