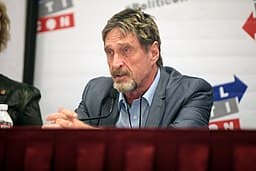 John McAfee: Cryptocurrency Scam and Arrest
John McAfee is best known as the creator of the McAfee firewall software. But as he aged, John McAfee proceeded to get weirder and weirder. Besides dosing on strange drugs and suspicion of a murder charge, the famous individual was also found guilty of promoting cryptocurrency scams.
To find out more about John McAfee, his life, and his eventual fall from grace, read on.
Who is John McAfee?
John McAfee was born in 1945 in England. As the child of an American father and a British mother, he had citizenship in both countries. Although he was born in England, he was primarily raised in Salem, Virginia, in the United States.
When McAfee was 15, his father supposedly committed suicide by shooting himself. McAfee received his bachelor's degree in mathematics from Roanoke College in 1967 when he was 22 years old. He then began his career as a programmer, and he worked for several prominent companies like NASA, Univac, Xerox, and Lockheed over the years.
Along the way, he learned about computer viruses and decided to work to make a program to remove viruses from computers. He was successful, and by 1990, he was making 5 million dollars a year just in sales of his antivirus software. He sold his company in 1994.
It is unclear what changed in McAfee over the next decade and a half, but by 2010 when he started a business in Belize, McAfee was a paranoid man. There is much speculation that his natural distrust of the government was further exasperated when he began to regularly smoke weed and do harder drugs like bath salts.
Always a staunch libertarian, however, who tried to run as a third-party candidate in both the 2016 and 2020 elections, it's hard to know how much of his paranoia was just who he was as a person.
Between 2010 and 2020, McAfee started many companies, and his resume reads like a bit of a guy who couldn't focus. Between tech companies, herbal antibiotics, and a brief stint in music, it is hard to know what McAfee really loved and wanted to pursue.
McAfee Murder Charges
McAfee had a lot of money and was easily able to make a number of charges disappear. The first was the death of his nephew, Joel Bitlow, who was a passenger in John's plane when he died.
The second was in 2012, when his neighbor in Belize, Gregory Faull, was mysteriously murdered and dumped in the ocean after being seen threatening John's dogs. John fled illegally to Guatemala, making him appear even more suspicious, although he claims he was just afraid of what the authorities would do to him.
In 2015, he was arrested for drunk driving. In 2019 he was arrested for transporting too many weapons into the Dominican Republic. McAfee was known in his later years to fake heart attacks, which were actually just severe panic attacks, whenever he needed to get out of a sticky situation. He was also known to frequently rant about how political parties and drug lords had bugged his phone, house, or car and how they were tracking him all the time.
His final arrest came in 2020 in Spain as a result of him failing and refusing to file taxes for the 2014-2018 years in the United States. He even appeared publicly during this time, stating he will not pay taxes until the money goes towards what he wanted to fund.
John McAfee Cryptocurrency Charges
Once arrested in Spain, the US government had time to catch up before McAfee would be extradited back to the US. During this time, the SEC filed further charges implicating McAfee in pump and dump cryptocurrency schemes.
According to the affidavit, McAfee would buy an altcoin, promote it on his social media thanks to his fame, and as people bought it and the price shot up, he would sell his holdings for a profit. He did this numerous times and was supposedly paid by companies to do it.
Overall, he made a reported $23 million in his pump and dump schemes, which is likely what paid for his lavish lifestyle and his growing addiction to bath salts and other drugs. He also created his own cryptocurrency known as Ghost coin.
On June 23rd, 2021, John McAfee was approved for extradition to the United States. But, when the guards went to collect him from his cell, he apparently hung himself. He was 75 years old.
Did McAfee Really Kill Himself?
There are many people out there that aren't so sure if McAfee killed himself. There is currently a documentary on Netflix which shows video footage of John expressing how scared he was of the cartel as well as the US government because he reportedly hacked their computers and had information about them.
He also states in this documentary that he would never hang himself and that if he is found to die by hanging, he was actually murdered.
People are further skeptical when they consider Epstein, who also suspiciously committed suicide in his jail cell just one year before after reportedly having information about American politicians. There are others who believe that John McAfee is still alive and is simply in hiding after buying his way out of a Spanish jail cell.
Whether or not any of the above is true, the reality is that when John McAfee died, he was not a healthy man. He was paranoid, addicted to drugs, and losing his mind prior to his arrest in 2020. One journalist who went to interview him on his boat became so scared that he left the boat without any of his things, claiming John McAfee tried to kill him.
This same journalist also alluded to the fact that he believes that John McAfee killed his own father and that he has suffered from acute paranoia since childhood which has only gotten worse over the years.
Either way, it can't be said for sure whether or not McAfee killed himself, but he definitely made plenty of money from his paranoia before he did. His antivirus software is still one of the top sold antivirus softwares in the world to this day, and people everywhere trusted his recommendations when it came to cryptocurrencies.
This brings up the final point, pump and dump, as well as other common cryptocurrency scams, like rug pull schemes, are often perpetuated by celebrities like John McAfee. If you are looking to purchase cryptocurrency, always do your own research first and never trust a celebrity when it comes to purchasing cryptocurrencies. You never know what may be going on behind the scenes and who may stand to gain from your purchase.
Cryptocurrency scams | Cryptocurrency | Pump and dump | Rug pull schemes | Arrest | John mcafee | Suspicious death