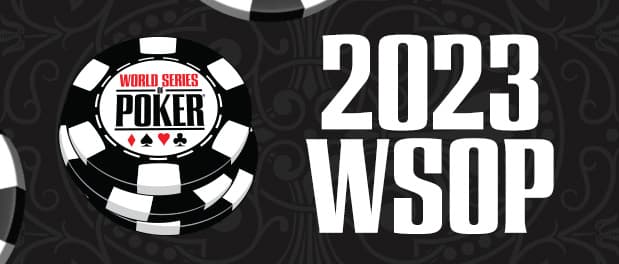 Preparing for the World Series of Poker 2023
It's that time of year again! On May 30th, 2023, the WSOP better known as the World Series of Poker, began for the 2023 season. So, what are the events for this year? And what big names can you expect to see at the poker table?
Read on to learn more about the WSOP 2023 and some predictions for the poker season.
When is the World Series of Poker in 2023?
The WSOP 2023 runs from May 30th-July 18th, 2023. A variety of events will be held on any given day.
Where is the WSOP 2023 Taking Place?
The 2023 WSOP is being held at Paris Las Vegas Hotel & Casino and The Horseshoe Las Vegas. The Horseshoe Casino was formerly Bally's but was rebranded in the past year. This is the same location the 2022 WSOP was held.
How Large is the WSOP 2023?
The WSOP 2022 was a record-breaking year as far as entries and prizes, and they are expecting the 2023 WSOP to be even larger. The event will host 608 poker tables situated across 200,000 square feet.
What Are the Hours of the 2023 WSOP?
While specific events will be held on a variety of dates and times, the WSOP this year does boast 24/7 live cash games—meaning you can stop by and play poker at any time you desire!
When is the 2023 WSOP Main Event?
Of course, everyone wants to play the famed main event! This year's main event will run from July 3-17, starting at noon on July 3rd for Flight A. Flight B will start July 4th at noon, Flight C on July 5th and noon, and Flight D on July 6th at noon. The buy-in will be its usual $10,000 buy-in.
Those who qualify from Flights A, B, and C will have their Day 2 on July 7th, 2023, while Flight D will have their Day 2 on July 8th, 2023.
Day 3 for all remaining players will be July 9th, 2023.
Day 4 will be July 10th, 2023.
Day 5 will be July 11th, 2023.
Day 6 will be July 12th, 2023.
Day 7 will be July 13th, 2023.
Day 8 will be July 14th, 2023, and they will play down to the final 9 players. Day 9 is a day off for all final table players.
Day 10 will be July 16th, 2023, where it will be played down to 4 players who will go on to Day 11 on July 17th, 2023, where play will continue until a winner is chosen.
Related: Online Poker Tips for Beginners
WSOP 2023 Daily Deep Stacks
If your pockets aren't quite deep enough to play the main event, the Daily Deep Stacks are daily tournaments that run from June 1-July 17th and have a $200-$400 buy-in.
For those who want to try their hand at winning a WSOP bracelet, there are many additional tournaments you can enter. The full WSOP schedule can be found here.
Where Can You Watch the 2023 WSOP?
Same as last year, the 2023 WSOP can be watched on CBS Sports. You can also watch daily streams on PokerGo and select bracelet events will appear on Poker Central.
Are There COVID Restrictions for the 2023 WSOP?
There are no longer any covid restrictions for the 2023 WSOP. Vaccines, nor masks are required, though players can still choose to wear masks if they would like.
Can WSOP Entrants Get Discount Hotels?
The WSOP did offer hotel discounts for those entering events, however, the discount was for those who booked early only. You can still try to get a discount by using the code WSOP2023 at any Caesar's Entertainment property in Las Vegas, although the code may no longer work considering the event has already officially begun.
Related: The Top Poker Hand Explained
New Events at the 2023 WSOP
This year brings a lot of new and exciting events to the 2023 WSOP, most notably the High Roller Six-Handed No-Limit Hold'em which kicked off on May 30th, 2023, featuring a $25,000 buy-in. This event has already played down to the final 9 players, and the winner will be determined today, June 1st, 2023.
Additionally, this year will feature a Badugi tournament on June 7th and a Secret Bounty Tournament on June 14th.
WSOP 2023 Predictions
It's a bit early in the season for WSOP predictions, but many well-known names have already shown their faces in the High Roller event on May 30th, namely, Daniel Negreanu who was eliminated in 15th place, and Chance Kornuth and Joey Weissman who are still in the running and looking to win their 4th and 2nd bracelet respectively. We expect to see quite a bit of these 3 players this year.
Famed player Phil Hellmuth still only has his 16 bracelets and was eliminated from the High Roller event in 76th place. We suspect that fans can plan to see more of this player in the 2023 season, as he likely isn't going to leave after just one event.
Phil Ivey considered one of the best poker players of all time, has not yet made an appearance, though it is expected that we will see him sometime soon. The player's Twitter has been silent, so it is unknown what event, if any, that he plans to enter this year.
Five-time bracelet winner, Shaun Deeb, has already made his appearance in the High Roller Event, though he was eliminated at 77th place, just before Phil Hellmuth. His Twitter also has not announced his tournament plans for the summer, but we expect to see more of him in the circuit as well.
Where Can You Get WSOP Updates?
If you want to follow the tournament closely this summer, the best resource is the WSOP website. While we will post multiple updates here on MintDice.com, they will be posted sporadically. It is also a good idea to follow the Twitter accounts of your favorite players and the WSOP.
If you can't travel for the WSOP this season, don't forget that, while we don't have live Poker, we do have many other games of skill and slots here at MintDice.com. So if you are waiting for your favorite player to grace the screen, check out our bitcoin dice or our skill game BitRocket for some entertainment. Good luck!
You May Also Enjoy: How to Know if You Are a Good Poker Player
Poker | Wsop | World series of poker | Online poker | Poker players | Hold em