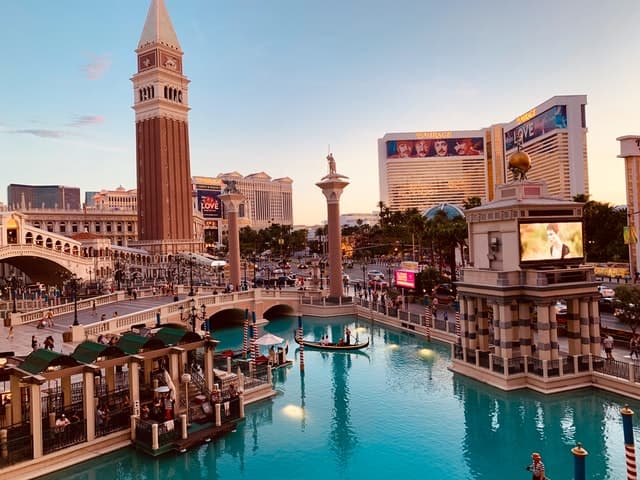 Fun Non-Gambling Things to Do in Las Vegas
If you have ever been to Las Vegas or thought about going, you have surely heard or seen all of the casinos, and all of the other gambling-related activities that "sin city" has to offer.
However, you might be planning to go to Las Vegas with your family, or you might not be old enough to gamble yet but still want to plan a trip to Vegas. There are many fun things you can do in Las Vegas that don't involve going to casinos and gambling with your money.
If you were looking for things you can do in Las Vegas that don't involve gambling, then you have come to the right place. Keep reading the sections below to find some detailed information on what kind of activities you can do in Las Vegas if you are looking to stay away from all the gambling.
Omega Mart
The first thing that you can do in Las Vegas if you are looking for non-gambling activities is visiting Omega Mart. If you are not aware of what Omega Mart is but are planning a trip to vegas, you should certainly consider adding it to your list of places to go.
Omega Mart is an interactive grocery store that was opened in 2018. It is an immersive experience that is meant to confuse you and entertain you at the same time. When you first walk in, you will realize that every product at the grocery store is fake. You can buy things such as Moth's milk, Mammoth chunks, and Nut-Free salted peanuts just to name a few of their items.
Despite all of their products being fake, you can actually purchase everything that they have up for display. In addition to this, you can also explore secret passageways that lead to rooms filled with interactive activities for you and your family to do–somewhat similar to an escape room.
If you are planning on visiting Omega Mart, it is suggested that you give yourself a couple of hours to explore the place. Although you can visit the place in a short amount of time, the best part about Omega Mart is exploring all of the hidden passageways and activities within them. This is why it is better to give yourself some extra time to explore this interesting place.
Pinball Hall of Fame
Another fun activity to do while you are in Las Vegas if you are looking to stay away from all of the gambling is to visit the Pinball Hall of Fame. Yeah, you heard that right, there is a Pinball Hall of Fame.
In this Pinball Hall of Fame, you can find a museum filled with Pinball machines that you can actually play. If you were a fan of Pinball, this is a must-see attraction. The best way to describe the Pinball Hall of Fame is as this large room filled with bright lights coming from hundreds of different Pinball machines, some of which are from the 1940's but still work! There's even 2-player pinball that you and a friend can try together.
Just the sound of that might make your inner child jump with excitement at the thought of reliving old memories. However, if you didn't really play Pinball as a child, this might not be the place for you considering that the main attraction here is the Pinball machines. There are a few other types of machines you can play, but they are few and far between.
M&M World
If you are a chocolate lover this might just be the attraction you were looking for. Imagine yourself walking into the M&M store filled with different color M&Ms and memorabilia. If you have been to the M&M store in New York, then you will find that the store in Las Vegas is pretty similar.
Here you will be able to find four floors filled with M&M candy and memorabilia. On the first floor, you will find things like mugs, keychains, and souvenirs. Moving on to the second floor, you will be able to look in awe at the M&M rainbow wall that is built using 22 different colored M&Ms. You hear that right there are 22 different colored M&Ms. You will also be able to find a wide selection of T-shirts with catchy sayings as well as M&M dispensers.
On the third floor, you will be able to personalize your own M&M candy if you chose to. You can write a message or put an image on your M&Ms. This is a super fun activity that only takes a couple of minutes. Also on the third floor, you will find the M&Ms movie theater which plays the "I Left My M in Vegas" short movie.
This ten-minute-long movie about the Red and Yellow M&Ms is great for people of all ages. The movie runs throughout the day, you don't have to worry much about making it there at a specific time.
The best thing about this M&M store is that it is located right on the Las Vegas strip which is where most people tend to stay.
Coca Cola Store
Similar to the M&M store, the Coca-Cola store is the place where you will be able to find all things Coca Cola related including famous around the world coke tasting which you will not want to miss!
The around the world Coke tasting gives you the opportunity to try the Coca-Cola flavors from 16 different countries. Even if you are not a super fan of Coca-Cola, it is still a great experience and an opportunity to try some different flavors you probably aren't used to. Just be cautious as not all of the coca cola flavors are tasty!
In addition to tasting foreign Coca-Cola drinks, you can also buy T-shirts, mugs, and just about every other souvenir you can imagine.
As you may now realize, there are a ton of non-gambling activities that you can do in Las Vegas with a family or by yourself. Just because Las Vegas is known for its casinos and gambling, it doesn't mean that it is the only thing you can do while visiting the city.
Can't visit Las Vegas but still want to gamble? Head over to MintDice.com, a premium online Bitcoin casino.
Las vegas | Nongambling | Omega mart | Pinball hall of fame | Gaming | Sin city | Casinos