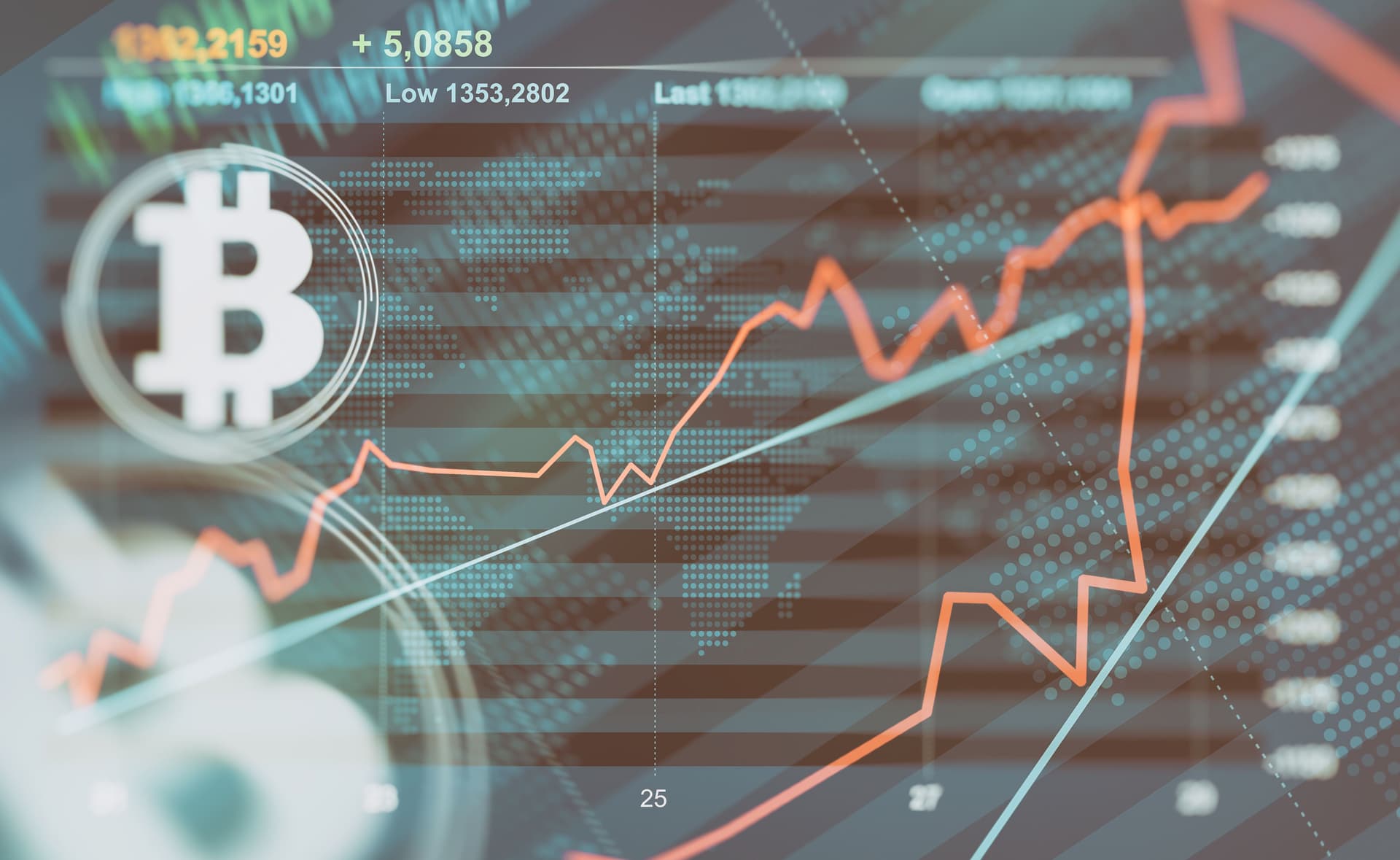 October Report: Crypto Highs And Lows
Just like previous months, October 2018 was marked by long bearish runs in the second and third week, followed by brief recovery periods. October 11th was particularly marked by huge dips.
Bitcoin: BTC recorded lows within the second week, reaching a monthly low of $6277.82 on the 11th of October. However, it broke the $7000 price point with a peak of 7,123.72 on October 15th and closed at $6383.82 on October 31st. In total, bitcoin saw an overall monthly decrease of 4.1%, a better performance than recent months.
Ethereum: ETH has had a bearish month so far, opening at $233.83 on the 1st of October and closing at $201.59. Overall, ETH saw a 13.78% decrease in price with a monthly low of $191.03 on October 12th and a monthly high of $236.51on October 4th.
Ripple: XRP has seen a substantial dip this month from an opening price of $0.594854 to a closing price of $0.452845. The cryptocurrency suffered a 24.3% monthly decrease despite its new listing on Coinbase. It recorded a monthly low at $0.388641 on the 11th of October and a peak of $0.596902 on the 1st of October.
Domestic Cryptocurrency News:
Cryptocurrency is "Here to Stay": CFTC Chairman Giancarlo
According to J. Christopher Giancarlo, the chairman of the Commodity Futures Trading Commission (CFTC), Bitcoin may see significant adoption in more than 60% of the countries with unstable currencies. In his CNBC interview, he stated that cryptocurrencies are here to stay and set the time frame of his predictions to about 10 years from now. Giancarlo who has been nicknamed 'CryptoDad' also believes that regulators must be tactful when approving crypto products. He added that legislators should not shut virtual currency out simply because it is generally pushed by a younger user-base.
Mastercard wants to Patent a Fractional Reserve Cryptocurrency Bank
Mastercard has been at the forefront of cryptocurrency adoption for a long time. The firm has patented several blockchain-based technologies over time and continues to do so. Its latest venture involves seeking a patent for blockchain assets fractional reserve management. Bitcoin was partly designed to challenge this type of banking which directly goes against the decentralized model of cryptocurrencies. The patent Mastercard is seeking describes a crypto and fiat asset tracking system which will simultaneously track crypto and fiat assets. In essence, the system will allow merchants to receive deposits instantaneously, even when dealing with virtual currency.
Breaking Harvard, Standford, MIT Have All Invested in Cryptocurrency Funds
Five more universities including Harvard, Massachusetts Institute of Technology, Stanford, Dartmouth College, and the University of North Carolina have recently joined the list of institutions that have invested in cryptocurrency through their endowments. This news comes shortly after Yale invested part of its $29.4 billion assets worth in cryptocurrency funds run by Paradigm and Andreessen Horowitz. According to The Information publication, the investment by each of these university endowments is worth tens of millions of dollars which will go into purchasing both equity in digital currency companies and physical cryptocurrencies
Bakkt CEO Cryptocurrency Early 2000s
According to Kelly Loeffler, CEO of Bakkt, Intercontinental Exchange's (ICE) coming cryptocurrency trading platform, she hopes to revolutionize the industry just like energy trading once did. Loeffler stated that Bakkt aims to avoid unpopular leveraged and non-custodial trading products for its investor base. Through this, the firm will mitigate concerns from prominent industry figures concerning a lack of physical interaction with Bitcoin. Bakkt has garnered significant buzz since it's July announcement of an imminent launch. Upon the launch of Bakkt, ICE will compete with offerings from Goldman Sachs, Morgan Stanley, and Citigroup.
Floyd Mayweather DJ Khaled Sued Crypto Currency Scam
TMZ reported that celebrities Floyd Mayweather and DJ Khaled have recently been hit with a class action lawsuit from people, accusing them of carrying out an illegal cryptocurrency scam. According to the lawsuits filed, both men were accessories to defrauding investors of millions of dollars by promoting a cryptocurrency known as Centra Tech. According to the SEC, the currency was operated by an illegal company with nonexistent company executives. The company founders raised $32 million during a 2017 ICO and have been arrested for securities fraud, wire fraud, and conspiracy.
Johnny Depp Cryptocurrency Platform Tatatu Ink Development Pact
Johnny Depp has recently signed a new deal with TaTaTu, a blockchain platform founded by Andrea Lervolino, co-runner of AMBI Media Group. He will team up with the platform to create film and digital content via his Infinitum Nihil production banner. Lervolino has worked with Depp on the drama-- Waiting for the Barbarians, which AMBI ran. Since its launch in early 2017, TaTaTu has made other huge moves including working on a Lamborghini biopic, an original documentary on two-time Jeremy Renner; and a Jim Caviezel and Mira Sorvino film titled "The Sound of Freedom". According to a company announcement, the firm generated $575 million in a 2017 token pre-sale.
International Cryptocurrency News:
Cryptocurrency ATMs Coming to Argentina to Exploit Peso Volatility
Argentina plans to install up to 30 ATMs in the midst of its struggling economy and the instability of its national currency. The Peso which has lost up to 50% of its value against the dollar this year is prompting the nation's citizens to embrace cryptocurrency. The first Bitcoin ATM in the country was launched recently by Athena Bitcoin, a U.S. company that specializes in cryptocurrency ATMs. Now, Odyssey Group plans to install at least 150 ATMs, 80 percent of which will be Bitcoin-operational within the first few months of 2019.
Japan Grants Cryptocurrency Industry Self Regulatory Status
In light of the recent exchange thefts and regulatory tension in the cryptocurrency sector, the Japanese government has been reviewing its approach towards the industry. In response to the problematic climate, Japan's Financial Services Agency (FSA) has made its cryptocurrency industry self-regulatory. This move will give the Japan Virtual Currency Exchange Association permission to investigate and sanction exchanges for violations. The FSA released guidelines for cryptocurrency exchange application but only 16 have been approved so far despite 160 entities showing interest.
A North Korean hacking outfit known as "Lazarus" is currently the most profitable cryptocurrency-hacker syndicate in the world. Within the span of 18 months, the group has stolen up to $571 million worth of cryptocurrency from exchanges, through five different attacks.
Hackers still use traditional methods like spear phishing, social engineering, and malware.
Generally, the industry has seen an increase in phishing and ICO scams as a result of "crypto-fever".
Venezuela Mandates Passport Fees Must be Paid in Controversial Cryptocurrency Petro
The Venezuelan government has made it mandatory for its citizens to pay for passports using Petro, the state-backed cryptocurrency. Ahead of the November launch of Petro, passport fees will cost 2 Petros for a new passport and 1 Petro for an extension. According to Bloomberg, this is four times greater than the country's minimum wage. The nation has also formed a migration police force to exercise migratory control since about 5,000 citizens flee the country every day.
Report Emerging Markets See Sharp Growth in Cashless Transactions
In Africa, where fintech is starting to pick up, cryptocurrency adoption has been slow. Ghana and Kenya, the 11th and 9th biggest economies in Africa are still in the consulting stage, while the Nigerian government has rejected cryptocurrency entirely, calling it a Ponzi scheme. However, South Africa, the most sophisticated economy on the continent, has continuously embraced the industry. The country is currently home to several Bitcoin ATMs and exchanges, including Luno. The country also hopes to schedule several events geared towards the sector's development.
Bitcoin 2018 | Crypto | Cryptocurrency news | Crypto news | International cryptocurrency | October 2018