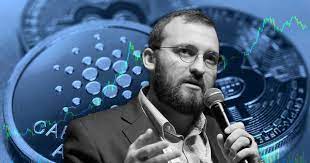 Who is Charles Hoskinson?
For those who work or are interested in the cryptocurrency industry, you may have heard the name, Charles Hoskinson. But, do you know who he is and how he got his start in the crypto world?
Charles Hoskinson is a mathematician and cryptocurrency entrepreneur who is based in Colorado. He has been involved in the crypto world since at least 2013, and earlier for the technology itself.
If you are curious about who Charles Hoskinson is and what he has contributed to the cryptocurrency industry, keep reading below.
What is Charles Hoskinson Known For?
If you have been keeping a pulse on the world of cryptocurrency, then you may have heard of Charles Hoskinson. This is because he has been involved in many projects and companies throughout his career.
Based in Colorado, Charles Hoskinson is known to be a mathematician and crypto entrepreneur who came onto the digital asset scene in 2013. Since his education had focused on mathematics and cryptography, the move seemed like the right thing to do.
He is most known for his collaboration with Vitalik Buterin and a few others who co-founded Ethereum. Although he was one of the founders and was appointed CEO, he chose not to stay in the company due to disagreements with the direction of the business.
It is important to note that his most successful venture to date has been the co-founding of his company IOHK, or Input Output Hong Kong. From this company, he has created a sub-company called Cardano where he focuses on the cryptocurrency blockchain.
Related: Your 101 Guide to Cardano Cryptocurrency (ADA)
Early Life of Charles Hoskinson
To understand the path Charles Hoskinson has taken, you may be interested to know how he got to where he is today. Although it appears that he is in his comfort zone when it comes to all things cryptocurrency, this may not have been the path he had planned to take.
Family Life
The Colorado-based entrepreneur was born in Hawaii as the son of parents who were physicians. It has also been reported that his brother also followed the familial path and became a doctor as well.
Early on, Hoskinson stated that he had dreams of becoming a surgeon to follow the family's footsteps, but changed his mind. This change of heart came from an intense fascination with computers as a child and continued as he learned more and more about them.
Education
Since his true love was in technology and mathematics, Hoskinson chose to attend the Metropolitan State University of Denver and the University of Colorado Boulder. There he studied analytic number theory and then moved into cryptography.
It has been said that his change from advanced mathematics to cryptocurrency came about through various exposures he had in the industry.
Career
Although he began his career in the cryptocurrency industry in the role of a consultant, he soon began looking for more opportunities. Along the way, he is known to have founded or co-founded three different companies that focused on cryptocurrency.
He reportedly first co-founded Invictus Innovations which is said to be the company that started Bitshares. From there he went on to found an online school, Bitcoin Education Project, to share with others his knowledge of the crypto world and how they could get involved.
Ethereum
It was through the founding of the Bitcoin Education Project that Hoskinson met Vitalik Buterin and with a few other individuals, founded Ethereum. This collaboration was one of several like-minded individuals coming together to form something that should have been great.
However, soon after founding the company, Hoskinson, Buterin, and several other founding members were at odds with each other. The reason for their disagreement was whether or not Ethereum should become a publicly traded company or remain non-profit.
Since Hoskinson is the one that thought it should go public, which did not match with Buterin and the others, he left the company in 2014.
Related: Ethereum: A Comprehensive Guide
IOHK - Input Output Hong Kong
After leaving Ethereum over various disagreements, Hoskinson teamed up with Jeremy Wood, whom he worked with at Ethereum. They collaborated and co-founded the company, IOHK, or Input Output Hong Kong.
IOHK is a cryptocurrency company that creates blockchain and cryptocurrencies for various academic institutions and others. The main goal of IOHK is to bring financial services to many people around the world, especially those who do not have stable systems in place.
Cardano
One of the most well-known blockchains that came out of their parent company IOHK, is Cardano. Launched in 2017, Cardano is one of the most important projects launched by IOHK since it is host to the ADA cryptocurrency.
As the strongest competitors to Ethereum, Cardano and the ADA crypto have become one of the largest crypto coins in the world. This is due to the creativity and science that went behind the creation and development of the company.
Hoskinson's goal with Cardano is to do something a little different than what was being done at Ethereum and other companies. This difference has its foundations in both science and mathematics that have led to the development of various blockchain programs and more.
Other Projects
In addition to his work with his co-founded companies, Hoskinson has been in many other projects throughout his career. Many of these projects are focused on the desire of bringing educational resources about Bitcoin and other digital assets.
Though he founded the Bitcoin Education Project to bring this knowledge to others, he has also had the opportunity to work with others on the Bitcoin Foundation's Education Committee and helped to develop the Cryptocurrency Research Group in 2013.
Charles Hoskinson has also worked with various government entities such as the Government of Barbados to help them understand blockchain technology. Through his company, Cardano, many of his colleagues and employees have worked to teach coding skills to those in countries such as Ethiopia.
The bottom line when it comes to knowing who Charles Hoskinson is and what he has contributed to the world is just a matter of doing a bit of research. If you are involved in the crypto industry, then you may be interested in what Charles Hoskinson is all about and where he got to where he is today.
You May Also Like: Vitalik Buterin: Why You Should Know This Influencer
Ethereum | Cardano | Iohk | Crypto | Charles hoskinson | Cryptocurrency | Genius